Zimbabwean President Robert Mugabe said he banished a longtime ally because the man plotted to overthrow him with witchcraft.
The bizarre statement was made after Emmerson Mnangagwa, Mugabe's former deputy, fled Zimbabwe claiming he was being threatened.
Experts say Mugabe, 93, got rid of his former right-hand man so that his wife Grace can take over the country after his death. Grace is expected to be appointed vice president at a special ruling party congress next month.
"No one will remove the president except God," Grace Mugabe told a large crowd of supporters on Wednesday after news of Mnangagwa's ouster became public.
"I love my president. I will help him to make the country prosper."
This isn't the first time that Mugabe has used witchcraft as an excuse to get rid of a political rival.
Joice Mujuru, who Mnangagwa replaced as deputy in 2014, was also accused of using magic to plot against his president.
Addressing a large audience on Wednesday, Mugabe drew a comparison between his two former deputies and accused Mnangagwa of waiting impatiently for him to die so that he could seize control of the country.
"We have kicked [Mnangagwa] out for the same reasons that saw us chasing away Mujuru," Mugabe told the crowd. "He started consulting traditional healers on when I was going to die."
Mnangagwa, meanwhile, has announced that he plans to return to Zimbabwe and regain his position of power.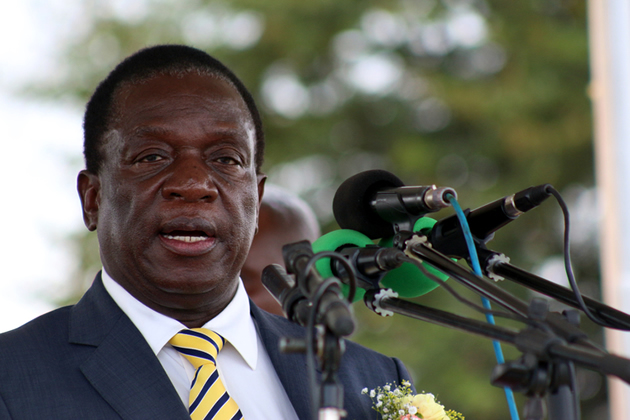 "I will be communicating with you soon and shall return to Zimbabwe to lead you," he announced in a five-page statement while hiding in an undisclosed location outside of the country.
Mnangagwa disavowed the accusations, claiming that he "never uttered a single foul word against the president." But he also called out Mugabe for maintaining a tight grip of control over the country, calling the president a "stubborn individual who believes he is entitled to rule this country until death."
Mugabe has been in power since Zimbabwe gained independence in 1980. He won his seventh term as President in 2013, but the election was marked by violence and widespread accusations of vote-rigging. Mugabe is eccentric and known for throwing elaborate parties and feasting on cake while the country was suffering from drought and famine.
Many people in Zimbabwe believe in witchcraft, and the government officially recognizes its existence. Zimbabwe's formal court is not legally permitted to try witchcraft cases, however.
"Accusations of witchcraft are almost always preceded by tension and conflict within the household, village or community. This tension may be the result of conflict over succession, or may come from misunderstandings over the distribution of family wealth or some other dispute," Zimbabwean witchcraft researchers note.
-Newsweek