Update:
The number of Kaweesi murder suspects rearrested has now reached four according to their lawyer Geoffrey Turyamusiima. He named Umaru Maganda,Majid Ojegere,Ahmed Ssefuka and Abdul Kisa as those rearrested by security operatives.
The suspects' lawyers said that only Umaru Maganda is detained at Kireka, revealing that others have been taken to unknown detention centres. "We are drafting a document demanding for the release of our clients and also write to court to officially inform it of the rearrests of the people it had released,"Turyamusiima told this website.
What begun as scenes of joy turned sour as security operatives rearrested two of the seven late AIGP Andrew Felix Kaweesi suspects who had earlier been released on bail.
AIGP Kaweesi was shot dead in March by unknown gunmen as he left his home in Kulambiro together with Kenneth Erau and Godfrey Mambewa, his bodyguard and driver respectively.
Nakawa grade one magistrate, Noah Ssajjabi on Tuesday  granted bail to seven people including; Ahmed Ssenfuka,Umaru Maganda,Hassan Tusiime,Musa Ntende ,Ibrahim Kisa,Asuman Mugoya and Abdul Majid Ojegere after being satisfied by their argument that they had spent over six months on remand without being tried.
Following their release by the magistrate, scenes of joy engulfed the court premises as the seven suspects were being received by their relatives.
Many were seen hugging each other as they recited Allahu Akbar(God is great).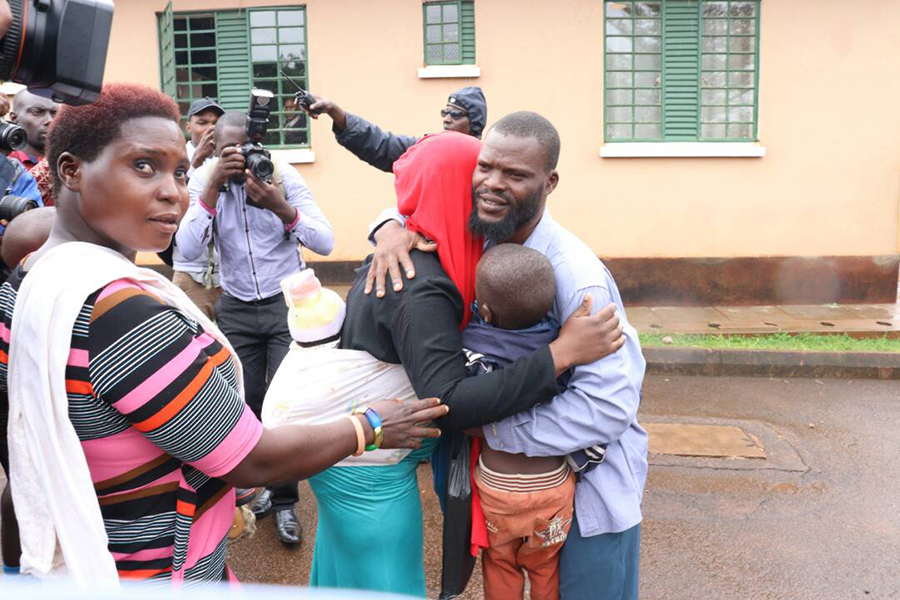 Speaking to journalists shortly after release, Hassan Tusiime, one of the suspects said he was happy to be free after spending almost a year in detention.
"It was shocking to be arrested over a crime I have never thought of in my life.I however thank God and everyone who ensured we are released,"Tusiime, who hails from Bwaise told journalists.
Meanwhile, as the seven suspects and their relatives were expressing happiness, something else was brewing up, courtesy of security operatives who included JAAT and police who had escorted the suspects from Luzira prison.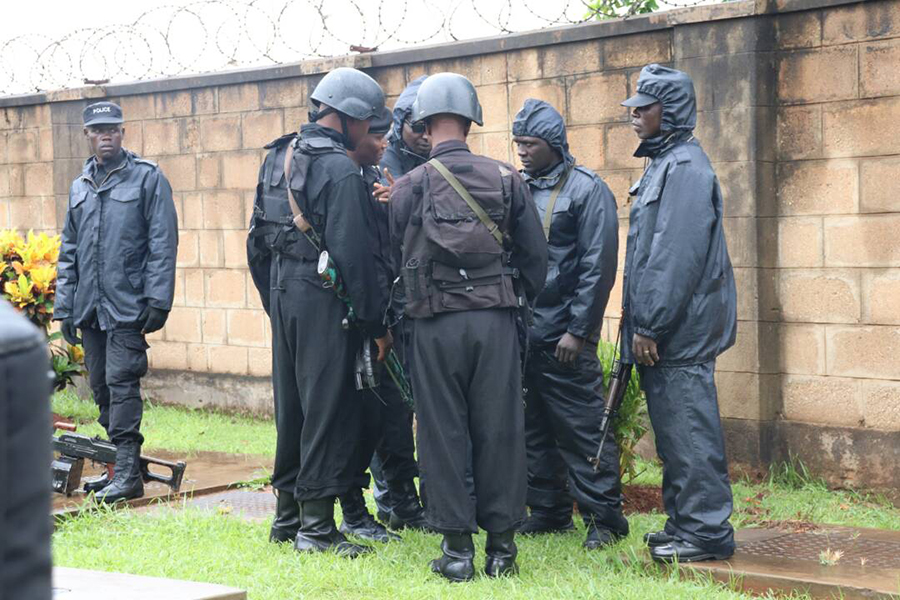 At one moment, security operatives were seen in a meeting as they planned their next course of action.
For the suspects' lawyers led by Geoffrey Turyamusiima wer also planning their next move after the temporary release.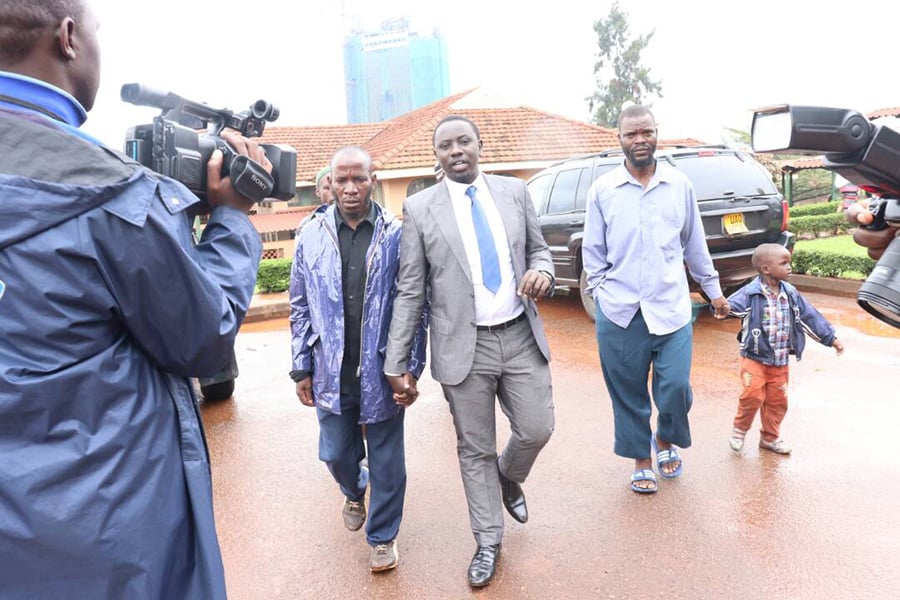 He asked the suspects to use boda boda motorcycles instead of other public transport means and these were to be escorted by their relatives back home.
Shortly after the released suspects had left court on motorcyles, they were followed by a series of vehicles whose occupants were security personnel in plain clothes.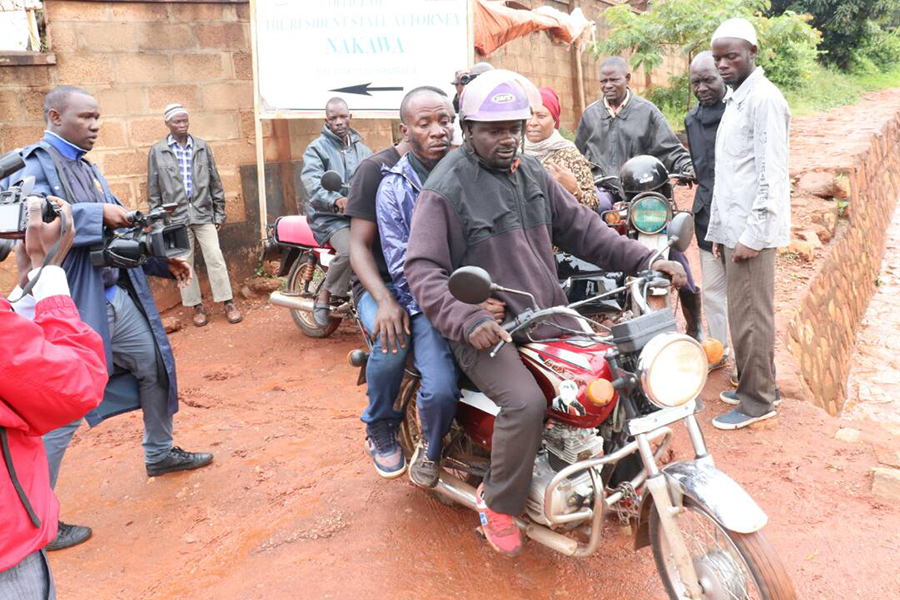 At Spear motors road junction, Ahmed Ssenfuka was arrested after disembarking from the motorcycles in a bid to take another public transport means according to his younger brother Abdul Shaban Ssenfuka who had escorted him from court.
"As we disembarked from the motorcycle, three men driving in a Toyota Corolla UAE 141K pulled out pistols and forced him into the vehicle before driving off at a terrible without saying a word,"Shaban Ssenfuka told journalists.
Meanwhile, the suspects' lawyer Goeffrey Turyamusiima told the Nile Post that another suspect Umaru Maganda who was moving on clutches too  had been arrested on his way back home.
"I have been informed that they have been taken to the Special Investigations Unit in Kireka and I am trying to follow up on them,"Turyamusiima told this website.
Police spokesperson AIGP Asan Kasingye however could neither deny nor confirm the rearrests of the suspects.
"I have been told of it and I am trying to find out about it,"Kasingye told this website in a phone interview.