As public anxiety over the arrest of Frank Gashumba, a political commentator and critic of the government, reaches fever pitch, a number of questions remain unanswered.
The unanswered questions have fuelled the public speculation as to why Gashumba was arrested, speculation that has now spread on the various social media platforms like a wild fire.
For most part of yesterday, The Nile Post tried to get answers to some of these intriguing questions but our efforts were futile as many of the army officials we contacted declined to comment on the matter further.
Those that talked declined to go on record or in detail.
The key questions remains: Why exactly was Gashumba arrested?
The UPDF, which carried out the arrest said on Tuesday that Gashumba was arrested because he was impersonating senior ministry of Defence to con foreign firms in dubious deals.
The army claimed he would convene meetings with his unsuspecting victims at some of the top hotels in Kampala and convince them that he was a representative of the  ministry of defence.
In one of the meetings, Gashumba and his accomplices allegedly inked a $12 million dollar deal.
The UPDF also searched his home and allegedly discovered cocaine and marijuana.
Some analysts have punched holes into this charge. They say if indeed Gashumba was passing off as a ministry of Defence worker, he could not have pulled off this scheme without the help of some senior people in the ministry or in government.
In June 2016, Gashumba posted a photo of himself an army uniform on his Facebook page.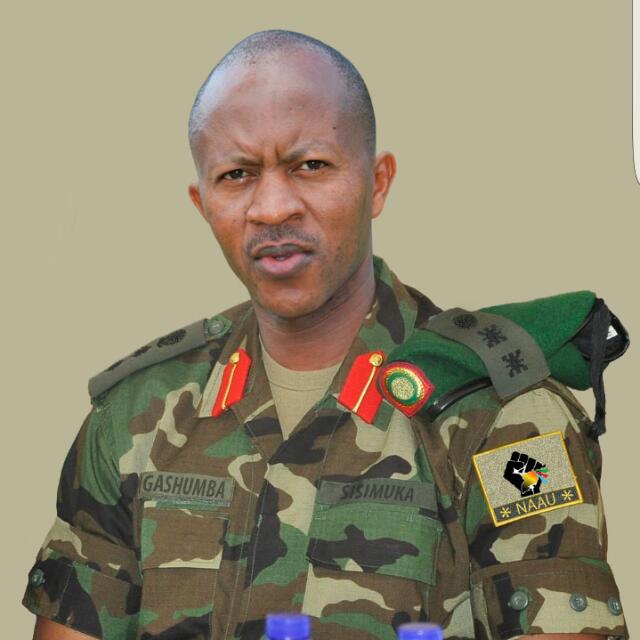 When some of his Facebook follower cautioned him against the move, he brushed off their fears, his tone conveying the kind of confidence of a person who knew his back was well covered.
Secondly, there are pictures of Gashumba, circulating on social media, when he is aboard a police chopper.
No one knows where he was headed but whatever the case, the photos showed that he has connections in the high places.
So could these connections have helped him pull off some of the alleged schemes?
And why did it take long for government "to realise" that Gashumba was impersonating defence ministry officials when he operated in plain sight and within the corridors of some of the top hotels. Is there something we don't know?
Yet on the other hand, Gashumba cannot be said to be as clean as a whistle. He has previously been implicated in fraud related cases including forging documents.
In 2011, he was arrested and briefly detained on allegations of trying to defraud a Turkish company dealing in fire tenders of $28m (Shs79.9 billion) on pretext that they wanted to buy fire trucks on behalf of the Ugandan government.
the then deputy police spokesperson Vincent Ssekate told Daily Monitor at the time that "Gashumba and his accomplices are being held on charges of obtaining money by impersonation, pretence, forgery, uttering false documents and theft."
That is not all.
In April 2008, a city businessman, Abdu Ssali dragged Gashumba to court where he was charged with obtaining Shs 800,000 from him by false pretence. Gashumba was released on a cash bail of Shs 100,000.
So from this pattern, one can argue that Gashumba has a history of trying to defraud people.
Yet until the court pronounces itself on the latest allegations and until Gashumba's side is heard, we cannot make a verdict.
Another question relates to the timing of his arrest. Gashumba, if indeed has been conning investors and security agencies knew this, why arrest him now not last month?
Gashumba has been critical of President Museveni's attempt to lift the presidential age-limit and of his governance of the country.
In one of the last Facebook posts, on October 29, he wrote: "My God!!!!! Social media Fake news about Kale Kayihura is for World cup finals. M7, has successfully diverted Ugandans from #togikwatako."
Rwomushana, another critic of government wrote on his Facebook page that Gashumba's arrest was related to this post.
UPDF involvement
The third question relates to the army and CMI involvement in Gashumba's arrest.
Some people have wondered: why wasn't the police involved in the arrest and investigations of the charges labelled against Gashumba?
The UPDF said the deals Gashumba was trying to get into touched directly on the operations of the army hence its involvement. CMI is an intelligence unit of the army.
Yet there have been cases where the police has taken the lead in military related investigations.
The investigations, for instance into the botched Shs 2 billion arms deal with a Polish firm in October last year was was spear-headed by the police under the direct supervision of Kayihura.
It involved a civilian and a senior army officer.
Is there more than meets the eye in Gashumba's case? Given his Rwandese origins, could it be related to the geo politics?
Until Gashumba is taken to the courts of law and each side puts forward their arguments, we may never get precise answers to these questions.
Yet in a country where conspiracy theories have become part of our daily conversations,Gashumba's arrest and charges labelled against him have provided us with more "food" to chew on.