A story is told of a prodigal son, where a father has two sons. The younger son asks for his inheritance and after wasting his fortune, becomes destitute. He returns home with the intention of begging his father to be made one of his hired servants, expecting his relationship with his father is likely severed.
Like the proverbial son, one ought to return to the father once he accepts his mistakes and is remorseful, such is the story of Fr Anthony Musala who quit the catholic church in January to join the Brazilian Catholic Apostolic church.
Fr Musaala was suspended on March 19, 2013 for advocating for marriage among Catholic priests. After several years on suspension, the priest said; "I joined the Brazilian Catholic Apostolic Church on the invitation of Archbishop Leonard Lubega. I have been in contact with him since December, last year (2016). Being a Catholic priest with nowhere to minister, and also not being under any Bishop, I decided to accept."
But the charismatic priest says he would like to return to the catholic church and is in the process. Musala who was part of the congregation at Christ the King church for the evening mass yesterday said he plans to reconcile with the mainstream catholic church where he feels home.
"I feel loved, I feel blessed, I feel like I am home," Fr Musala said to members of the congregation that welcomed him with hugs and selfies.
https://www.youtube.com/watch?v=HZ4Lkb4PC9c
Later in a long message on Facebook, the priest confirmed he intends to rekindle the spark with his mother church.
"I have received many affirming messages about my own journey back to the Catholic church. Thank you for your kind prayers and support. Some have asked me innocently if prematurely, which parish I am now serving in, or when I will be celebrating mass again, or when my next gospel show will be.  Frankly, I don't know. All I know is that I am in the process of returning to the church and that I am barely inside the door. I am still discovering what returning involves. Like the prodigal son I am taking each stage on the journey in a considered way, hoping for that final joy, when the father says: " 'My son who was dead is alive, and who was lost  is found.' And they began to celebrate." (Luke 15:24)," he wrote.
"The famous parable of the Prodigal son has insights for anyone who is trying to sort out their lives.  I happen to be one of them. I am on a journey of return to the church, and so the parable is very apt for me," he added.
Is Fr Musala still a priest?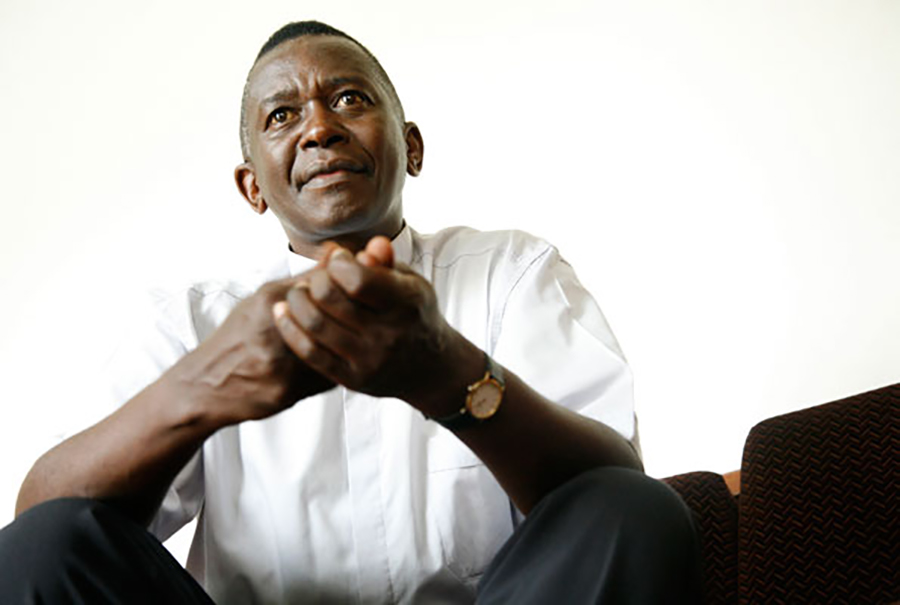 Fr Musala on may 26, 2016 was given a letter of automatic self-excommunication, which meant that the priest was automatically relieved of his eucharistic or clerical duties.
However, once a priest always a priest according to Psalms110:4: "The LORD has sworn and will not change his mind: "You are a priest forever, in the order of Melchizedek."
Also according to Canon Law1583: "It is true that someone validly ordained can, for a just reason, be discharged from the obligations and functions linked to ordination, or can be forbidden to exercise them; but he cannot become a layman again in the strict sense, because the character imprinted by ordination is for ever. The vocation and mission received on the day of his ordination mark him permanently."
So Holy Orders (ordination) just like Baptism are sacraments that can never be erased. Fr Musala is a priest who left voluntarily and thus can be reinstated without being ordained again.
Whats the process of rejoining priesthood
After declaring oublicly that he had left the catholic church, Fr Musala's issues according to the Metropolitan Vicar General, Msgr. Charles Kasibante, went to the Vatican for solving. "It is no longer a local church issue but now the Holy Sea is in charge," he said.
The most open door to being allowed back into the church is through repentance and reconciliation. In the initial stages of Musala's excommunication, it was supposed to be lifted by the Archbishop. However if we are to go by the words of Msgr Kasibante, then it lies in the hands of the pope to recall Fr Musala.
What does Musala say.
Like the prodigal son, my journey of return is about reconciliation, but what is reconciliation?
It means finding peace. Peace brings wholeness and freedom to be who God wants me to be. It is then that I will  not need to be unduly stressed about the future  and what is beyond my control. Reconciliation for me means trusting again, trusting myself, others, and God.
Another way of understanding reconciliation is as a coming to terms with everything. Every now and then we must come to terms with reality.
This involves looking at broken relationships, broken dreams, rediscovering peace in new surroundings, dealing with loss and grief, facing the reality of self and others as changes take place.
The story of the prodigal son who came home to a welcoming father after squandering his inheritance gives us a picture of a journey of reconciliation and a coming to terms with self.
There are five stages on that journey.
https://www.youtube.com/watch?v=2oaU8k4Rl9c
First, that of separation, disjunction, alienation and trauma. 'Leave me alone' 'Get out of my life', 'Im leaving' The prodigal son leaves home with his inheritance and squanders it.
Secondly, that of re-evaluation, weighing up or discernment. 'What have I done? Where am I? Am I happy and at peace?'
The prodigal son realizes that he is not happy with what he has done or where he is. He is hungry, lonely, in a far away land feeding pigs, when he could be at home.
Thirdly, that of resolution.
'I must do something about this. I will arise and return to my father,' the prodigal son says. 'I will say sorry. I will seek clarity. I will change and try to do better'.
https://www.youtube.com/watch?v=kyjHVqa2vEo
Fourthly, that of re-incorporation, restoration, reception, welcome. 'I am happy to be home again!'
Fifthly, that of renewal, new achievements, fruitfulness, dynamism, service. 'Can I be of any help to anyone?'
Some do not want to be reconciled and so get stuck in the past, and do not find peace, yet life is dynamic, it is a constant journey of reconciliation, which if taken seriously always leads to peace and freedom. I don't want to get stuck. I want to be reconciled and find peace, but accept that it is a process.
Reconciliation is always a process which is never complete.It goes on thorughout our lives. Sometimes the process is linear, in that one thing follows another on a journey out of misunderstanding, and then total   peace is found.
Sometimes it is circular, taking us round  familiar paths, over and over again, until there is  a flash of understanding or insight which brings enlightenment.
Sometimes the process is a dark and mysterious one, hidden and unclear and can only be intuited by faith, but then suddenly out of the blue comes the  miracle, and one later on understands that the hand of God was really at work all the time, while one was doubting and waiting in the darkness.
In every case reconciliation means letting go in order to grasp something new. So whether change comes suddenly or gradually, time and space are needed to let go of the old things, to let bygones be bygones. This is a kindness to oneself.
Another observation about reconciliation is that  it requires  active engagement. Seriousness. This can be costly, but when it is done, it is done and  it brings peace.
One must  invest time, resources, thoughts, and actions to achieve reconciliation. This may involve a difficult decision, a difficult encounter or interaction. It may involve conflict resolution with others, bridge-building, peace making.
Time does not heal wounds unless something is invested into that time. Nothing ventured, nothing gained.
Finally, at the end of each  process of reconciliation  there  is a new day and a new task. One cannot simply go back to where one was before.
Destiny calls, and life has changed. You cannot step into the same river twice and God has a great master plan for your new life, and a new calling you must answer.
That is what I have learnt.
Who is Fr musaala?
Born in Ireland but came to Uganda at nine years. He attended Savio Junior School for primary and completed O'level at St Charles Lwanga, Koboko after an expulsion from St Mary's College; Kisubi.
At 30, he got ordained at Allen Hall Seminary School, London in 1994. He became popular for performing gospel music. He plays the keyboard and guitar.