The 245 NRM MPs who endorsed the age-limit bill fronted by Raphael Magyezi on September 12, 2017 were each paid Shs 500,000 as "attendance allowance", we can reveal.
According to a payment voucher seen by The Nile Post (see photo), the MPs were required to sign against their names and then acknowledge receipt of the money.
Some MPs received the allowance on behalf of others.
According to an acknowledgement chit seen by the Nile Post, Robinah Nabbanja, the Kakumiro Woman MP wrote: "I have received and acknowledged refund for attendance allowance for the meeting of Sept 12, 2017…this caters for Okello Anthony (Kioga MP) and Joyce Kaducu (Woman Rep. Moyo) and minister of state for Primary Health Care."
Nabbanja acknowledged that in total she had received one million shillings.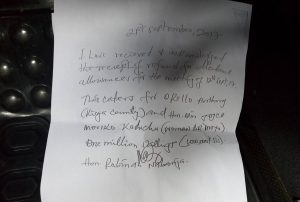 The source of the money is still unknown but in total at least Shs 122.5 million was spent to facilitate the MPs.
At the time, the NRM chief whip, Ruth Nankabirwa said it had been planned by party back benchers without the input of the party leadership.
The caucus consultative meeting was held at Parliament's Conference Hall and in the meeting, the 245 MPs agreed to table a private members bill in parliament seeking to amend Article 102(b) of the 1995 Constitution.
Kumi Woman MP, Monica Amoding was the only dissenting voice as her colleagues overwhelmingly endorsed the proposal that was tabled by Kyaka South MP Jackson Rwakafuzi.
The bill was eventually endorsed by parliament in the absence of opposition MPs, a week later and its currently before the Legal and Parliamentary Affairs committee.
Some of the prominent names who allegedly received the money are Evelyn Anite, the minister of state for Privatisation; Ibrahim Abiriga, the Arua Municipality MP; Obiga Kania, the minister of state for Internal Affairs; Anthony Okello, the Kioga county MP.
One of the beneficiaries, who requested anonymity told The Nile Post there was nothing unusual about the facilitation.
"It is normal."