Kigezi Region RPC Denis Namuwoza has said that an unidentified Besigye supporter in Rukungiri was hit by a stone that killed him instantly, contradicting with earlier reports of being shot by police.
One person was confirmed dead after police fired live bullets and teargas on Wednesday afternoon to disperse crowds who had gathered around FDC strongman Dr.Kizza Besigye in Rukungiri town.
Forum for Democratic Change had organized a rally to consult locals on the proposed age limit amendment and Dr  Besigye, was among those supposed to attend the rally in Rukungiri stadium.
Police first blocked Besigye's vehicle from accessing Rukungiri town, prompting him to proceed on foot together with his supporters.
According to Namuwoza, police stopped Besigye from proceeding with the rally in Rukungiri town resulting into  a scuffle.
"Besigye wanted to have rally at stadium but we stopped it. Supporters started throwing stones at police and in the scuffle an unidentified person was hit on the head,"Namuwoza said in a phone interview.
Asked whether the deceased had been hit by a bullet, the Kigezi RPC denied  the claim, saying that going by the size of the wound on the head of the deceased, he could have been hit by a stone.
Kigezi region police spokesperson Elly Matte also told this website that the unidentified person had been hit with a stone .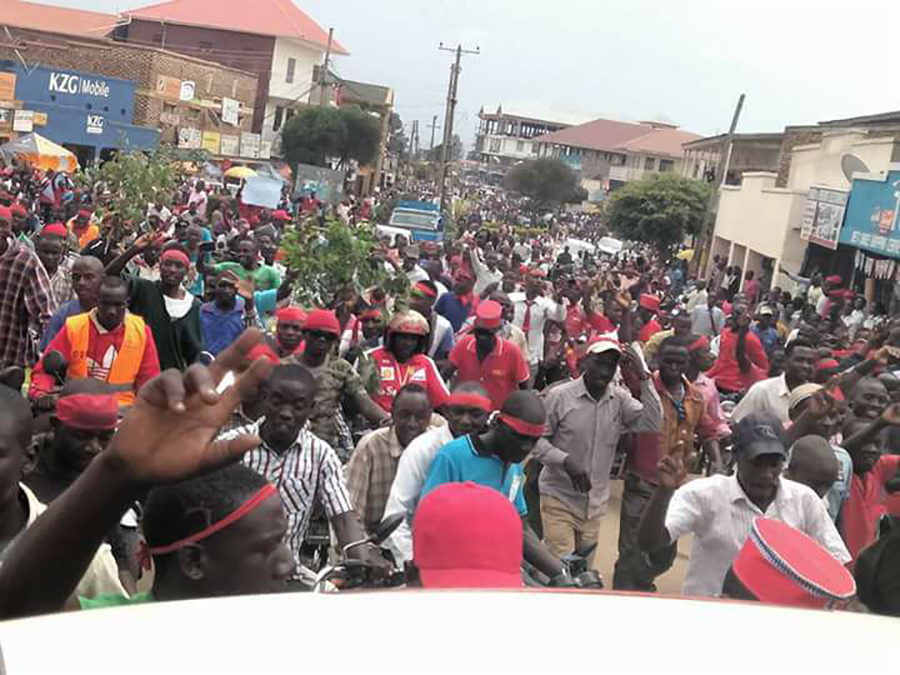 "The deceased has an opening on one side of the head.If it was a bullet, it would be two sides, so he was hit by a stone," Matte said.
Asked about the number of people who had died during the scuffle,Matte said only one person had been confirmed dead.
"We don't know about any other deaths because we have seen only one body."
On the condition of the opposition strongman, the Kigezi region police mouthpiece said ,"Besigye is fine and his car was not hit by  a bullet either."
Earlier, photos circulated showing Dr.Besigye's Land cruiser with a suspected hole at the hind windscreen.
Besigye was together with other opposition politicians including Kampala Lord Mayor Erias Lukwago, Ingrid Turinawe and aspirant for FDC party president Patrick Amuriat.
Police on Tuesday warned politicians especially from the opposition against joint consultative rallies in regards to age limit.
In a message from AIGP Asuman Mugyenyi, the police Director in charge of operations, dated October 16, politicians were stopped from carrying out consultative meetings in constituencies they don't represent.
"MPs should strictly consult in their constituencies. Those MPs moving or intending to move in order to support counterparts or consult outside their constituencies must be stopped," read in part the message to all Regional Police Commanders, District Police Commanders and police stations around the country.
According to the message by the police director in charge of operations, consultations should not include illegal demonstrations, illegal processions, inciting violence and use of hate campaigns.
"Consultations should not include abusive language, acts of hooliganism, and intimidation of people perceived to be supporting the removal of age limit."
Kampala Metropolitan Area police commander Frank Mwesigwa said, politicians are also barred from holding meetings in markets, schools,hospitals or streets