A number of prospective youth are reportedly bribing officials to let them into the army through the back door with out any hurdles, an official has said.
Col James Nambale, the in charge of the recruitment exercise which started Monday at Kololo Independence Grounds in Kampala, said that they have intercepted a number of people who were offering bribes to officers so that they bypass the entry process.
He said he personally has so far resisted bribes from Shs 100,000 to Shs 500,000 as well as airtime and transport from several perspective recruits.
Col Nambale advised the youth to forget any favors from whomever they could have already bribed.
"Point out those you have bribed because they will not have much to help you in this process. The army is not for employment but a commitment for the good of the country. If you are joining the army to look for money, go to parliament because you are in the wrong place, "he said.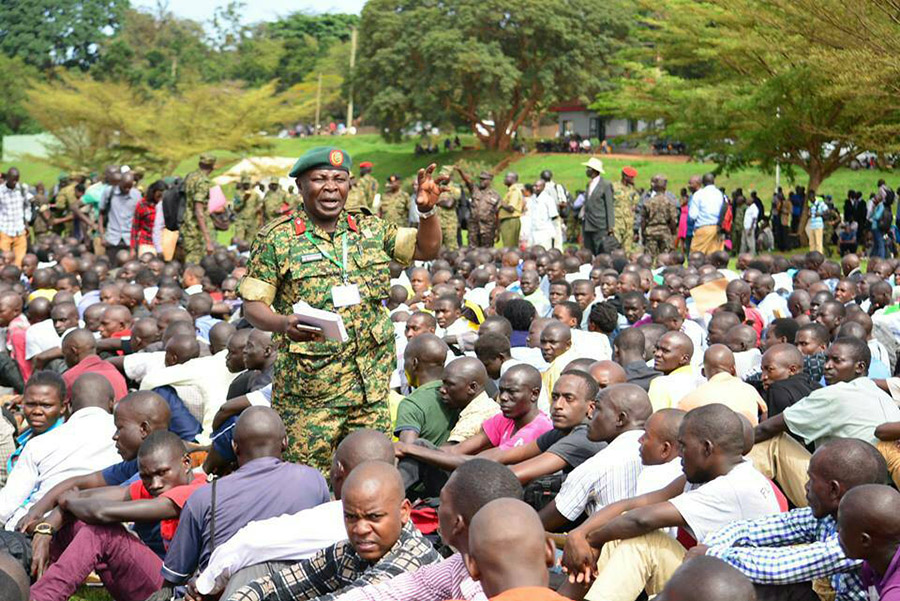 UPDF spokesperson Brig. Richard Karemire noted that there are safeguards against infiltration and that persons who cheated at the entry point would still be eliminated. He said that they do not expect any traits of corruption in the process.
"We have embedded in the teams other officers from other departments, Its an all-round team that is doing a good job so far and we do not expect any traits of corruption. In UPDF we exercise zero tolerance when it comes to corruption, we are very happy with the exercise so far," Brig. Karemire said.
Asked whether they have an auditing system to look at the work done by the recruitment officers, Karemire said that they have an inbuilt mechanism to access whatever goes on every day and that if there are issues they need to be sorted out, it is done before proceeding.
The nationwide recruitment exercise looks at recruiting 4,000 soldiers of whom 3,000 will be regular and 1,000 will be professional to serve the different professional arms in the army. The exercise will end on  October 29, 2017, in 116 districts of Uganda.
Kampala district has only 600 slots in the recruitment exercise. However, Deborah Mbabazi the Kampala Resident City Commissioner says that less than 100 regular prospective recruits out of thousands that converged at Kololo were from the five divisions of Kampala.
The regular prospective recruits are required to have a minimum qualification of the Uganda Certificate of Education while the prospective professional recruits are required to have a minimum qualification of the Uganda Advanced Certificate of Education – UACE obtained over the last three years. These should have a bias in science subjects.
The recruits are further required to be citizens, present a medical examination report, national identity cards, local council recommendation letter, and original copies of their academic papers, three passport size photos among others before being taken through the other physical and medical tests by the recruitment team. They are also supposed to be single with no children.
The UPDF recruitment exercise seeks to address the human resource deficit arising out of the retirement of a similar number of personnel who will be leaving the forces over the next two years. Up to 1700 of these will be retiring in November, this year.