Lawyers representing Benjamin Alipanga have said they will soon apply to the Constitutional court to have the age limit debate halted until their client's case is disposed off.
Alipanga in 2014 petitioned the Constitutional Court in a bid to stop NRM from fronting president Museveni who was 70 years as president a presidential candidate because he will be above the mandatory 75 years by the time the term ends in 2021.
Hearing of the case that has stalled for over 3 years is set to kick off and is to be presided over by a panel of five judges led by the newly appointed Deputy Chief Justice Alphonse Owiny- Dollo.
Speaking to journalists on Wednesday, Alipanga's lawyers led by Fred Muwema said they expressed interest to court in filing an application that would halt parliamentary proceedings in relation to the age limit debate.
"We came here to beg court for speed in disposing off the case but also showed urgency in the matter," Muwema said.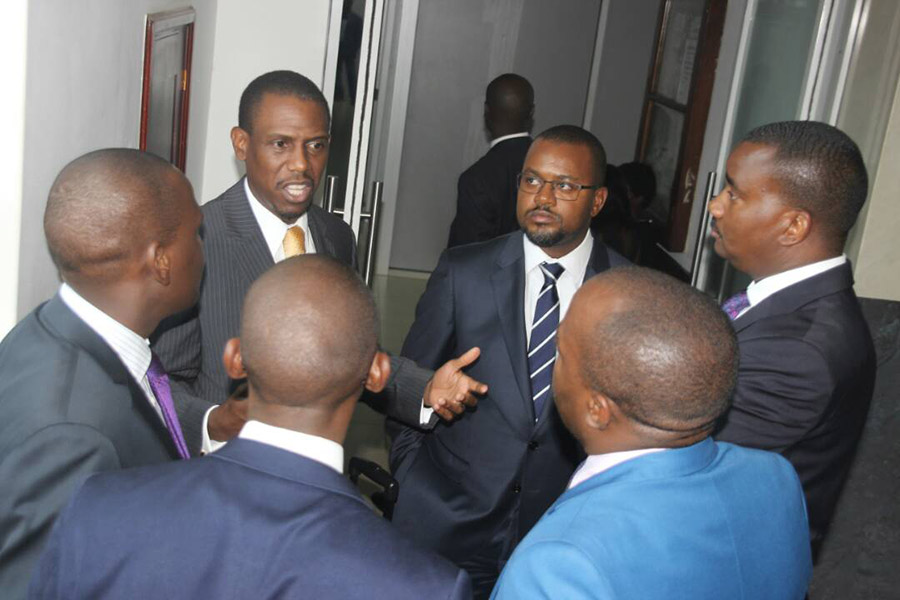 He said that the case had been adjourned to November 6, when they would return to court and present their application to the panel of five judges of the constitutional court so as to handle the matter.
Muwema noted that Alipanga and his lawyers had been advised by court to update their main petition that seeks to address the issue of president Museveni's candidature so as to conform to current developments.
"Court told us that the petition has been overtaken by events. By 2014 when it was filed, Amama Mbabazi was still the NRM Secretary General but as of now, much has changed and he is out of office."
The seasoned lawyer however said that both parties had agreed that article 102(b) that is being discussed by parliament is pertinent because it was the main gist in Alipanga's petition of 2014.
"Parliament cannot go on to remove article 102(b) before court decides its fate in the same matter," Muwema added.
Speaker of Parliament was represented by the Attorney General in court on Wednesday.
According to Alipanga it was unconstitutional for Museveni to stand for president in 2016 because he would clock 75 years before finishing his term of office.
He adds that it would prejudice his interests and render his case useless if parliament goes on to discuss the age limit bill.
The Deputy Chief Justice Alphonse Owiny- Dollo said there were many contentious issues that both Alipanga and NRM lawyers could not agree with and gave them more time so as to be able to harmonize their positions in regards to the case.
"A report will be filled by both teams and we will determine the way forward,"Dollo said following discussions in his chambers with lawyers in which journalists were barred.
NRM was represented by a team of lawyers led by Kiryowa Kiwanuka and Hussein Kashilingi.
Members of Parliament are set to receive twenty million shillings each to help them carryout consultations on lifting the age limit.
Article 102(b) of the constitution emphasizes 35 and 75 as the lowest and highest age limits for a presidential candidate.
President Museveni recently turned 73 years and is not eligible to stand for the highest office in the country in 2021 according to the constitution.