As the 24 legislators suspended from parliament return to the House, they have laid out a litany of demands and pressed the speaker for answers on Seventeen (17) issues.
In a letter written by Aruu County MP, Odonga Otto and signed by 23 others, the legislators demand among others; Disciplinary action on army representative and State Minister for Works, Gen Katumba Wamala, specifics of security operatives that plucked them out of parliament and on whose orders they stormed the House, as well as perpetuators of grenades being thrown at different legislators' houses.
"On the 27th day of September 2017, militia some of them we clearly belonged to SFC accessed and/or invaded Parliament during the plenary sitting and forcefully evicted some Opposition Members of Parliament from the house. We want to know who they were? Their full identities and particulars and under whose command they came?" reads Otto's letter to the speaker.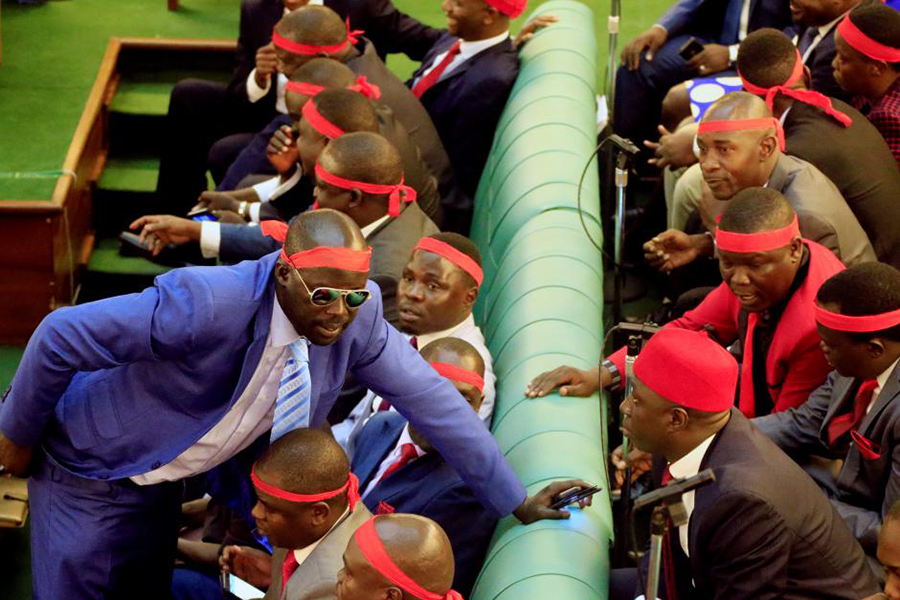 "Several Members of Parliament lost Ipads, phones and money; cases in point Hon. Odur Jonathan lost 10,000,000 shillings, Hon. Sewanyana Allan 2.000.000 shillings, Hon. Nsereko Muhamed 10.000.000 shillings, Hon. Olanya Gilbert lost the Parliamentary Ipad, Hon. Ocen Julius lost the Ipad and 2.000.000 shillings to the militias and goons. What is the institution of Parliament going to do about this given that even the institution of Parliament's Ipads were stolen from some of the Members arrested?" he adds.
The legislators also insist that Gen Katumba knocked Zaake Francis cold during the scuffle hence should be paraded in the disciplinary committee.
It should be noted that despite Zaake accusing Gen Katumba of jabbing him, the former Chief of Land Forces contests the matter, saying he only pulled him aside and threatened to clobber him.
https://www.youtube.com/watch?v=GkMGqIBk6ms
Video footage circulating on social media shows the perturbed General pulling Zaake aside and swinging a tight blow, however the camera angle does not capture where the weight of the blow was rested.
Gen Katumba would later visit Zaake at Lubaga hospital, only for the latter to insist he was beaten by the former but he forgives him "100 times."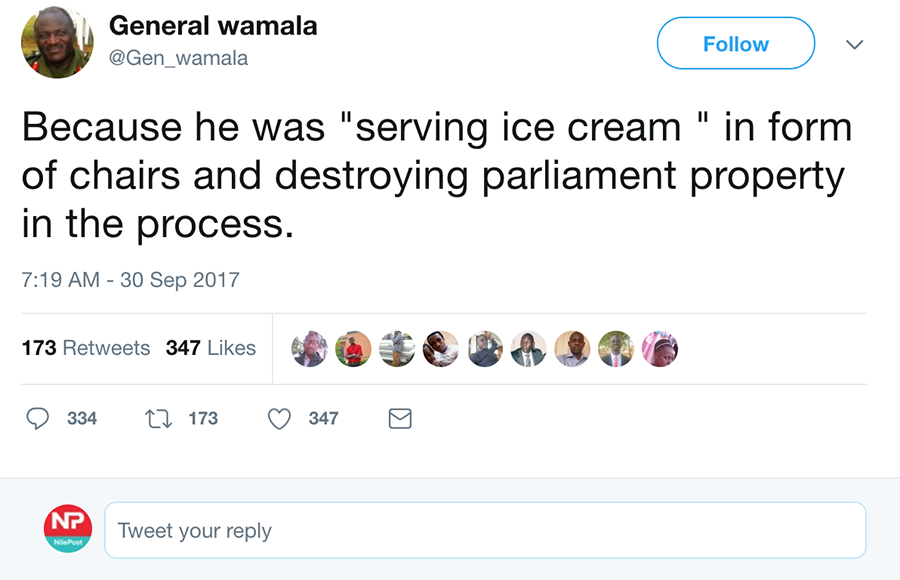 Also injured in the scuffle that day was Aruu North MP, Achiro Lucy Otim whom the suspended legislators claim has serious health conditions and may require medical treatment abroad. They demand to know who will foot her medical bills.
Who threw the grenades
In the wee hours of Tuesday, homes of Kyadondo East MP, Robert Kyagulanyi Ssentamu and Makidye's Allan Ssewanyana were attacked with grenades. A week earlier, Rubaga's Moses kasibante had received his share of the grenade scare.
While police claimed the attacks were linked to a "certain vehicle" and are actually factory made with less shattering effect, government spokesperson Ofwono Opondo avowed that the attacks were orchestrated by the opposition to discredit government.
Now the suspended lot insist that they are given an account of these attacks, and a detailed explanation why the grenades are selective in their attack (on only those opposed to the amendment of article 102b).
Guns in chambers
Otto and group accuse the parliament security of carrying out their service discriminatingly, citing the example of State Minister for Water, Ronald Kibuule who allegedly slid into the chambers with a gun hence putting the lives of other legislators in jeopardy.
They want an official communication regarding Kibuule's behaviour, claiming there is selective screening.
It should be noted that Mr Kibuule was called to order by Ssemujju who alleged the flamboyant legislator had carried a gun to chambers and further threatened to squeeze a bullet in his head.
Kibuule vehemently denied, raising all hands in the air and swearing his hands have not touched a weapon except his smartphone.
An unrelenting Ssemujju insisted until a check was ordered. Nile Post reported exclusively that in due process, Kampala Minister Beti Kamya sneaked out the gun.
Kadaga would later state that camera footage had shown Kibuule access the chambers through the president's office unchecked, she consequently suspended him for three sittings.
https://www.youtube.com/watch?v=RrZt00M42_8
In a follow up interview with NBS TV, Kibuule denied fetching the gun to the chambers, he said security operatives checked him over four times and there is video footage to that effect. He then took a quick swipe at Ssemujju whom he claims has personal issues no wonder the accusations during plenary.
"It all started when Ssemujju wanted a borehole for his people, I asked him to write a letter for the same since the office does not run by word of mouth," Kibuule hinted.
Chris Obore biased?
"We want to know why Mr. Chris Obore, the Public Relations Officer of Parliament has been to several public media condemning MPs specifically on NBS where he stated that "the Members of Parliament had provoked the security personnel". We need to know whether the continued work of the biased Public Relations Officer would serve the institution of Parliament in this multiparty dispensation," Otto's letter reads.
After the parliament fracas, Chris Obore is quoted by NBS TV saying parliament management is unaware of the plain clothed security officers who stormed parliament like whirlwind and ejected legislators.
Obore's words would come back to haunt him when the Inspector General of Police, Gen Kale Kayihura gloated that he planed and ensured the success of the eviction at the request of parliament authorities.
Related story: Kayihura, Obore defer on plain clothes security officers
OTHER ISSUES
Media ban for MPs: We express concern as to why all the suspended MPs have been banned from all the media platforms and whether this amounts to freedom of expression as envisaged in the Constitution.
Police harassment:
We are concerned about the continued harassment by the police and restriction of freedom of movement of some of the suspended Members of Parliament. This continued violation and witch-hunting of those who don't support Article 102(b) amounts to continued violation of our rights to represent our various constituencies
Speaker not allowing MPs to speak:
we are concerned that the Speaker of Parliament denied the Members who remained in the House an opportunity to speak. Example Hon. Prof. Ogenga Latigo and the Leader of Opposition where not allowed to speak and this contradicts the rights of representation which is a Constitutional right of a Members of Parliament.
The Police involvement in beating the MPs:
https://www.youtube.com/watch?v=zPZb7sCUMWs
We are concerned that Police, especially the OC Parliamentary Police Miss Anabella while at the Parliamentary basement packing on Wednesday 27th September at 10:00am beat up some MPs; Hon. Gilbert, Hon. Ocen Julius and, and Hon. Zaake, who later got treatment at the Parliamentary clinic. Why would this happen in Parliament.
Dress code: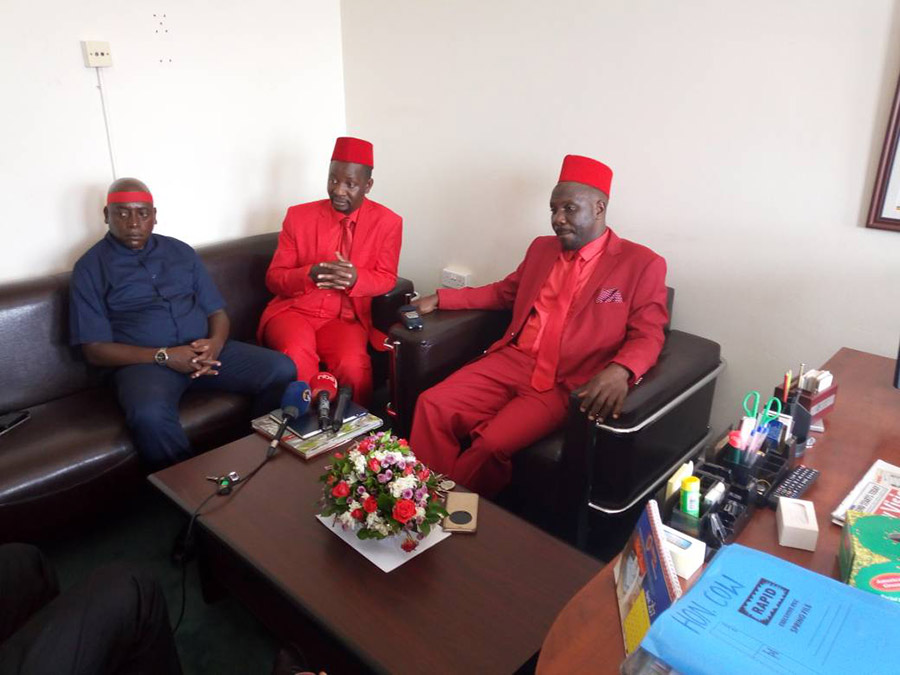 We would like to know whether there is a specific dress code required at Parliament as to color and style? We have equally seen school children and people in red or ribbons being harassed. Can we get clear responses as to dress code as to which ones have been changed or banned from the house?
Intimidation of Members;
https://www.youtube.com/watch?v=S4watDatpiY
Hon. Anite Evelyn publicly boasted about the army being in their support and she has not been brought to book and Government has not come out to withdraw the statement either. Could this be the event that resulted into the security forces raiding the