The Prime Minister Robinah Nabbanja has said that all national regional referral hospitals around the country are going to get their own oxygen plants.
Each Covid-19 patient who gets ill consumes 4-6 cylinders of oxygen per day. Many hospitals without oxygen plants have struggled to meet this need.
In her address to Parliament on Wednesday, Nabbanja said that government is looking at finding a permanent solution to this problem by installing oxygen plants at all referral hospitals.
"Government has begun the process of procuring and installing cryogenic (liquid) oxygen plants whose oxygen purity is as high as 99.7%," Nabbanja said.
Before the pandemic, Nabbanja said that country's referral hospitals used to operate with oxygen from the Pressure Swing Adsorption system, which she said is very difficult to distribute country wide.
The new liquid oxygen plants will help to alleviate the need and reduce need for transportation of the oxygen, according to Nabbanja.
Nabbanja said that the shift to liquid oxygen is guided by the very high purity levels and ability to produce and store it in high volumes.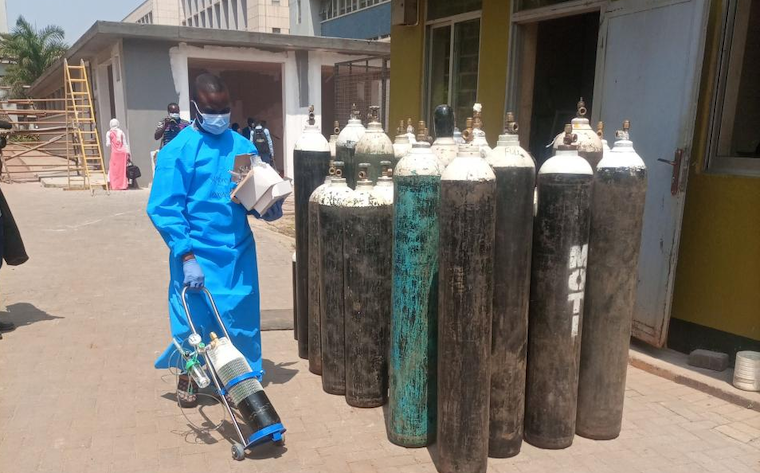 "This shift (is also guided) by the less cumbersome way of transportation in crynogenix oxygen tanks to fill cylinders at the facilities. Cryogenic plants will be installed in all regional referral hospitals and at the National Medical Stores (NMS) to serve the needs of the National and Specialised hospitals," Nabbanja said.
Nabbanja said that the requirement of huge amounts of oxygen and medical supplies including medicines and personal protective equipment for health workers has driven the cost of COVID-19 treatment way above what an average Ugandan can afford in private hospitals, calling for government intervention.
Several private hospitals were earlier reported to be charging exorbitant prices to treat Covid-19 patients with oxygen going for above Shs 1 million per day.