By Aggrey Nyondwa Kikobera
On a lovely Friday afternoon in Kampala, I reach for my phone to call the next available ride, to take me to my destination.
A few minutes later, a phone call comes through, and it's a lady's voice on the other side.
"Hey Aggrey, this is Norah. I am your Uber driver. Where can I pick you up?"
Well, I might not have been startled, but I cannot deny that it felt unusual, to be picked up by a female Uber driver. My curiosity kicked in. I needed to know more.
A few minutes later, Norah arrives, in her Silver Vitz. By the way she manoeuvres to turn from a tiny available space, I can tell that she is a professional. Just by looking at her face and high level of concentration, she seems like a very serious woman.
Her stoic façade, however, vanishes and her face lights up with a big smile the moment she lowers her head through the window, to ask me to get in. And for the next two hours of our journey, driving through the compact Kampala traffic, she tells me her story.
Norah Baluka, 28, grew up in a family of entrepreneurs, many siblings, and very protective brothers.
She had dreams of studying so hard and becoming a neurosurgeon, in order to operate on all malignant brain tumours.
"I always wanted to be a doctor; a surgeon. My dad so much wanted me to be the same. He bought me lots of medicine books, and I read a lot about neurosurgeons.
They seemed cool, and I wanted to be one myself," she says. Her dreams of being a surgeon, however, crushed after her senior four. She did not satisfactorily pass biology, to earn her the subject combination she needed.
Baluka ended up in the Arts class in her A' level.
"They suggested so many combinations for me, but none had biology. I thought it would be meaningless, so, I made a desperate switch to the Arts and studied history, geography and economics, instead."
She later joined Makerere University Business School for her first degree in Accounting.
Living a hustler's life
At home, Baluka and her siblings lived almost every aspect of their lives, like a business.
They competed, traded favours, and strategised to win gifts and favours from their parents.
"We operated like we were in a real market. We would trade anything amongst ourselves, to get something in return. For example, if one needed me to take over their turn for doing house chores, they would have to pay something in return. It could be cash, a favour, or something to eat," she explains.
Baluka, however, admits that this, sometimes, got them into trouble with their parents. In her senior six vacation, she went to a factory near her home every day, for two weeks, persistently asking for a job. She ended up getting hired, but as a cleaner.
"At home, you are either working, or in school. So, I really needed a job. They thought I wouldn't take it, but I shocked them. I worked there for 8 Months until I joined University."
Dealing with the realities of unemployment
Baluka's biggest fear has always been the reality of being educated, but still ending up broke or unemployed. This compelled her to work so hard while studying, to avoid keeping all her eggs in one basket.
"While at campus, I would invest any money I got, into my business. I used to sell shoes, mostly targeting my fellow campus girls. Whenever my dad gave money for transport or up keep, I would inject it into business instead," she says.
After her first degree, Norah enrolled into the UK-based Association of Chartered Certified Accountants, the global professional accounting body offering the ACCA qualification.
She later did a Post Graduate Diploma in Monitoring and Evaluation (M&E) at Uganda Management Institute, and she is now in the final stages, of completing a master's degree, in the same field.
"I switched from Accounting to M&E, because the latter is more open and outgoing, compared to Accounting, which required one to sit in an office the whole time."
"Besides," she adds, "I tried looking for accounting jobs, but none would pay me the money I needed. I have gone for job interviews, where I have been offered less money, than what I actually pay the people I employ."
Surviving through the COVID-19 pandemic
Baluka's business was thriving. She employed a few people, dealing in clothes and mobile money. The business, however, took a great hit during the pandemic.
"We import most of the clothes we sell, so, when airports started closing and lockdowns biting, taxes shot up on everything, and then shops got closed, and it became impossible for us to continue with the business," she says.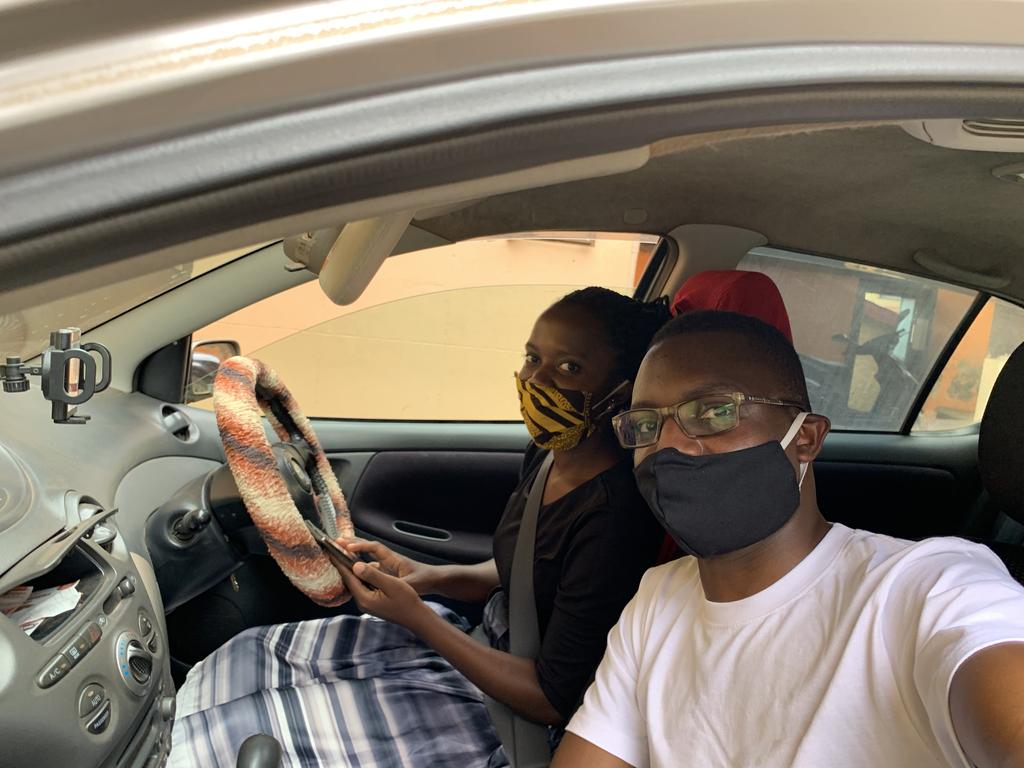 After her business took a hard hit, she thought of other ways to make money, during this difficult time. Together with her brothers and sisters, they invested in agriculture, because it was one of the areas that survived the lockdown.
Noticing that public transport was banned at the time, she saw another opportunity in Uber driving.
"I had thought about Uber some time back, but I never picked the urge to try it out. When the situation presented an opportunity, I decided to try it out. There wasn't too much traffic at that time, and clients were many."
Baluka makes an average 10 trips a day, depending on the day of the week, the traffic flow, and the weather. Despite the fact that her business downtown has started picking up again, she is not about to leave her Uber Job. She has plans of buying a new car, with a long-term goal of venturing into fleet business as well.
The learned hustler also plans to enrol for a PhD after completing her Masters. She says as much as she is a hustler, she has never disregarded the importance of education.
"Most people in my family are highly educated, so the pressure is always there. I cannot accept to be the least. I will have to go back for more degrees, besides, with education, you always have some guarantee that things will eventually fall into place. It's not a gamble like business," she adds.
She is inspired by her father who she says loves to see a highly educated girl child.
"My father likes to see a girl who is so educated. Our education is his biggest pride. I know I couldn't be a medical doctor for him, but I will go get that doctorate, and I will be a 'Doctor' in something else, which will be equally satisfying," she notes.
About her driving job her day starts at 5:30 am with breakfast and house chores. She leaves home at 7am to start her work. On a bad day, her day is muddled with chaos on the road, heckling drivers, deafening car hoots, and the stagnant city traffic jam.
"Sometimes, when I am too tired on the road, I pull over, find a spot, and take a 15 minutes power nap before I resume," she confesses.
There are, however, good days where she gets wholesomely tipped and complemented for her satisfying service, days when traffic flows smoothly, and days when clients are polite and friendly.
"In this job, you meet all sorts of people. Those that are rude and disrespectful, but there are those that are polite and very respectful," she adds.
For her own safety, she ensures that all her trips end during daylight. She hopes to settle with a family of her own soon, when 'the right person' comes around. She wants her children to be raised with a hustler's mindset, just like she was, so that they don't expect much from anyone.
"I am working so hard to ensure a good future for my children. I want to be their mother, teacher, nurse, everything. I will ensure that they understand that it's all about being ambitious and hard work. No one rejects money because it was earned from cleaning toilets, or collecting rubbish," she concludes.