Over 20 kilometers from Luweero town is Kikaabya village, found in Katikamu sub-county in Luweero district is the home of Solomon Ssemakula, the self -proclaimed "Jesus."
It was a tag of war, accessing the self -proclaimed son of God's home that we had to go through one of his most trusted confidants Lawrence Katende who led us to Jesus' home.
Despite being expected as his visitors, it was another hurdle to reach Ssemakula's home that we had to seek services of two other confidants who introduced themselves to us as "Jesus' disciples".
All dressed in blue attires, the disciples told us that "Jesus" was not ready to receive us, despite our earlier scheduled meeting.
At Jesus's home
After waiting for a couple of minutes, we were allowed to access but on one condition- wait for Jesus to wake up from a nap he was taking.
At his home, almost everything is in blue colour. Right from the wall paintings, utensils, windows, door and other stuff at home, including the painting on the toilet.
At his home, his disciples keep the offertories including brought by his believers but these (disciples) have no wives or children.
At around 10 am, Jesus woke up from and we were warned that he can't speak in Luganda but only English.
"Who are you, people? Don't waste time because I am not going to talk to you," "Jesus" told us as we approached the doorway where he was standing in a blue collared t.shirt and blue trousers.
He told us he is fed up with journalists who he accused of leading to his arrest for the multiple times he has been arrested.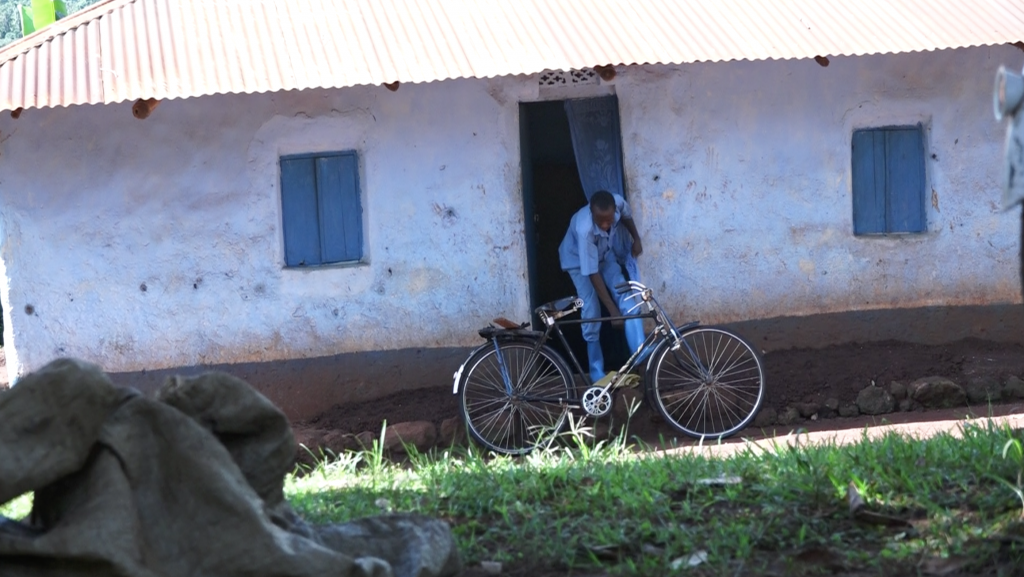 Ssemakula has on several occasions been arrested by police and charged with impersonation but on all occasions, he has been released.
During our visit, Ssemakula accused us(journalists) of not visiting him while in incarceration on the numerous occasions he has been sent to the coolers.
Speaks to us
Finally, "Jesus" accepted to speak but on condition that we don't move closer to where he was squatting.
However, his wife, all draped in blue attire from head to toe blocked us saying she didn't want us to talk to her husband.
"Let them take (photos)," he barked at his wife.
However, when we began asking him questions, "Jesus" in a rude way said we were part of those disturbing and also led to his arrest.
He said God would punish us.
"You are joking with God. If He surrendered me for the people but I am here doing nothing. You want to kill me for nothing but God is going to kill you too."
When asked the religion he professes, "Jesus" said he does belong to any religion.
We tasked "Jesus" about the number of people he has converted to follow him, he said he has not been able to do God's work because he is always arrested by police.
"You don't want me to work. When I walk they come for me. I don't know the day God will bring suffering to you for what you have done to me.  I have suffered a lot by going to prison, forced to dig and beaten."
"Nobody has ever stood for God like me. Everyone, even villagers say I should be crucified."
When asked to recite some Bible verses, Semakula could not recite any.
Locals comment about Jesus
When asked about Ssemakula, the self-proclaimed "Jesus," locals said the man is confused and needs medical attention.
"The way I see them, something is wrong. The wife was my good friend but whenever we walked together, she would claim that it was going to rain and that some message had been delivered(through the dark cloud). She would then depart and returns home," said one of the neighbours.
Ssebbunza Lugoloobi, the Vice-Chairperson for Kikaabya village said they are puzzled by the behaviour of Ssemakula and his believers.
Masitulah Navvuga, a local journalist said Ssemakula and his followers do not believe in eating cooked food because it is against God.