When, on Friday, Andrew Mwenda told me that his mother Muhangazima Constance had passed on, I was overcome by so much sadness. I felt, like Mwenda later tweeted, a deep sense of emptiness. 
It is hard for me to imagine life without my mother! How I will visit Kanyandahi knowing she is no longer there? I have lost, not just a loving mother, but also my best friend, my playmate, my mentor, my advisor, my counselor, my whole world! What can feel the void she has left?

— Andrew M. Mwenda (@AndrewMwenda) June 21, 2019
She was, first before anything, very kind – and very empathetic. She hosted hordes of people in her home and served them all with food and drink till they had their fill. She was a great conversation sport and knowledgeable on a broad range of issues. 
The qualities she espoused, today, are a hard find and yet she owned them in whole heartedness and shared them with good cheer and spirit. 
Muhangazima Constance is mother to three prominent personalities; Andrew Mwenda – the vocal journalist, Major General Kayanja Muhanga – the commander 2nd Division and Margaret Muhanga, a legislator in parliament. She has 8 other children though the prominence of the three occasionally eclipses the rest. 
I have come to find great fraternity in these three; Major General Muhanga has, for example, sacrificed his own military tank to provide security for my crew and I when we landed into an ambush on the deadly South Sudan Nimule highway. Andrew has, on many occasions bore the laborious intellectual dearth of my inquisitiveness and Margaret, who we found great relations now takes calls from me for all manner of information on the running of the state. I'm always thrown into laughter when she hands her phones and cautions me to expect a call from Theresa May for advice on how to handle the messy Brexit. 
But such is the humor of Constance's birth.
The one memory of Muhangazima that I will keep with me however is this one; 
On the morning of 16th March 2019, at about 5am, we set off for the hilly plains of Kanyandahi, her matrimonial home. Adyeeri, as her pet name goes, had requested the presence of 'the clan' for the weekend. We possibly were 15 or there about.  The clan, for easy definition, is a think tank – in truth, we are debaters of everything. So we can be loud and noisy, we can also drag and irritate. Adyeeri, surely, at 84, wasn't going to have all of this. 
I was wrong. She had it. All of it.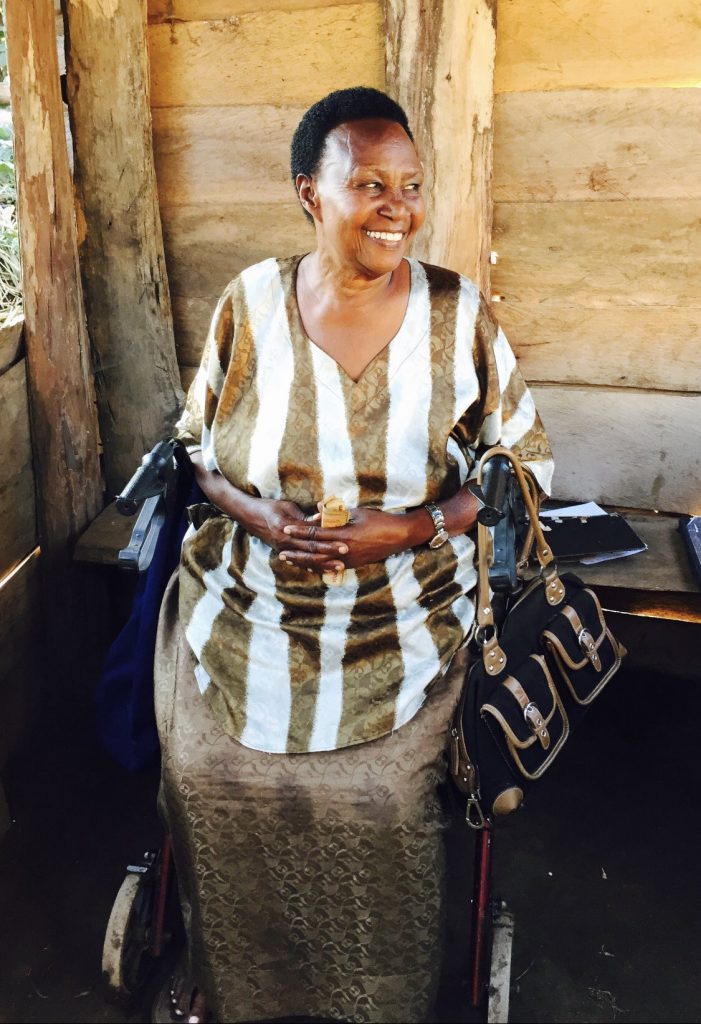 The doors to her home were open by 9am when we got there. She was sitted on her balcony taking in the morning sun. Her joy at our sight was unfathomable. She was deeply engrossed in finding out how each of our lives were going. Guys, we were 15! 
She served us an early morning ration of katogo and tea with bread to match. She kept a keen eye on everyone that walked through her door and cared for them the same. 
Adyeeri, by the works of her hands, had raised a generation of people in Kanyandahi who never stopped trooping to her home to see her. Even in frail health, she kept a very strong presence there.
 When we were done arranging the house and fixing, she dazzled us in humor on a medical trip she had recently taken to Germany. 
Where many of the old people in my life tend to be corrective, I found Adyeeri to be very sympathetic and understanding, where many of her age group scolded me – mostly about the inability to trace my lineage – Adyeeri was willing to sit with me and help with the tracing. 
I discovered, through the trace, a long connection of her clan to my own through marriage and friendship bonds. 
That art of listening to understand rather than doubling down on a held set of beliefs is a very unique quality that she passed on to her children and one that, if anyone spent enough time around her, adopted almost with instantaneous ease. 
Also, for all the power she wielded, founding mothers' union groups, running an enterprising farm and taking occasional visits from the President, his brother and ministers and MP's alike, for having such a powerful set of children in both intellectual, military, civil and political spaces, Adyeeri never closed her doors and ears to anyone that trooped to her Kanyandahi home. 
I will particularly miss her for that warmth of embrace her and her home offered. 
Rest well Adyeeri, rest easy.