Buganda Kingdom Premier, Charles Peter Mayiga has said that musician turned legislator Robert Kyagulanyi Sentamu alias Bobi Wine is a darling to the youth in Uganda but must also consider having a program beyond the drawing crowds
Mayiga is currently in Washington DC, United States of America where he went to meet members of the Buganda Community from different parts of North America in an annual Buganda convention.
Yesterday, he was hosted by Shaka Ssali on Voice Of America's Straight Talk Africa.
When asked about Bobi Wine, he said that he still has work to do despite having the crowds on his sides.
"Bobi Wine is a darling of the young people and you must realise that the current regime has been around for thirty three years and that's a long time. Bobi Wine is an artiste, to communicate to people through music is very easy," he said.
Katikkiro added: "It will depend on how he wraps up his package and presents it to the people. The French President is very young. There is a chancellor in Austria that has just resigned and he's about 32. I think he's younger than Kyagulanyi. Obama became president at 43. I don't think its something but what matters is whether he's readied himself for the job and beyond the support of the youth who are the majority. If he wants to be president, he must have a program beyond the crowds."
Tasked to make a comment on whether Buganda Kingdom will support Bobi Wine's ambitions, Katikkiro said that Buganda doesn't support or oppose anyone as it also has its own interests as a kingdom.
"Buganda Kingdom doesn't support or oppose anyone. The Buganda Kingdom has its own interests and we wrap them in five key points. Whoever wants our support should come over and tell us that he's going to support us. You respect our heritage and the king. We want a federal system of government, we want you to protect our land and borders and we want programs of economic development. We also want unity of the people and if he supports that, then the people should vote for him," Mayiga said.
Asked if he (Katikkiro) also has political ambitions, Mayiga said that he doesn't although people talk about it all the time.
He said that he also just read about it on social media that President Museveni was going to make him his vice president but he has never heard it from it Museveni. He said that it will certainly not happen now as he has a lot of work that the Kabaka (King) wants him to do.
Yesterday, May 29 marked exactly six years ever since the King handed over to him the instrument of power called "eddamula" in Luganda.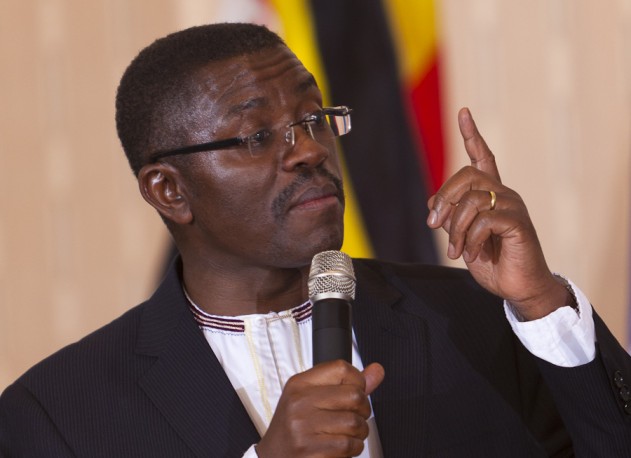 He recalled his best achievement this far as being able to re awaken the young people.
" Re-awakening the young people and making them cherish their heritage. For me that's the most important feat I've achieved."
The Katikkiro however failed up come up with any regrettable decision he's made in his six year reign since 2013.
On Buganda's influence on the political landscape of Uganda, Mayiga said that it is difficult for one to rule or govern Uganda without working with Buganda Kingdom.
"The population of Buganda is about twelve million people. The capital, Kampala and every other major installations in the country are in Buganda. 70% of the country's GDP is within the Kingdom of Buganda. The Kabaka also has a huge following so its only wise for whoever wants to rule to have some sort of cooperation or understanding with Buganda Kingdom," he said.
Asked why the Kasubi tombs that were burnt down in 2010 are not yet complete after almost a decade, he said that its due to cultural ties and not they are incompetent.
" It is a very difficult job because certain clans must do certain things. Its not like Masengere which we built in a year. Here, you have to respect  the principles and if you don't, clan leaders won't let you. You have to observe the customs that go with the rebuilding of the tombs and we're trying. Also, the money involved is a lot but people don't realise that."