The Forum for Democratic Change party (FDC) has threatened to organise countrywide protests if the Uganda Police Force (UPF) does not stop harassing its leaders.
However, deputy spokesperson Polly Namaye has warned that the police will not hesitate to deal with them accordingly.
FDC president Patrick Oboi Amuriat made the declaration during a Monday press briefing at the party headquarters in Najjanankumbi, along Entebbe road.
Amuriat accused the police of abusing the rights of FDC party leaders from freedom of speech to assembly.
He said that FDC had informed the police two months ago in writing of various programs they intended to hold with their members around the country. This is in accordance with the 2013 Public Order Management Act (POMA).
A letter shared on the FDC Twitter handle informing the police of these activities is dated March 15, 2019.
The FDC letter in part reads, "This is to inform you that the Forum for Democratic Change (FDC) will conduct mobilisation activities across the country with the following objectives: selling party cards, launching grass root mobilisation committees and launching tree planting campaigns."
The FDC president said that instead of providing security as requested, police had instead blocked all their planned outdoor and indoor events. Amuriat said that venues had been sealed off, radio stations where they were slated to appear switched off and some party leaders arrested.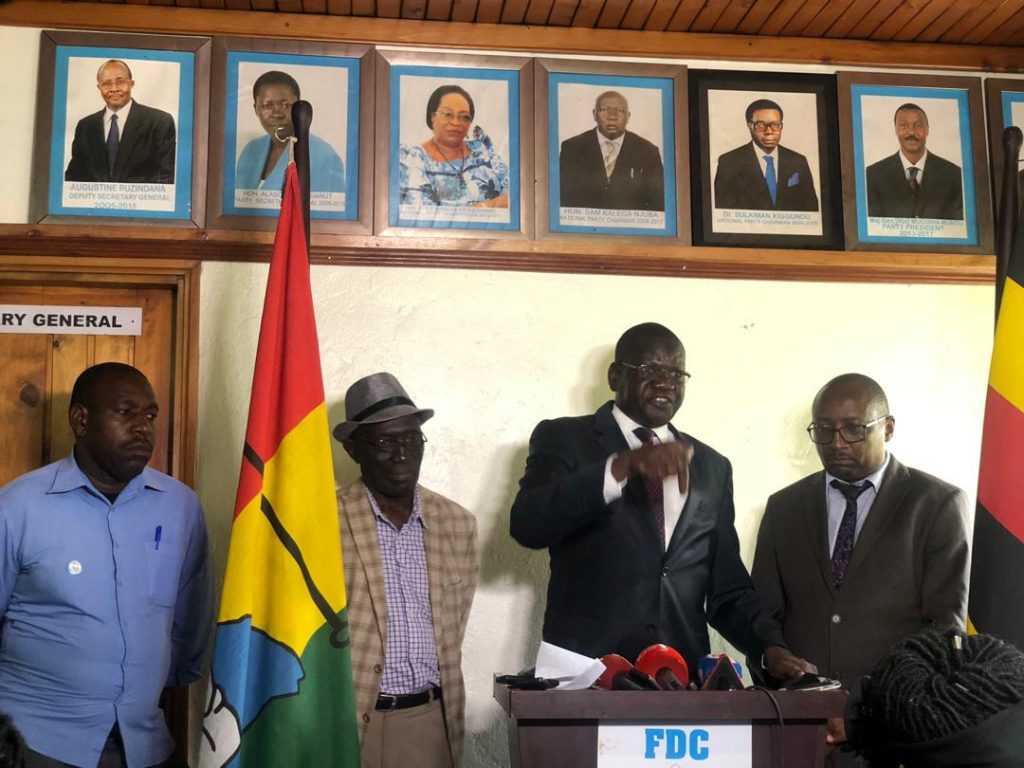 Police spokesperson Namaye denied Amuriat's accusations that FDC was being unfairly targeted.
The Monday presser came five days after former FDC party president Dr Kizza Besigye and president Patrick Amuriat alongside activist Nicholas Atuhairwe were arrested and detained in Tororo Central Police Station. The politicians were on their way to Tororo youth centre to meet party faithful.
Amuriat said that should police continue to frustrate their attempts to meet their members, FDC will launch a countrywide protest.
This will not be the first such countrywide protest the FDC has organised. The most notable protest FDC organised against the high cost of living remains Walk to Work in 2011.
Edited by David Tumusiime