Business mogul Sudhir Ruparelia, minister Godfrey Kiwanda and Sarah Kagingo, a social media aficionado walked away with awards at the 4th edition of Ekkula Pearl of Africa Tourism awards held at Sheraton hotel on Friday.
Sudhir who was represented by the Speke Resort Munyonyo employees won the Lifetime Tourism Achiever  award because of his dedication to investing in tourism through the hospitality sector.
Sudhir's Munyonyo Hotel also won the award of the best luxury hotel in Uganda.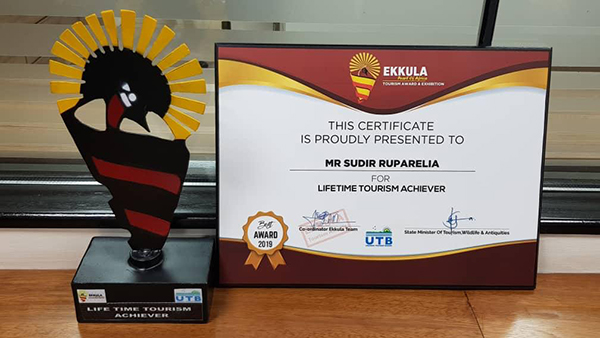 Sarah Kagingo who is also the President of the Public Relations Association of Uganda (PRAU), took home the award of exceptional promoter of tourism using social media. Kagingo has tirelessly promoted Uganda's tourism potential on her various social media platforms.
Upon receiving the ward, Kagingo thanked everyone who has helped marketed Uganda and promised to continue showcasing the best of Uganda.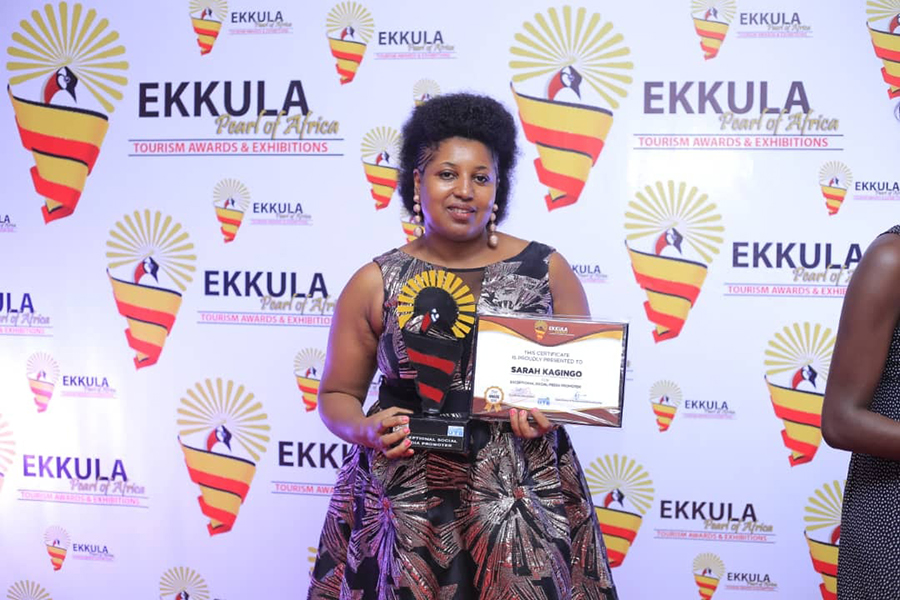 The night also saw the state minister for Tourism Godfrey Kiwanda, walk away with the award of Tourism personality of the year.
Kiwanda was awarded for his dedication to supporting Tourism growth especially in the private sector through his ministry.
The awards ceremony organized by Brand Ambassadors 256 was officiated by the deputy speaker of parliament Rt.Hon. Jacob Oulanyah .
Hundreds of key players and influencers within Uganda's tourism sector graced the event.
Oulanyah commended government's role in supporting the private sector driven initiatives.
"I thank the government and private sector for working together to improve the sector because it holds the treasure of this country and if we invest in it we don't have to look elsewhere for assistance," he said.
Kiwanda appreciated the organisers of the awards for being creative and innovative.
He pledged government's support to private sector driven initiatives like Miss Tourism Uganda, Miss Curvy, the Rolex festival among others
Ethiopian Airlines won the Award for Best Airline of the year International (Economy Class) while Fly Emirates won the award of exceptional business class.
The awards ceremony is aimed at recognizing individuals and brands that have relentlessly stood out in the tourism industry for their selfless service.
 FULL LIST OF WINNERS
Lifetime Tourism Achiever – Sudhir Ruparelia
Tourism Personality of the Year – Godfrey Kiwanda Suubi
Best Overall Tourism Event – Nyege Nyege Festival
Best Food Event – Rolex Festival
Best Domestic Airline – Aero Link
Best User-Friendly Digital Transport – SafeBoda
Best International Airline (Economy) – Ethiopian Airlines
Best International (Business) – Emirates
Best Tourism Photographer – Mathias Mugisha
Most Active Tourism Cluster – Kigezi
Most Attractive Tourism Association – Association of Uganda Tour Operators
Finest Traditional Dance Troupe – Kika Dance Troupe
Best Private Wildlife Conservation Centre – Ziwa Rhino Sanctuary
Exceptional Tourism Promoter on Social Media – Sarah Kagingo
Best Promotional Cultural Event – Bakiga Nation
Best Fashion Event – Abryanz Style and Fashion Awards
Young Tourism Achiever – Natalie Bitature
awards.
Tourism Ambassador – Zarinah Tlale
Ugandan Cuisines Restaurant – -Shaka Zulu
Standard Service Hotel – Wash & Wills
Eco Safari Lodge – Seranada Eco Resort
New Hotel of the Year – Skyz Hotel Naguru
Service and Luxury Biz Hotel – Speke Resort Munyonyo
Fast Foods Restaurant – CafeJavas
Tour Guides – Ashley Brian, Ben, Denis Arinaitwe