Hundreds of Ugandans, including civil society organisations, activists and government officials combined voices against teenage pregnancies, child marriages, sexual gender based violence and other forms of injustices surrounding girls and women.
This was during the She Decides Festival Uganda celebrated on March 2nd at Kira Road Police grounds, Kamokya –Kampala in commemoration of the global She Decides Day.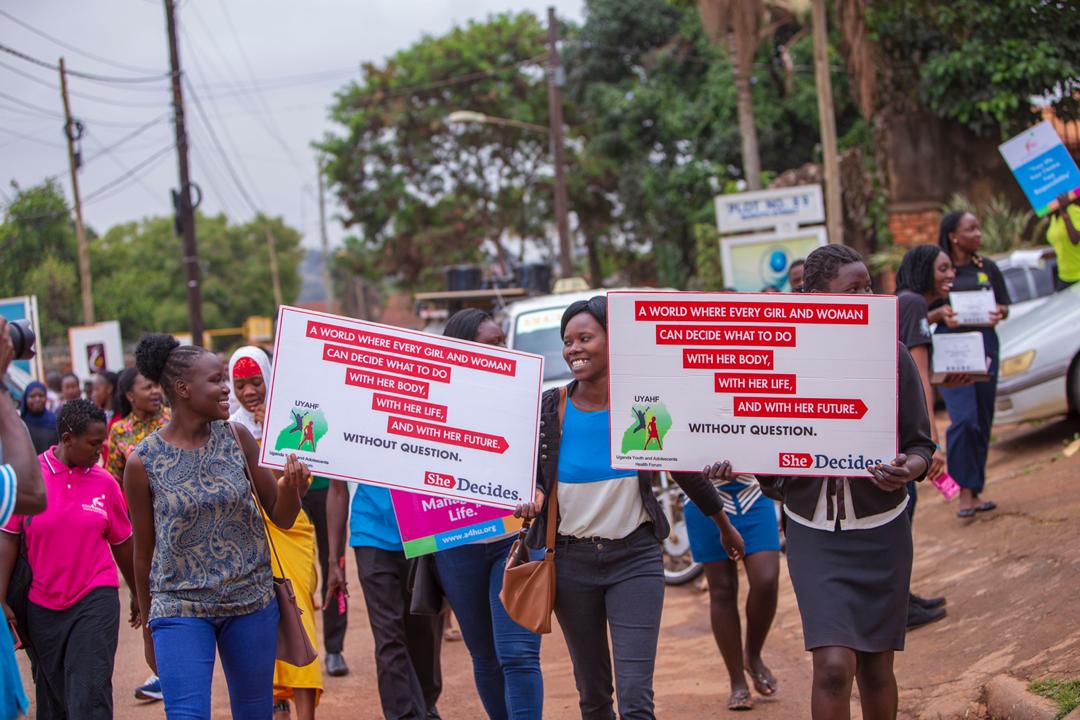 The commemorations organised by the Uganda Youth and Adolescents Health Forum –UYAHF, were marked under the theme; Stand Up, Speak Out and Take Action for Women and Girls to Freely Decide what to do with their bodies, lives and future. Without Question"
She Decides is a Global Movement that envisions a world where every girl and woman can decide what to do with her body, with her life and with her future. Without question. The movement is united in its belief and in the fundamental rights of every girl and every woman to make the decisions only she should make.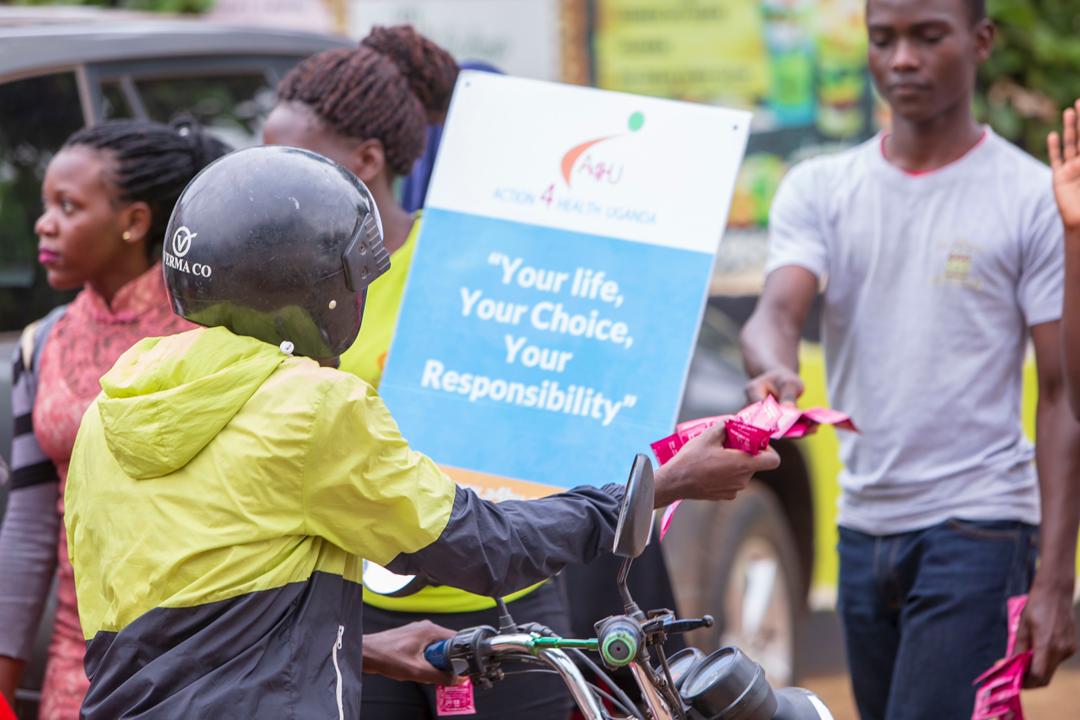 M/s Rosemary Mpomba, while speaking on behalf of the Belgium ambassador to Uganda, Mr. Hugo Verbist said; "one in four girls between ages of 15-19 years is already pregnant or with their first child and sadly, figures are still growing". She said, there is need to empower girls by giving them a platform from where they can access and share information about Sexual and Reproductive Health Services.
According to Uganda Demographic Health Survey (UDHS2016), More than 300,000 teenagers who get pregnant annually also account for the bulk of unwanted pregnancies, which end up in unintended births or unsafe abortions (estimated at 24%), increasing the risk of maternal mortality and morbidity among adolescent girls.
For many of these girls, pregnancies has little to do with informed choices. Often times, it is a consequence of discrimination, rights violations including; child marriage, rape, and defilement.
Hope Nankunda, the team Leader Raising Teenagers Uganda spoke strongly against early and forced child marriages especially for victims of defilement and teenage pregnancies. The called on authorities to ensure justice prevails for girls undergoing sexual violence and abuse.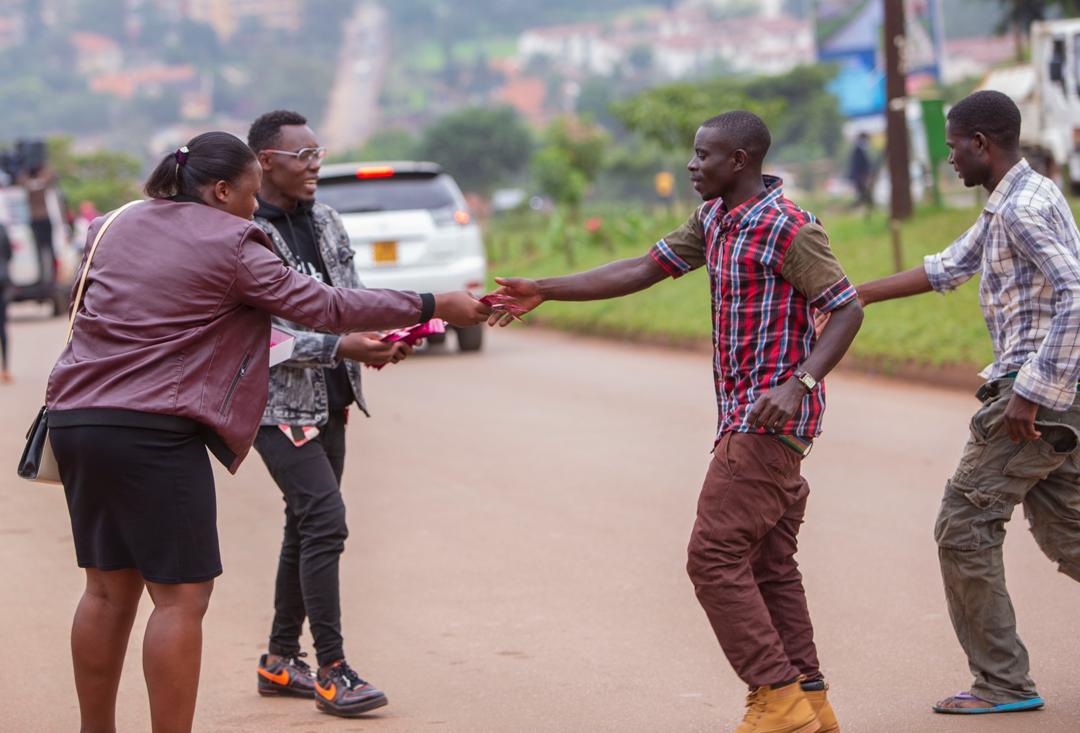 Dr Victoria Namugala from the school of Women Gender studies –Makerere University called on to women to make use of the justice system as the first channel, through which women rights can be achieved. She said, for women to confidently stand to their rights. They need the affirmation that justice system is there to serve them.
"Let's make it easier for girls to access justice. For many victims of violence, justice has remained a nightmare due to prolonged processes, judgement and costs involved. For instance, asking the victim to prove that she was defiled and did not consent is tricky and victims will forever shy away".
Mr. Jackson Okweku the Executive Director of Reproductive Health Uganda called on government to ensure priority is given youth-friendly services in all health units in the country.
"With a population that is 70% youth, why should services be packaged only for the older people? Empower the young people, understand who they are, and serve them with a smile". Women who have played an outstanding role in fronting the rights of fellow women and girls were awarded by Uganda Youth and Adolescents Health Forum with the prestigious She Decides Gender Equality Awards.
Ms. Namutebi Hadijja – Commissioner of Police in Charge of Community Policing Department, Uganda Police Force and one of the awardees encouraged fellow police women and men to serve diligently and emphasised Uganda Police Force's commitment to working together with communities in addressing Sexual and Gender based Violence and child trafficking that largely affects young girls.
Dr. Charles Olara , the Director of Clinical Services in Ministry of health, while speaking on behalf of Hon. Minister Sarah Opendi the State Minister for General Duties in the Ministry of Health, appreciated She Decides movement and partners for advocating for the rights of women and girls.
He appreciated the She Decides Movement for the key role it's playing in creating a platform where girls and women can be empowered to take on bold and life/career impacting decisions through giving right information, education and life skills to make informed and powerful decision that are key in supporting them to realize their full potential.
This includes having access to modern contraception, to sexual and relationship literacy, maternal and child health services and safe abortion among other SRHR services, Dr. Olara Explained.
He also noted that there is need to remember that more than 3 in 10 people in Uganda are young people of age 10-24 years, making Uganda one of youngest countries in the world hence the need to ensure that the right investments are made for the empowerment of these young people to enable them explore possibilities and full fill their potential.