Tucked 22 kilometers South East of Fort Portal town is Kibale Forest national park, the world's primate capital, a notion coined out of the fact that the national park has 13 different primate species.
The national park is home to more than 1500 chimpanzees and they are the flagship attraction to the park that sits on 795 square kilometers.
On Saturday February 16, I was among a team of journalists under the Chimp Conservation Camp taken on a familiarization tour by the Chimpanzee Trust to track chimpanzees which are the chimpanzees – the flagship attraction to Kibale National Park.
On arrival, we were welcomed by Godfrey Baryesiima, the head of the tourism department at the park who took us through the history of the forested park before introducing us to chimp tracking.
Chimp tracking
As it is to any other activity, tracking chimpanzees has its dos and don'ts while in the park to avoid getting problems.
"While in the forest, you must use more than five senses for you to be able to track the chimps well, "Baryesiima started his conversation.
We were told that chimps live in communities, and the dominant animal is the leader of the community.
As a way of showing dominance, the leader of the pack has to show off and this way, he is respected by other chimps.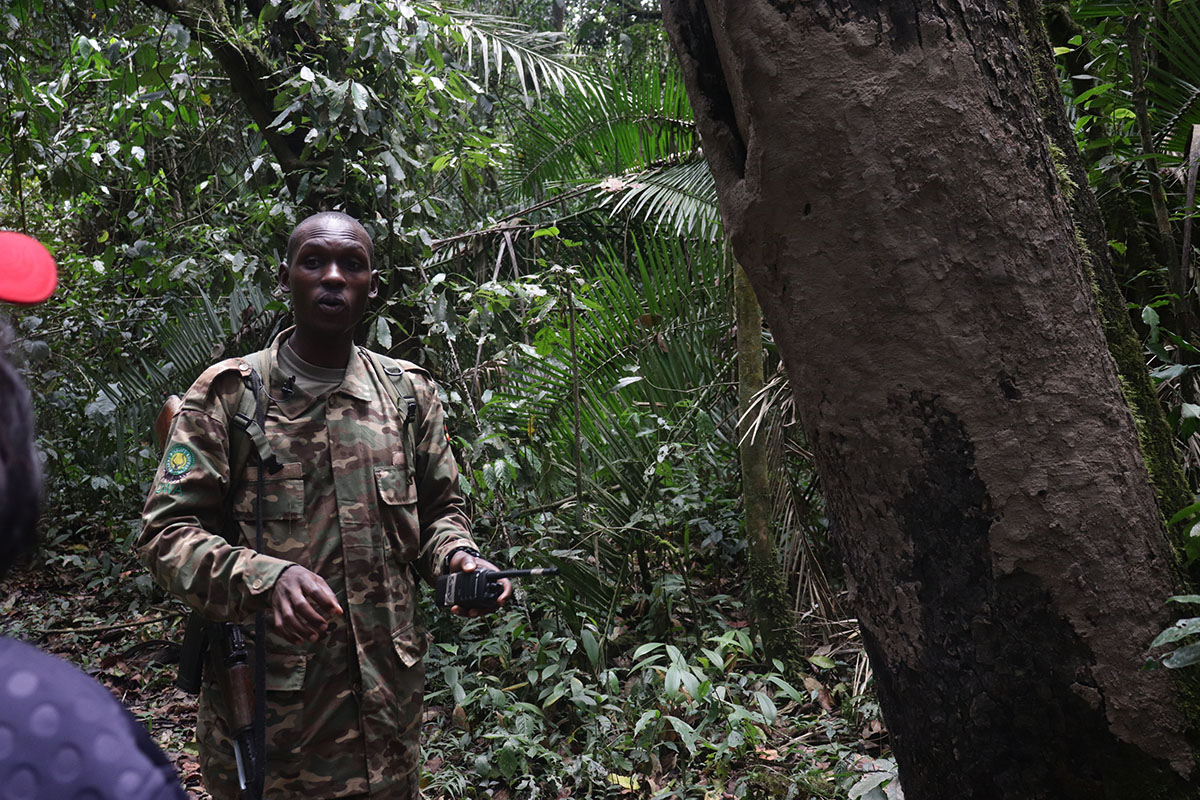 Baby chimps are   born with pink faces and they begin to darken from between 8 to 10 years.
Whereas the gestation period of chimps is 8 months, their life span is between 50 and 55 years but can live longer if they are in captivity (zoos).
Chimps split and move in smaller groups and in case they find food they call their colleagues to join them.
In a day one chimp can eat up to five or six kilograms of food and the food includes leaves, monkeys, dead wood and honey among others.
Despite being aggressive, the chimps are preyed on by eagles and pythons among other predators.
Baryesiima said that only 36 people divided into groups of six people each are allowed into the forested park at one given time.
"Flash photography is prohibited because it affects eyes of chimps and no one is allowed to mimic them (chimps) or else they might interpret it as an aggression call and attack us."
He said eating in the presence of chimps, littering and collecting anything are prohibited in the forested park.
We were now ready to go out in the wild to track chimps at Kibale National Park and each group took a different direction.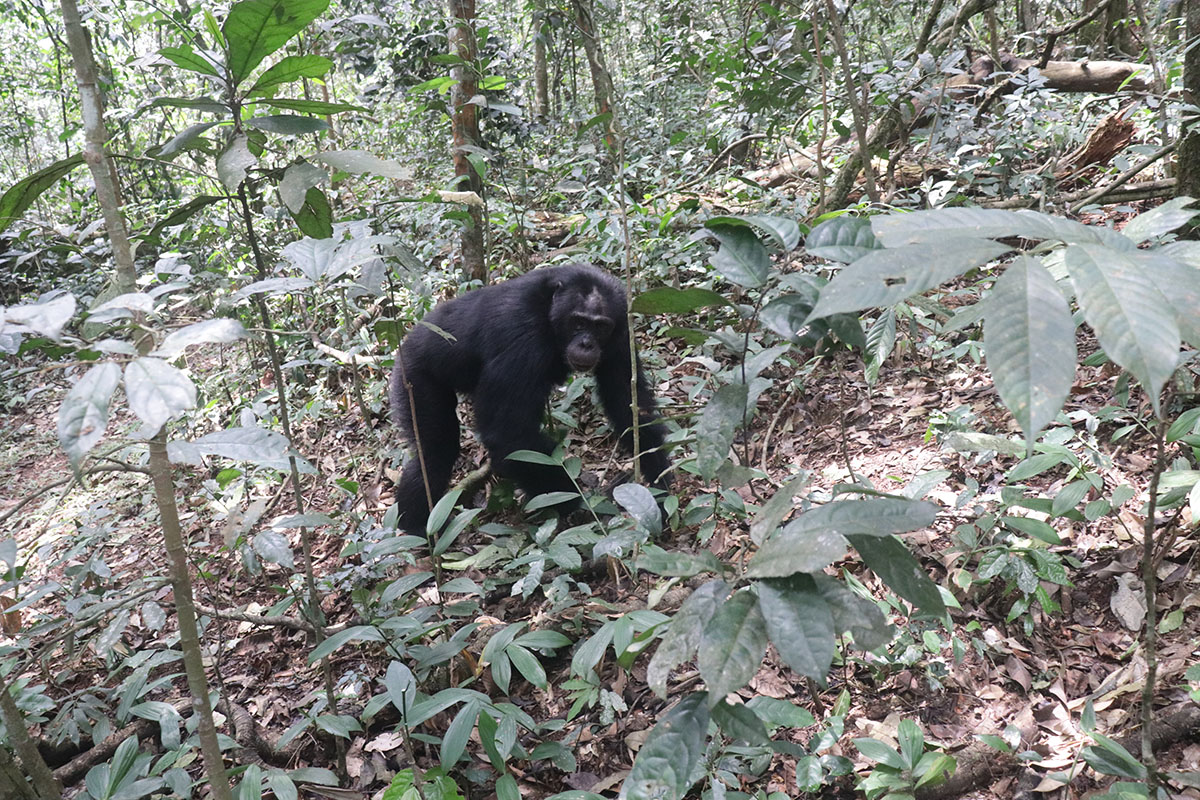 Armed with the Russian made AK47 rifle and a walkie-talkie Gordon Akampurira , our ranger guide from Uganda Wildlife Authority led our group to the wilderness.
He warned us that it would take not less than two hours before being able to set sight on chimps and if unlike, we could even return without seeing any.
The 'great trek' into the wilderness begun with happiness as we entered the dense rain forest but thirty minutes into our journey, there was no sign of any chimpanzee.
An hour and a half later, there was no sign of seeing any chimp and a number of people in our group looked knackered as they sweated profusely from every body part.
The only thing near to chimps that we could see was nests that they build for resting.
Our guide continued making contact with his colleagues who were leading other groups but all signs showed there was nothing fruitful- we had hit a dead end.
Two hours later, our guide received communication that there was some pant hoots- a sign that chimps were somewhere in the vicinity.
It then took us other 30 minutes before joining our other colleagues in a specific area in the middle of the forest from where a family of over 40 chimpanzees were sighted.
Happiness could be clearly seen on everyone's face at the sight of the chimps that kept running up and down as the young ones played with each other.
A number of my colleagues were seen fidgeting to take photos and record videos though many of them feared the animals that share more than 98 per cent of their DNA with humans.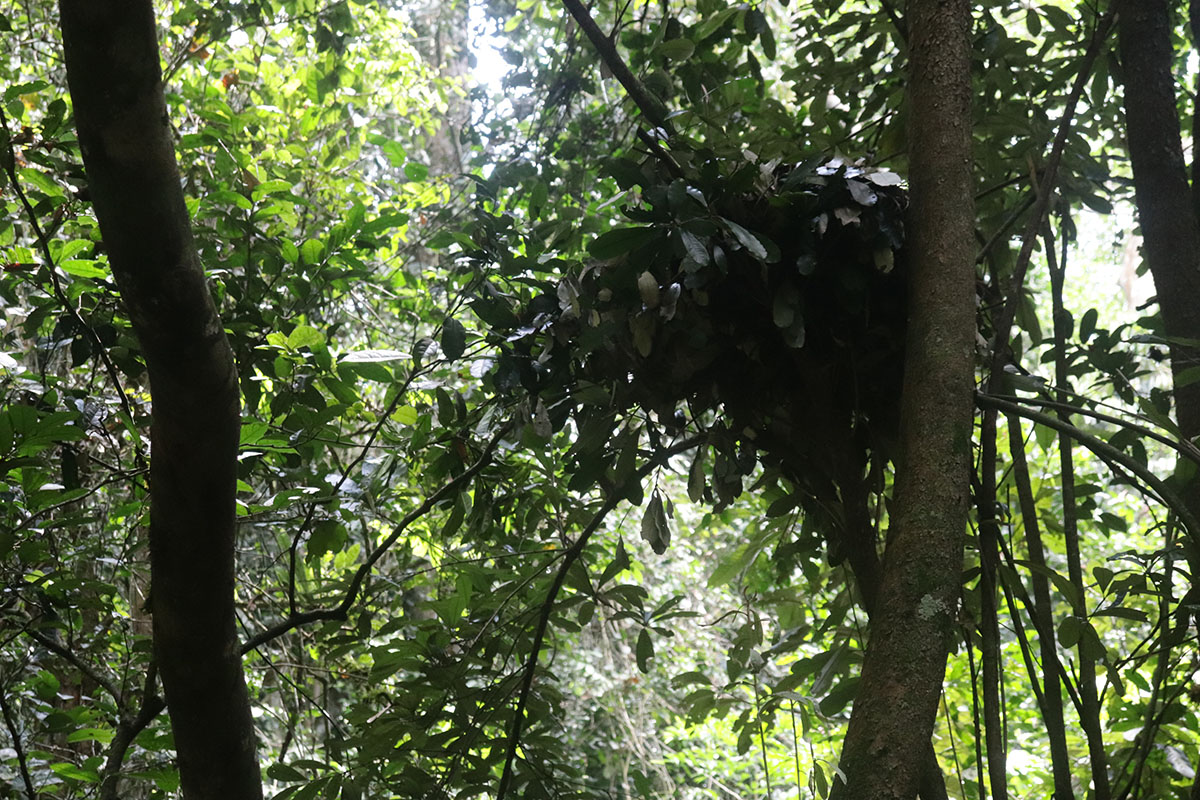 The animals would later climb up trees to their nests as the pant hoots became louder as we on the other side begun our 30 minute journey out of the forested park.
However, as the norm is with tropical rain forests, the journey could not end without a heavy downpour that made a number of us wet.
Facts about Kibale National Park
The forest that became a national park in 1993 and sitting on 795 square kilometres is shared between Kabarole, Kyenjojo and Kamwenge districts.
The park is home to 13 rare species of primates that include chimpanzees, olive baboon, red tailed monkey, black and white colubus monkeys, red coulubs monkeys, L'hoest monkeys, vervet monkeys, mangabeys, Thomas' Galago, Eastern/Elegant-needle-clawed Galago and Demidoff's Galago.
Kibale National Forest Park also boasts of over 300 birds, 350 tress, 71 mammals and 1500 chimpanzees.
The slanting national park sits rests at 1590 metres on the north and 1110 metres in the south whereas it has two rainy seasons as is with the dry seasons.
Kibale national park is wet March to May and September whereas it is dry between December to February and June to August.
The national park has three chaimpanzee research stations including ngogo, Sebitoli and Kanyawara whereas there are 3 habituated chimpanzee communities and 2 semi habituated ones.