President Museveni's advisor on Media, John Nagenda has said that of all opposition political parties and pressure groups, the Forum for Democratic Change (FDC) stands a bigger probability of taking power, but absolutely not under strongman, Dr Kiiza Besigye.
Nagenda was speaking to NBS TV from his home, during the topical discussion on Sunday.
According to Nagenda, the recent wave by Kyadondo East legislator Robert Kyagulanyi Ssentamu alias Bobi Wine is only a fallacy and stands no chance, but rather the organisation of the FDC and its structure set up would most likely stand a chance to unseat a very 'powerful National Resistance Movement'.
However, Nagenda said the FDC would be better if they decided to run under Dr Kizza Besigye's wife, Winnie Byanyima.
"I quite like Besigye, before he run off to South Africa many years ago, he came to visit me at my little farm in Buloba the day before he left, to give me some advice. I like him although his face is twisted in rage when I look at him."
"I even thought (actually in an idle moment) that may be Miss Besigye (Winnie Byanyima) would be a better leader of that group. She is now running a very big public company world wide. If you say to me when the next polls come around, do you think someone would do it? May be Winnie (Byanyima)," he said.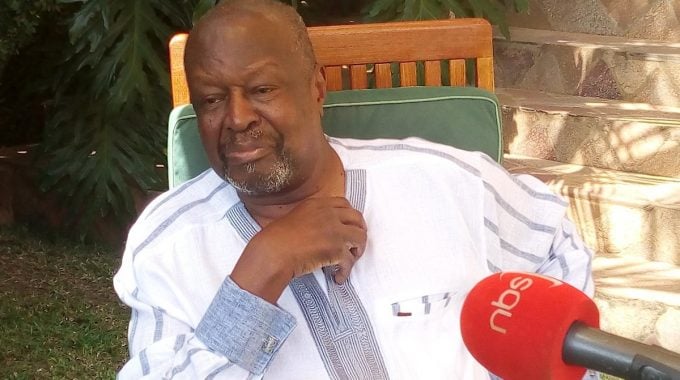 Nagenda said Besigye has lost credibility because he is too bitter, but that doesn't mean he would not make a good doctor, "But there are very few people who can run a country, even in Europe, look at Macron in France."
"Dr. Kizza Besigye has stood 4 times, losing very easily every time and bleating that he was cheated, what the hell is going on?" he said.
According to Nagenda, not even Mugisha Muntu would make a good leader for FDC or the New Formation because he has nothing extra to make him better than the rest.
"Mugisha Muntu was a reasonable leader of the army and he is well spoken but I would not expect him to make a good leader."
Nagenda laughed off the Bobi Wine as a suggestion to replace Museveni but said he was immature, and lacks any experience in leadership was a total waste of time.
VIDEO: Those who think Bobi Wine can lead this country are mad- Nagenda
"I believe Bobi Wine is a good singer but to become president, maybe in 20 years if he starts now. Museveni was young when he came to power but he had been running a war that he won, he had assistants below him who were very good and was a national figure; His prime Minister was Kiseka (Samson), he had the likes of Eriya Kategaya with him and this helped."