In November 2015, Pope Francis landed in Uganda for his first visit to the country, so many hands stuck out seeking a handshake from the Holy Father, so did so many heads bow, expecting him to lay hands and bless them; Many people traveled from far and wide, several government officials fixed in queues to have themselves, Rosaries, or car keys blessed, but one person took the final handshake and blessing of the pope- Wrong guess, it was not President Museveni but a little known Ugandan Muslim, Pablo Bashir Ssewalu.
On November 29, 2015 as the Shepherd One run its engine and prepared to hit the runway, the pope made his final blessings, and handshakes, moving through a parade of security, queues mounted by religious leaders led by; Papal Nuncio Michael Blume, Archbishops; Odama, Cyprian Lwanga, via Prime Minister Ruhakana Rugunda and finally to the fountain of honour, President Museveni.
However, as the pope finished with Museveni and started his walk to the Shepherd One, Pablo Bashir sneaked past Museveni and got the last handshake and final blessing.
"It just happened, I did not plan it and I don't even know how it happened," Bashir who is the Chief of Protocol for Next Media Services, told Nile Post during an interview.
How it all started
According to Pablo Bashir, he was put in charge of protocol since NBS TV was the official broadcaster of the pope's visit to Uganda. He was coordinating the different broadcast points and live units for the television.
Bashir claims that during the visit, he had got the idea to shake the pope's hand last and when he talked to his friends, they told him it was impossible.
"I told them I could do it but they said I can not. I did not bother to follow it up until the final day when the pope was leaving the country."
"He was done blessing and shaking the hand of the President, then suddenly it came to my mind. I needed to shake his hand last and receive his blessing. I sprinted past security and reached as he was starting to climb the air-stair. He saw me, came back and shook my hand."
"Quickly he said, God Bless you and off he went. From that time, my life has never been the same," Bashir added.
When asked how he got past the security of both President Museveni and the Pope, Bashir said he has no idea how everything just happened. "I don't know but Security didn't bother me, it was a like a reflex moment, everything happened too fast."
Life starts to change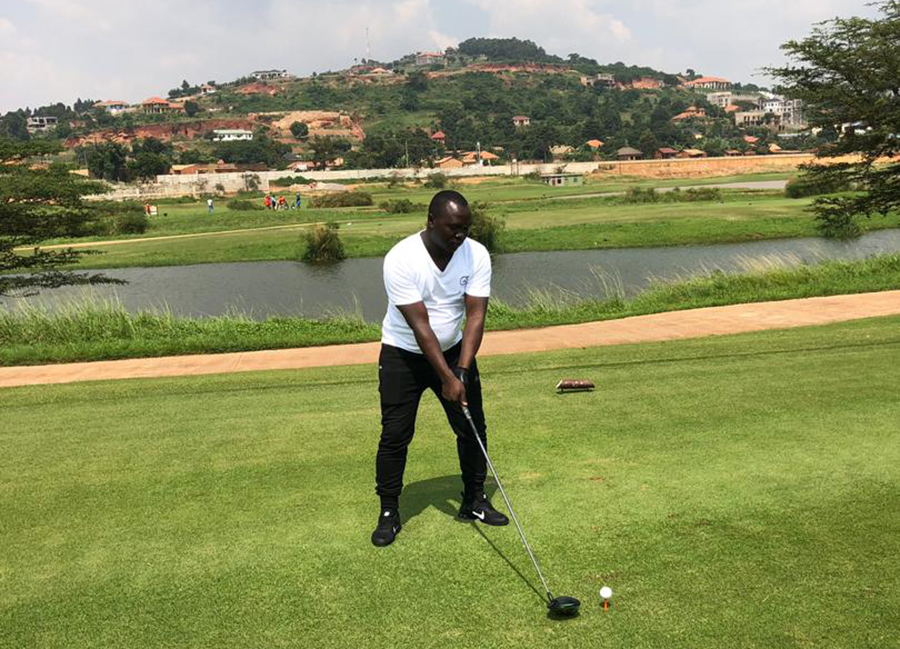 After shaking the Pope's hand, Bashir got the opportunity of heading the protocol team that hosted the diplomatic dinner for ambassadors the following year 2016 at Serena Hotel. This Dinner also brought Kenya's President Uhuru Kenyatta.
Also present at the dinner was President Museveni, high profile guests, members of the Diplomatic Corps, business communities, CEOs, ambassadors, and dignitaries.
"The contacts I got at the dinner made me something different. I can say after that, I needed no more introduction in most offices in the country."
Bashir says he started traveling to places he never knew he would reach, started meeting so many important people and work became smooth and more successful.
The highlight of his successful work was when he was awarded most versatile employee of Next Media Services by CEO, Kin Kariisa, making him the first recipient of such an award in the history of the company.
Speaking about Bashir's award, Next Media Chief of Strategy who also doubles as his his Supervisor, Jose Kigozi said Bashir has been on the 'high ever since  his daring act of being the last person to shake the pope's hand."
"Bashir deserves every accolade because he is reliable, fast and disciplined. Bashir is a well travelled young man who now needs to introduction among politicians, business people or CEOs and dignitaries," Kigozi said.
"He (Bashir) has redefined the position of protocol officer, and his impact has not gone unnoticed," he added.
Kaggwa NJala, Bashir's workmate describes him as ambitious, self made and resilient. "I was not surprised when he shook the pope's hand last."
Wrong for his religion?
When asked if he felt it was wrong of him to yearn for pope's hand despite being of a different religion and what its impact would be amongst those staunch Muslims, Bashir said he had no problem with it.
"I didn't think about my religion, the pope prays to the same God we pray to and God's blessings are not discriminative. God blesses irrespective of religious affiliation."
"And this was indeed a blessing, so many people were fighting shake the popes hand and I managed to get him last. Until today, I feel like I have the blessing of the whole country," Bashir maintains.
Who is Bashir?
Bashir started out as a presenter on NBS TV's real life show in 2014 before finding out he was best situated as a marketer and joining the PR/Marketing department at the station.
The was instrumental in the NBS TV rebranding in 2015, he would then be appointed chief of Protocol at the station 2 years later.