The Finance Minister Matia Kasaija has applauded the Financial Intelligence Authority (FIA) for saving the country from a number of sanctions including a blacklist by the international community.
Kasaija made the remarks on Tuesday during the inauguration ceremony for the Financial Intelligence Authority board members whose term has been renewed.
"The country was at the stage of being blacklisted but the FIA saved us from the sanctions,"Kasaija said.
The Finance Minister explained that the blacklist would come with a number of effects including suspended investment among others.
"When you get blacklisted, no one comes to invest in your country. No body lends you money as a country and the economy slowly collapses."
He added, "That is why we had to put in place the Financial Intelligence Authority and a law was developed that saved us a great deal."
The Financial Action Task Force (on Money Laundering) (FATF) is an inter-governmental body established in 1989 to develop policies to combat money laundering and in 2001, its mandate was expanded to include terrorism financing.
The Eastern and Southern Africa Anti-money Laundering Group in 2015 made a report that highlighted a number of deficiencies that Uganda had in relation to control of money laundering and terrorist financing.
The report rated Uganda as being poor on both technical and effectiveness compliance.
According to Leo Kibirango, the chairman Financial Intelligence Authority, FATF made 40 recommendations against Uganda over its failure to fight money laundering adding that by 2015 when FIA was introduced, only four of these (recommendations) were being implemented.
"By the end of last term at least 16 of the 40 had been implemented and we have established a strategic plan to address all the recommendations,"Kibirango said.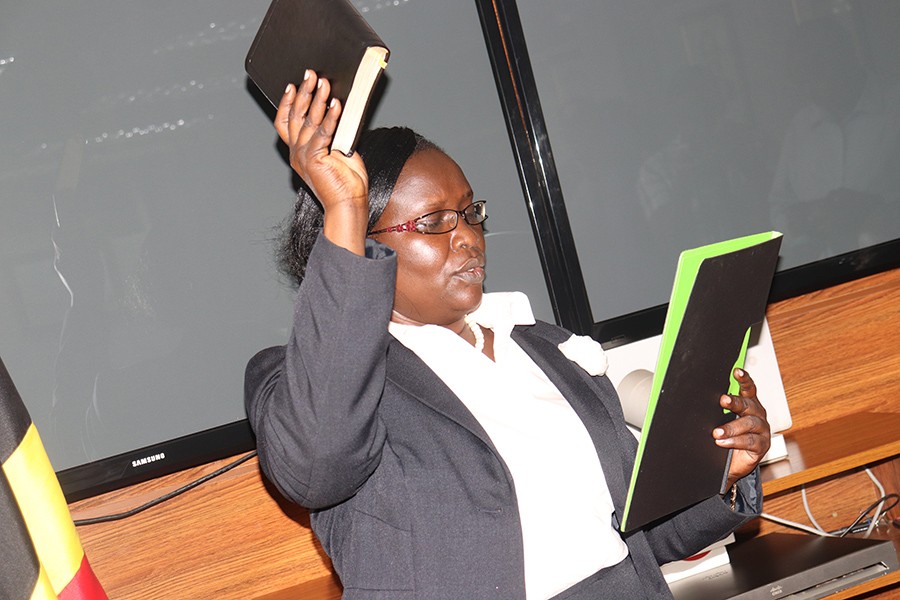 He added that the Financial Intelligence Authority has since established a report of risks in money laundering that has helped the country deal with the problem.
The Financial Intelligence Authority executive director, Sydney Asubo said on introduction, the Financial Intelligence Authority pushed for amendments in a number of laws including the Anti- money laundering, insurance and capital markets laws among others.
The four members sworn in on Tuesday include the board chairman, Leo Kibirango, Patrick Ocalip, Grace Akullo and Patricia Mutesi.
Justine Bagyenda, another member who had been appointed to the FIA board never appeared for the parliamentary vetting process. We have been told that she was dropped from the board.
The Uganda Financial Intelligence Authority, is a government agency established by the Parliament of Uganda to monitor, investigate, and prevent money laundering in the country.
It was established in 2014 and falls under the Finance Ministry.