President Museveni yesterday commissioned the first piped water expansion project for his home district Kiruhura.
The President in his remarks urged the residents to protect River Rwizi jealously and other water bodies that support the livelihoods of the people of Uganda.
Museveni also decried the high costs of pumping water to supply the different communities, due to a reduction of water in catchment areas.
The president attributes the pumping costs on the increasing human pressure on wetlands despite several directives for locals to vacate.
The water mains extension from Rubindi town to Kashongi was implemented by the Government of Uganda through the National water and Sewerage Corporation.
According to the project; It will cover 12kms of water mains extension extension serving 7 Villages which include; Ruhuumba, Kachwapare, Nchune, Kashongi, Ntara and the surrounding areas. It will also have 30 Public water points to serve various villages in the district.
Some of other areas to benefit from the project include; Kyenshama Trading Center and the surrounding areas in Kashongi County, Kiruhura district.
The project will serve over 40,000 people in Kiruhura district.
The NWSC Managing Director Dr.Eng Silver Mugisha shared that the corporation is implementing a number of service delivery projects to improve access to safe clean water and sewerage services across the country.
On the other hand, First Lady Janet Museveni also commissioned Kiyanga water supply system in Kiyanga Subcounty Ruhinda North, Mitooma district.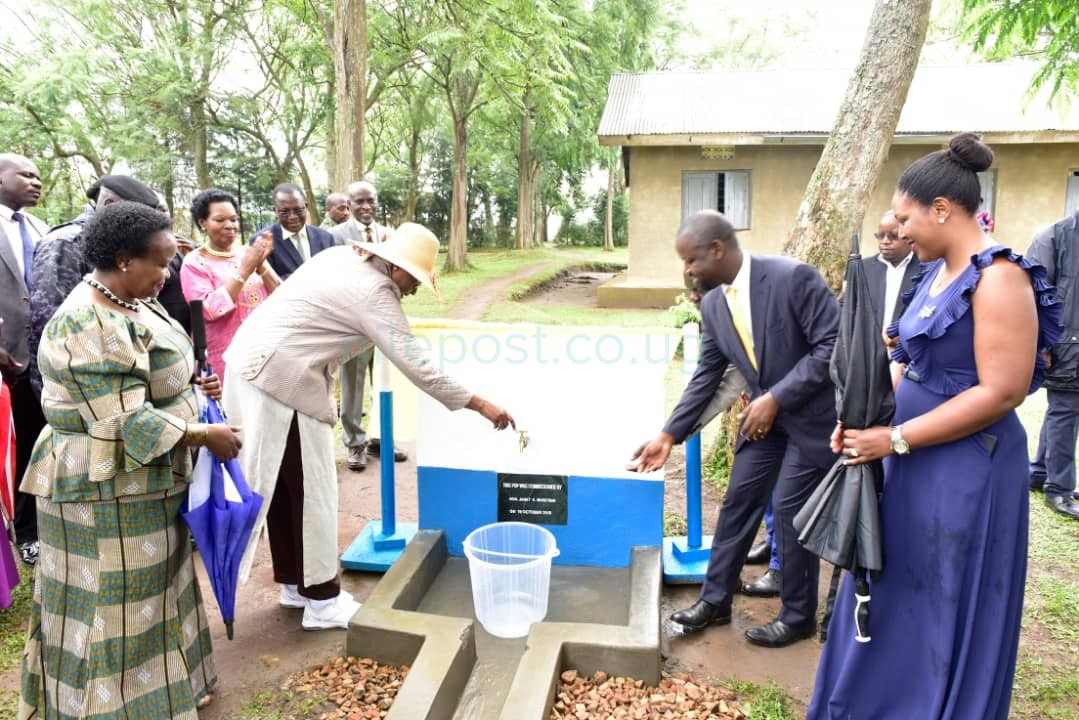 Speaking at the commissioning ceremony held at Ruraama Health Centre, the First Lady urged the residents to use the water to improve sanitation and health in their homes.
The project will involve the rehabilitation of Moja, Bazaire and Nzarirwehi water sources, an upgrade of transmission mains and associated pipe network and construction of over 40 Public water points.
From the previous 3 hours of water supply per day, the villages of Kisizi 1, Kisizi 2, Omukihita, Omukibingo, Ruraama 1, Ruraama 2, Kamakora, Omukatojo, Ruhungye,Kashasha and the surrounding areas will now get clean water supply 24/7.
NWSC Deputy Managing Director Finance and Corporate strategy Mrs Sylvia Tumuheirwe  Alinaitwe appreciated area MP Hon Thomas Tayebwa,  the area leadership, stakeholders and the people for warmly welcoming NWSC.
"We are aggressively extending our network to serve more people in all our areas of operation." she said.