After waking up a little-weight for the last 22 years, Quinn Abenakyo, a business computing student, went to bed on August 10th and woke up a few hours later as a celebrity.
The light hearted girl from Mayuge district, who would previously wake up to chit chat with friends in different WhatsApp groups, gossip about school, boys and balderdash, now would wake up with specified appointments, a wardrobe selection headache and life that is yawningly different from what she has been accustomed to all through.
Ladies and gentlemen, the daughter, third child of Charles Sembera and Alic Kyamulesire, a one Quinn Abenakyo, is now Miss Uganda 2018/19.
"After I was announced winner, I wanted to cry, then the girls (other competitors) kept telling me not to dare for I would spoil the make up. I am not yet at terms with the fact that I am Miss Uganda, the reality comes in bits and is still sinking in," Abenakyo told us in a lengthy interview two days following her crowing.
We met Abenakyo at Sheraton Hotel, where she had spent the night as part of her privilege, being the new Miss Uganda. Well aware she had never been at the facility in her previous life, Abenakyo did not clutter the hotel lounge with glamour, for a girl her age, waking up to a line of several journalists interested in a one on one interview, one would expect Abenakyo to be littered with the scent of 'arrivalism', and feeling of importance.
But our newly discovered celebrity sat in a corner, clad in a yellow dress, and two items that have now become perpetual components of her wardrobe- 1 is the Shash and the other –Crown. She was engaging Steven Odeke, a New Vision arts and culture writer who himself lolled around like a satisfied cat and 'emitted' a more celebrity-like feeling and look.
As soon as she was done with her interview, she picked her handbag as if to walk away but was signaled to remain stay put, she obeyed and quickly flashed a smile through her very white teeth, that from a distance look as though they have been ordered to assemble. We smiled back and quickly jumped into the interview.
Abenakyo took us through her quick profile and interest, mentioning that she loves food and children. She is an alumnus of St Joseph Girls S.S.S Nsambya where she sat her UCE in 2012 and MaryLand School, Entebbe (UACE 2014).
How she gets interest in Miss Uganda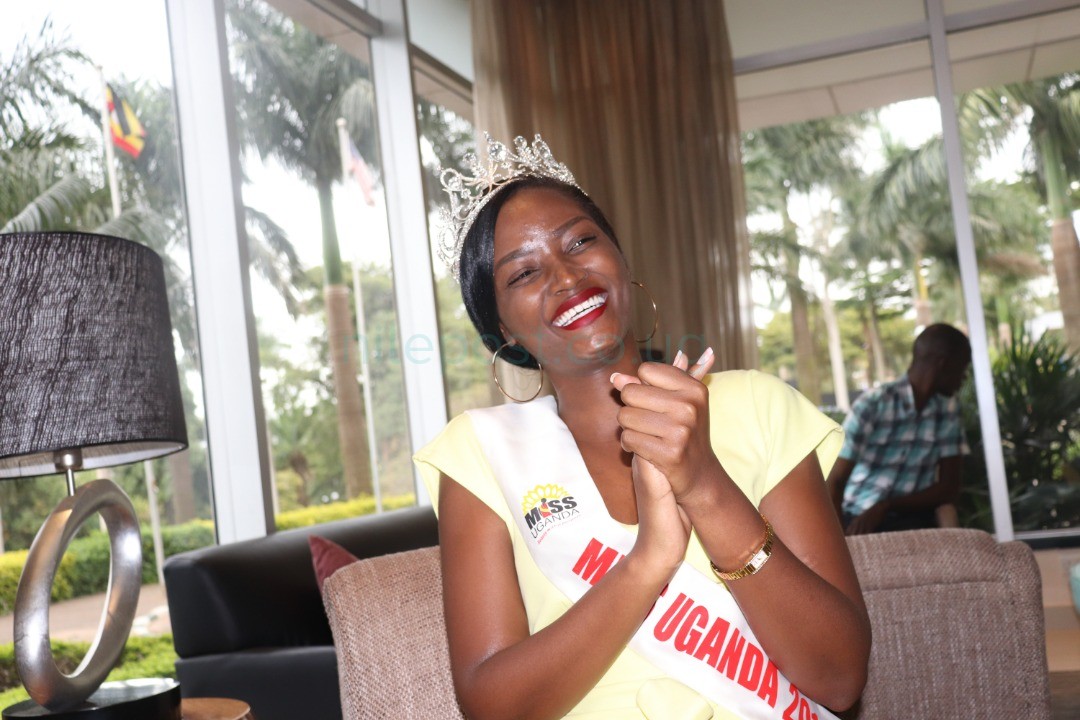 According to Miss Abenakyo, she was since childhood interested in modelling and it is what she always looked out for on television. But the bull's eye point was at the Miss Uganda 2011 pageant that was won by Sylvia Namutebi.
"The is when I started following Miss Uganda, I tried to mimic her while home and my family started calling me their beauty queen. Everyone started calling me Miss Uganda, little did I know they were forecasting, I doubt they too knew," she said.
"This year, Miss Uganda posted an announcement for auditions and the voice within me said I should seize the opportunity. I picked forms and came to audition. I had no idea I had started igniting the car to drive to where I am now."
Abenakyo says that when she met the different girls who had come to audition, she felt like withdrawing her interest in the pageant. "They were formerly in Miss Tourism, some semi professional models, I surely stood no chance, but I kept in anyway."
"I got support from my family, friends and didn't want to disappoint any of them. I saw this opportunity as a challenge I had to take on and soon I would be read among the 23 finalists and this was time to bring my A game," she said.
Boot Camp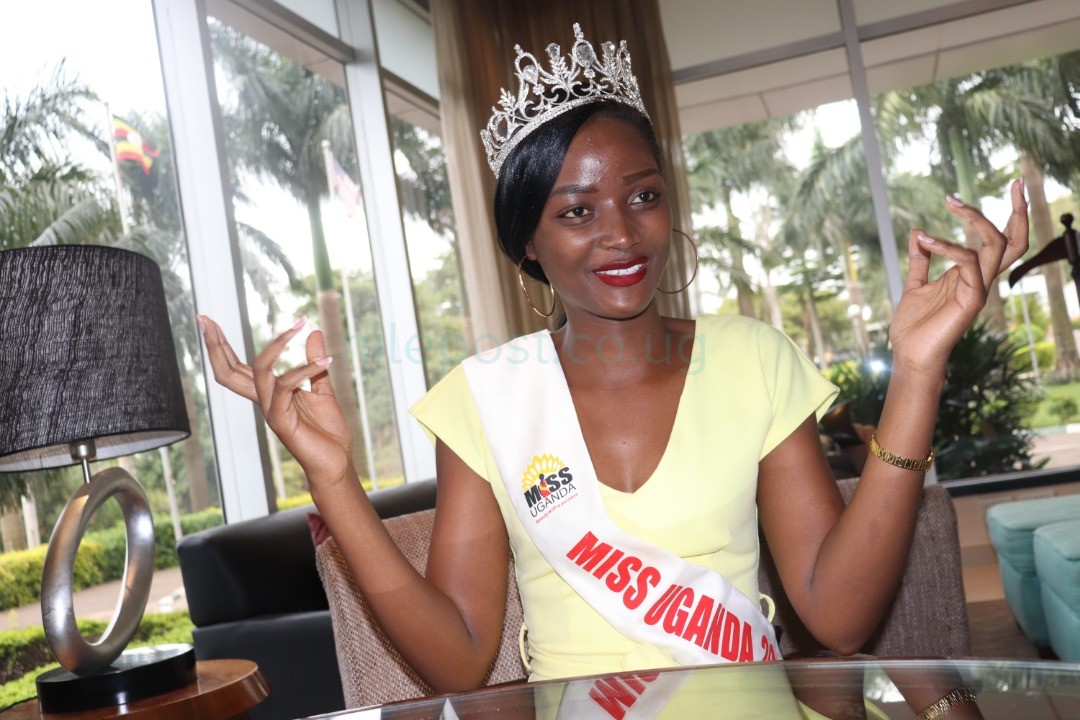 Abenakyo says that when the 23 girls were confined to boot camp, she started taking the challenges seriously, as each day in boot camp and activities there would attract bonuses. She says her group in bootcamp won several challenges including; the business challenge.
"In boot camp, we were given bonuses for how we related with others, speech, diction, organization and several other things and I made sure not to lose the marks," she said.
The Miss Uganda revealed that it was still at boot camp that she got over the fears she had for her competitors. "I noticed they would be of help instead, so I would consult them for advice on certain things and befriend them."
Day of Crowning
 "On the day my, family was calling, my mother specifically said she had got a gown and I couldn't disappoint her. It was the opportunity to prove to the world I was not going to give up at any time," she said.
Abenakyo says she is a positive minded person who never lets challenges define her. "My family pushes me, I have been taught by the sacrifices mum made while we were growing up and they have shaped me into a person who doesn't relinquish," she said.
Crowning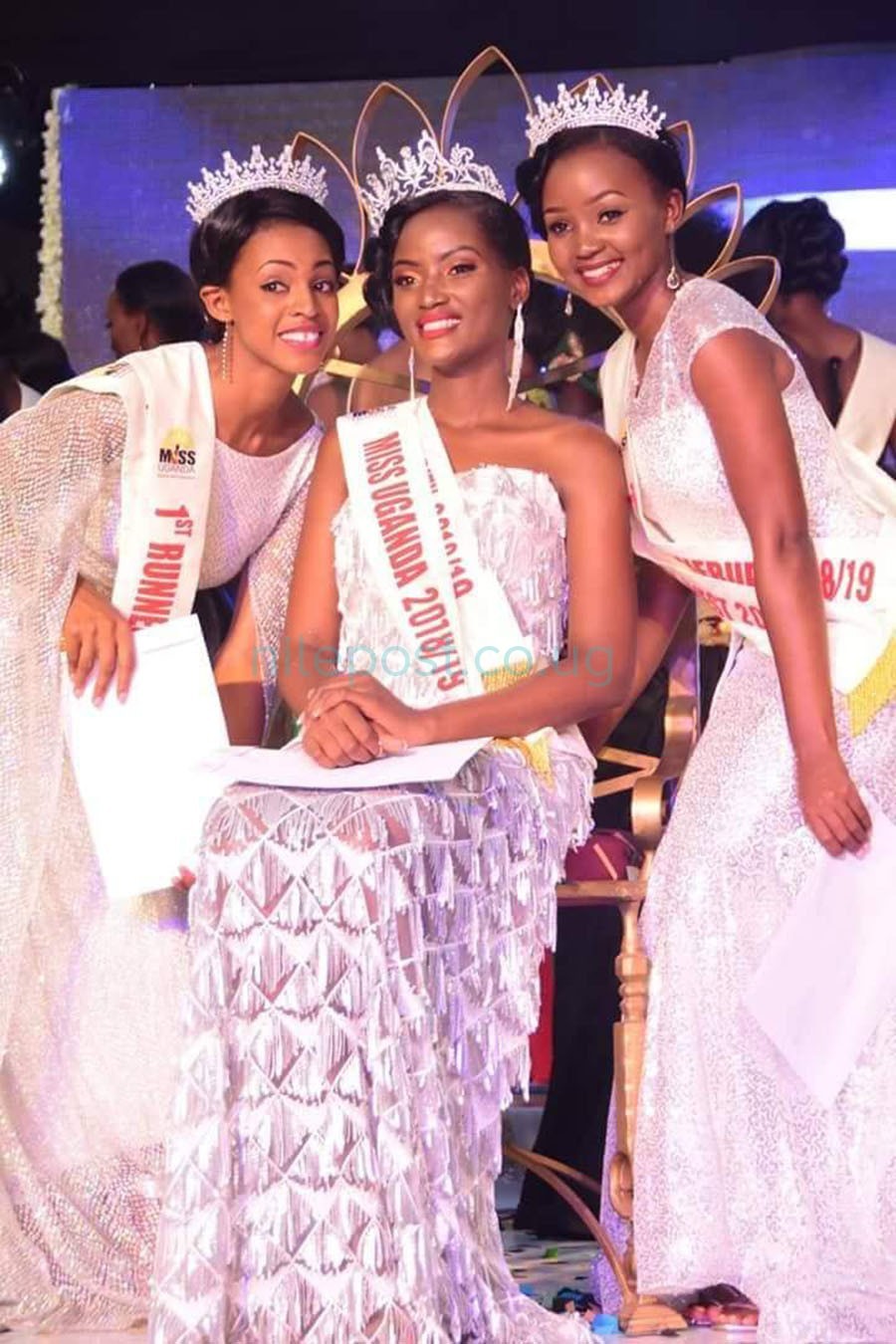 Abenakyo confesses that the only thing she remembers on the day of crowing is one statement from her mother who when asked by journalists to explain her feeling simply said: "I feel blessed" and repeated it until the men and women with pens and notebooks, camera's and recorders moved on.
"Several of my friends called me crying and I would end up crying too."
But several hours after crowning, she says life turned the wheel completely.
"The people who never wanted to talk to me, started sending me messages, calling me. People and companies I have wanted to work for before and they turned me down, they were now calling me to work with them. Those who treated me as foe were now praising me and befriending me so fast," she said.
Abenakyo said her life changed so fast, that she would even notice replies to WhatsApp groups in which she was a member, changed completely to sweet and responsible tones.
"Our family bond became stronger, relatives wanted to meet me, to visit me and see me, the family has been the happiest and most unified in this time and I feel so good about it. Now meanwhile, I also woke up as a car owner yet I have never been to any bond, nor even can drive," she added.
Starting Work
Abenakyo says he first assignment will be campaigning for access to clean water through a partnership between Miss Uganda and Ugandans in the diaspora- UNAA Causes.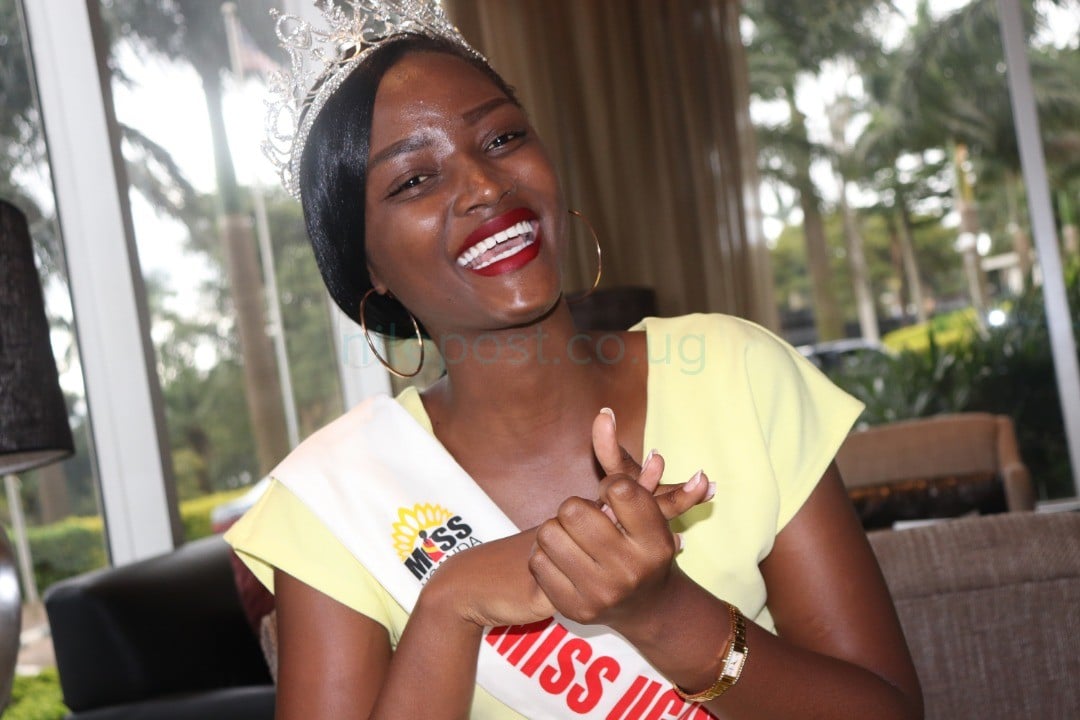 She will travel to Washington DC on August 31 in USA where she is expected to be part of fundraising events at the sidelines of the UNAA Causes festival. The money obtained will then be brought back and used to facilitate access to clean water for Ugandans.
She also said she will be a voice for the youth and women, whose rights remain violated despite being set out clearly. She said her main emphasis would be with teenage mothers as well as trying to reduce teenage pregnancies.
"I know I will change people's lives and since I am a role model to girls now, they all look up to me."
She called upon all her competitors to be part of this long journey saying that every one of them is a winner for standing out amongst all the girls and since they had each learnt something in boot camp, they have several ways of helping their country in the different aspects.
She thanked every Ugandan out there who took his / her time to vote for her and wish her well, she promised to repay each of them by not letting them down.
"Like my mother, I would like to also say that I feel very blessed, I call upon the youth out there most especially the girls, that they should be themselves, believe in their dreams, but put God first in all they do."
PHOTOS BY Kenneth Kazibwe, Nile Post.