In our continuing series focussing on 25 years since Buganda Kingdom was restored, we look at the reign of John Baptist Walusimbi, the fourth Katikkiro of the Kabaka Muwenda Mutebi.
He was the fourth  Katikkiro of Kabaka Muwenda Mutebi era whose reign will always be remembered because of the Buganda riots that left many dead or injured with the kingdom's mouth piece CBS radio closed for one year.
Katikiro Eng. JB Walusimbi took over from Dan Muliika, whose controvserail reign came to an end after only 13 months.
His tenure was therefore seen as one that would provide those answers many wanted to know
Walusimbi's tenure as Katikkiro started on January 1, 2008 and endured its fair share of challenges and triumphs.
Unfortunately it's under his tenure that some kingdom officials were arrested over their alleged link with armed groups and attempting to acquire guns.
But nothing was more disturbing than the 2009 Buganda riots which put a test to his office after the Kabaka was blocked from heading to Kayunga.
In fact the riots started when Walusimbi was blocked at Sezibwa bridge as he tried to travel to Bugerere ahead of the Kabaka's visit there.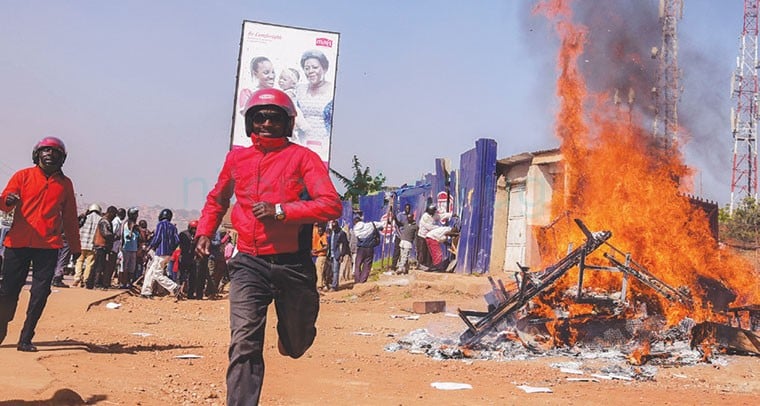 For days, Kampala city was almost a no go zone and by the time government announced the eventual closure of the kingdom's radio CBS FM, the damage had been done with more than 30 deaths reported and others admitted in various hospitals.
Throughout Walusimbi's  five-year tenure as Katikkiro , he rode a rough terrain and was constantly at loggerheads with some Buganda MPs and loyalists.
Walusimbi's moderate, apolitical personality as opposed to his predecessor Muliika , more often is believed to have been exploited by several central government politicians.
The most prominent time is when he was convinced by President Museveni into meeting the Ssabanyala and Ssabaluuli.
Some kingdom officials and loyalists then accused Walusimbi of advancing Museveni's interests.
He is however  credited for his Omumuli initiative, a project that sought to improve household incomes through agriculture.
He is also credited with designing projects meant to improve the kingdom's revenue base, such as Muganzirwazza commercial plaza at Katwe and the newly launched K2 telecom.
Walusimbi had bade farewell to the Lukiiko in 2011 but was compelled to stay on until the Kabaka found a successor .
His tenure was extended for 1 more year. He retired after 23 years of service to the kingdom.
JB Walusimbi was succeeded by the current katikkiro, Charles Peter Mayiga, in 2013.