After the NRM government restored kingdoms in 1992, the crown Prince Ronald Muwenda Mutebi returned from exile and was enthroned in 1993.
Buganda had to restore its management hierarchy so the Kabaka had to appoint a Katikkiro to implement the policies of the kingdom.
Joash Mayanja Nkangi who had been the last katikkiro before the kingdom was abolished in 1966 was still alive and had safely kept the mace.
In 1993, he was succeeded by Joseph Mulwanyamuli Ssemwogerere.
The appointment to Mulwanyamuli was a surprise because he had chosen to live quietly.
Before appointment as Katikiro, he had served in various capacities as managing director of then Sembule Investment Bank, chairman board of directors at Nile Complex and Uganda International Conference Centre, Special district administrator (now resident district commissioner) in Masaka among other assignments.
In an interview with The Nile Post, Ssemwogerere said he was shocked by the appointement
"The Kabaka put me in a position that I had never expected to be in my life . My father had served the kingdom for 35 years but I had never imagined I would myself, he said.
He said the first information he got was that he had been appointed the executive chairperson of the executive committee of the kingdom. Later a group of elders from Buganda came and delivered to him a special message from the Kabaka, confirming that he was the new Katikkiro.
This appointment came after he had rejected various positions including becoming the deputy resident representative of UN and other government jobs. He says to him as a Muganda ,this appointment was an honour.
"President Museveni called me and asked, what do you gain from such an appointment, there is no money not even social status that comes with it. I told him I had no choice but to respect a king's wish," Ssemwogerere said.
Ssemwogerere studied with Museveni at the University of Dar-es-Salaam in the 1960s. The two were close.
But the appointment came with its own challenges. Mulwanyamuli said Bulange (kingdom office) was totally empty with not even a chair. He said all he had was his Mercedes Benz.
Katikiro Mulwanyamuli Ssemwogerere worked hard to build Bulange structures and Buganda together with his cabinet and helped to create a good working relationship between the kingdom and the central government.
Many Baganda at the time demanded Federo rule which Museveni was against, creating a rift.
Others demanded compensation over their  participation in the NRA liberation.
Mulwanyamuli Ssemwogerere was instrumental in starting talks about the return of kingdom properties.
And for 12 years he served the kingdom with diligence and was later replaced by Dan Mulika.
Daniel Muliika was the second Katikiro of Buganda Kingdom under the reign of Kabaka Ronald Mutebi.
He is so far the Katikkiro with the shortest office term yet most controversial amongst Buganda's Katikkiros.
Born in January 1943, Daniel Muliika grew up to work in several capacities in his life time before serving the Kingdom.
Muliika worked with East African Posts & Telecommunications from 1963-1965, also with  East African Airways in 1966 that later split to form Kenya Airways, Uganda Airlines and DAS Air.
He also worked as  human resource manager for Uganda Breweries, was  a senior member of the East African Airways and spearheaded the establishment of the East African Airways Trade Union.
In Kingdom and cultural affairs, Muliika participated in the first Lukiiko when the Kabaka was allowed to appoint members before such powers were decentralised to clans as the electoral colleges.
He was later appointed Mengo minister without Portfolio in the office of the Katikkiro but was relieved of his duties in 1996 when Kabaka Muwenda Mutebi II dissolved the entire Buganda cabinet.
After the exit of Ssemwogerere, Muliika was appointed Katikkiro.
He too was taken by surprise.
"I wouldn't have expected such an appointment because through my work, I never aimed for positions but service to my fellow  country men. But maybe my performance in the Lukiiko (Buganda parliament) is what convinced the king," Muliika told The Nile Post.
Muliika said, he humbly accepted the position because first of all culturally, none is expected to look upon the king's wish. He also says at the time, the king was not happy with the regional tier system the parliament had passed.
"My focus was on rule of law because  government had taken people's power, I also wanted ebyaffe  (kingdom properties returned) and wanted to fight the injustice meted  on buganda in 1967 by Obote," he said.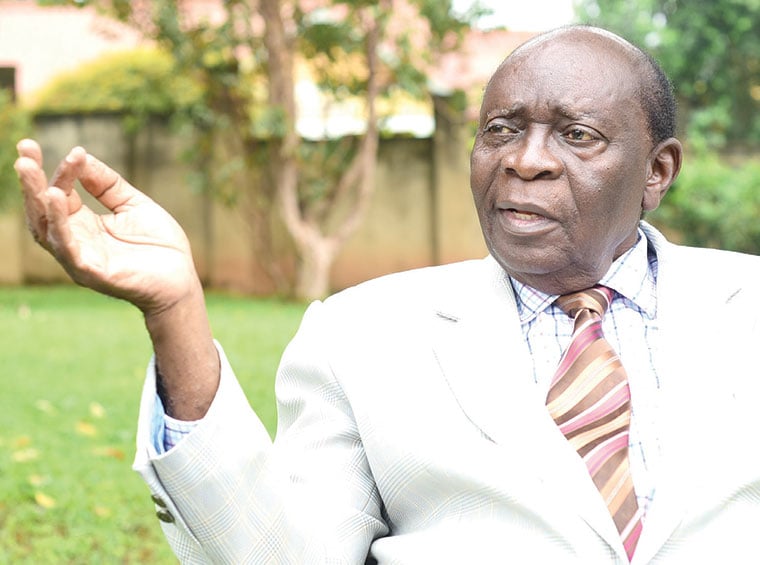 However, this task did not come easy. Before long he clashed with the central government.
In the Lukiiko before being appointed Katikkiro, Muliika wanted the members to pass a resolution stopping the Chakamchaka (para military training) in Buganda, saying such courses were of no benefit to the people.
He also did not support the 1995 Constitution because it did not recognise Kampala as part of Buganda kingdom among many other stunning contributions that left many speechless. All these did not go  down  well with the central government.
"People had gone through war and had fear, They looked at Museveni like a God even with his failures and had a saying of 'we can now sleep' which was ridiculous", Muliika said.
Although Muliika did not stay long in office, he boasts of some achievements.
He boasts of having been apart of efforts to return the Muteesa Royal University that had been taken over by government. The return of the kingdom administrative office to Bulange which he says had become a Republican House and the reestablishment of kingdom structures like Ssazas (counties) and setting up the Masengere block committee  among others he boasts of.
Daniel Muliika lasted only 13 and a half months (Dec 28, 2005-13 Feb 2007) an incredibly short time, which Buganda analysts say is uncharacteristic of Kabaka Mutebi's stewardship.
He was succeeded by Engineer John Baptist Walusimbi as the third Katikiro of Buganda under Mutebi's reign.
Walusimbi served until 2013 when he was replaced by Charles Peter Mayiga.