Makerere University have released their 2018/2019 Academic year program.
Having released the much awaited private sponsorship lists for students admitted for various under graduate programmes for the 2018/2019 Academic year, the university has released a calendar that will be followed through out the Academic year.
According to a letter from the Academic registrar, the 2018/2019 Academic year will commence on Saturday 4th August 2018 for the first year students who will then go through an orientation programme until Friday 10th, August 2018.
The continuing students will then join the fresh men and women on Saturday 11th August 2018 and they are to start the lectures on Monday 13th August 2018 until Saturday, 8th December 2018, a stretch of seventeen weeks when they will break off for holidays.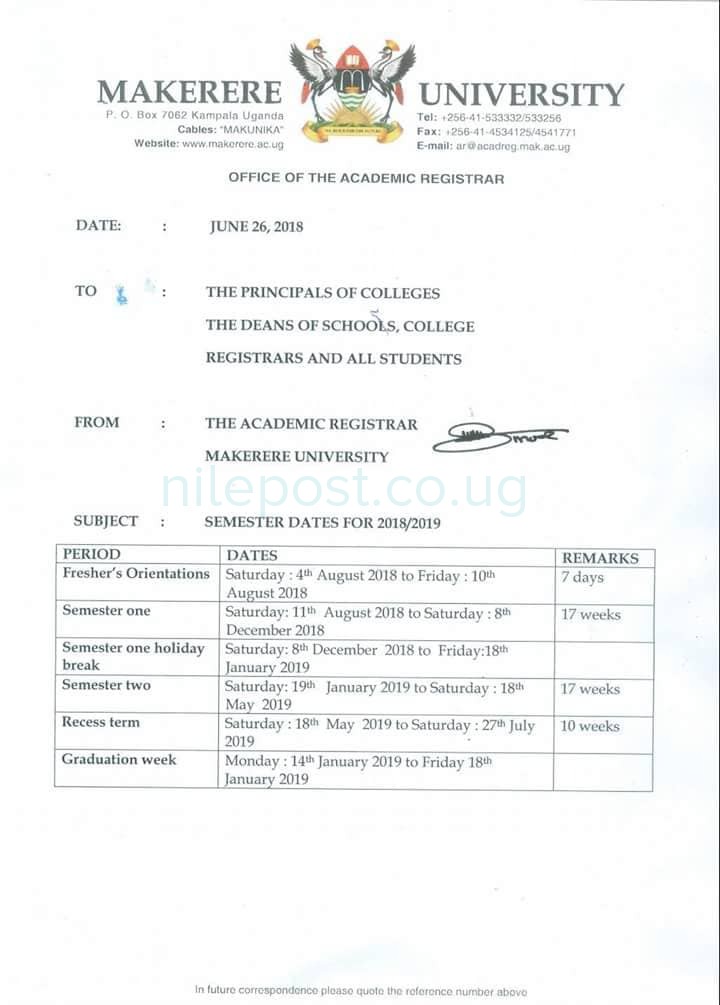 Semester two, 2018/2019 Academic year has been announced to start Saturday 19th, January 2019 to Saturday 18th, May 2019 with a recess term for finalists running for only ten weeks from Saturday 18th May 2019 to Saturday 27th, July 2019.
The highly anticipated Makerere University's 69th graduation ceremony will be running for a full week like the culture is at the university and it will run from Monday 14th January – Friday 18th January 2019.
FULL LISTS: MAK, MUBS Release 2018/2019 Private admission lists
The graduation lists will be displayed at the different Colleges between 17th to 28th September 2018 and there will be a special Senate meeting to approve the lists on 18th October 2018.
Graduates will then collect their graduation materials like the gowns, invitation cards among others between December and 11th January 2019.