Two cars on Friday morning were submerged by floods at Latome bridge on the road to Moroto.
According to an eye witness Francis Okidi, the cars; A centenary bank pick up truck and a lorry truck were trying to make their way in the floods on the only available diversion route to Moroto when they were swallowed up by the water.
"I was in front of them, so I struggled to pass but they did not make it. People are stuck on either side of the bridge. Those in Moroto side cannot cross while those from the opposite side can't cross either," he said.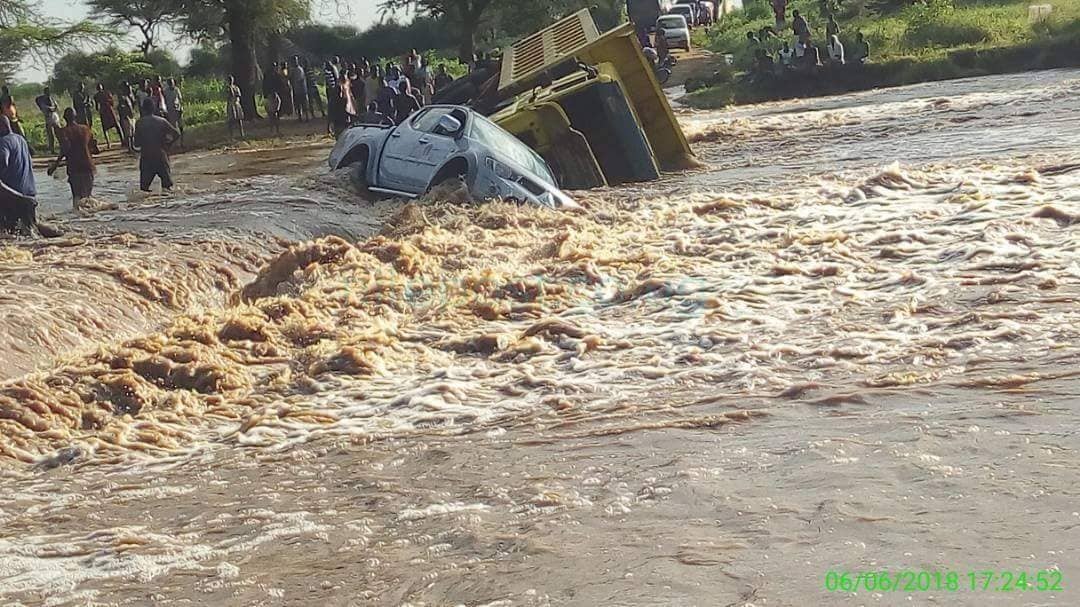 Okidi however said no one had died and the trucks have been pulled out of the floods.
Uganda National Roads Authority yesterday issued a statement regarding heavy flooding of Omanimani River in Moroto. In the statement, the Authority noted that public transport has been affected at Kangole Bridge and at the alternative routes of Lotome-Lorengdwat and Matany-Kangolechini.
"From Soroti to Moroto The only existing diversion, [Lorengedwat-Nadunget road] currently has fast rising waters and the drift at Lotome is also unsafe to public transport. In the interim, we call for patience from travellers as flood levels subside," the statement reads in part.
"The flooded diversion routes have been cordoned off with warning tapes to prevent the public from approaching them. The OCs of Lotome, Kangole Police stations and Moroto OC Traffic are informed and have adequately deployed along the cut off routes to direct traffic," statement continues.
UNRA advised motorists to access Moroto from Mbale using Muyembe-Nakapiripirit road.
Kangole bridge washed away by rains, Karamoja cut off, residents stranded
In April, the Kangole bridge diversion connecting Teso region to Karamoja region in Napaka district was washed away. According to authorities, the bridge was washed away after heavy rains flooded  Ominiman river, rendering the road inaccessible to traders and residents.