On Wednesday afternoon, President Museveni addressed the country on the state of the nation in which he gave account of his government for the past one year.
Yet as the dignitaries and guest concentred on President Museveni's address, The Nile Post picked up the behind the scenes events that added colour and humour to an otherwise formal function.
As early as midday, Members of Parliament and other dignitaries had started arriving at the Serena conference hall in Kampala from where the address was to be given.
Most of the legislators and government officials arrived in groups of more than two people at the venue.
Dress code
It was a blend of African wear, office and casual wear by the different dignitaries who attended the State of the Nation Address at Serena on Wednesday.
Among the notables who donned the African wear included son to former president Iddi Amin, Taban Amin and Trade Minister Amelia Kyambadde .
Famous age limit 'drummer' Ibrahim Abiriga did not disappoint as donned his trade mark yellow outfit from the head to toe.
The only contrast between Abiriga and Amin, sons of the West Nile, was the height difference.
Flamboyant Kigongo
Never one to disappoint at such occasions, Like it was last year, NRM vice chairman Moses Kigongo continued with his unique flamboyant style during this year's state of the nation address.
Being chauffeured in a white Range Rover Sport, Kigongo drove towards the main entrance to the conference hall, contrary to what other dignitaries were being asked to do (they had to disembark from their vehicles as soon as they entered the hotel premises and walked the rest of the distance to the conference room).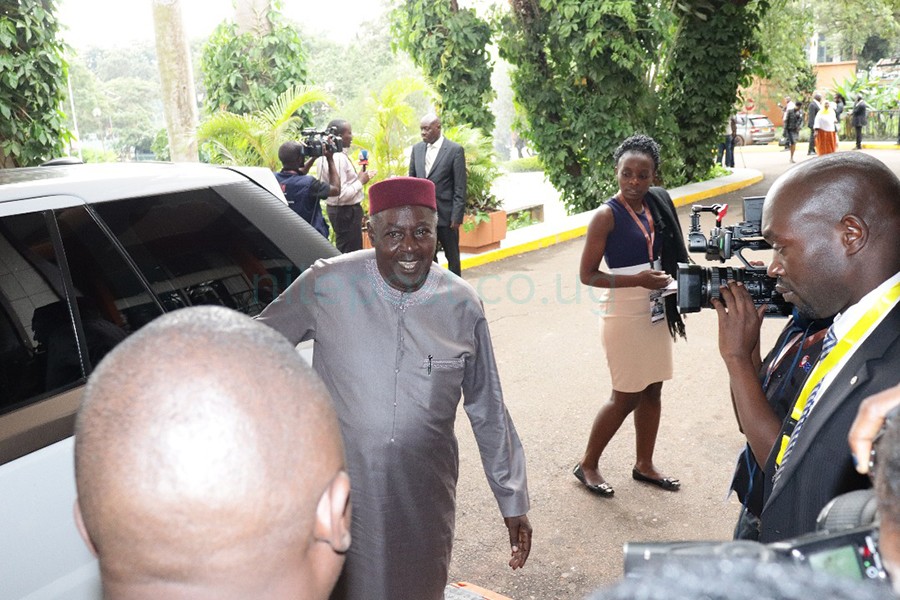 For Kigongo, this could not work. He instructed his driver to drive him up to the steps of Serena Conference Hall from where he disembarked.
After all, is he not the second most senior person after President Museveni, in the NRM?
For former Chief of Defence Forces and state minister for works, Gen Katumba Wamala, it was his usual humble demeanour as he slowly made a grand arrival but he did not forget to salute journalists with a smiling face.
For both Kampala ministers; Beti Kamya and Benny Namugwanya, none could separate them as they arrived and sat together.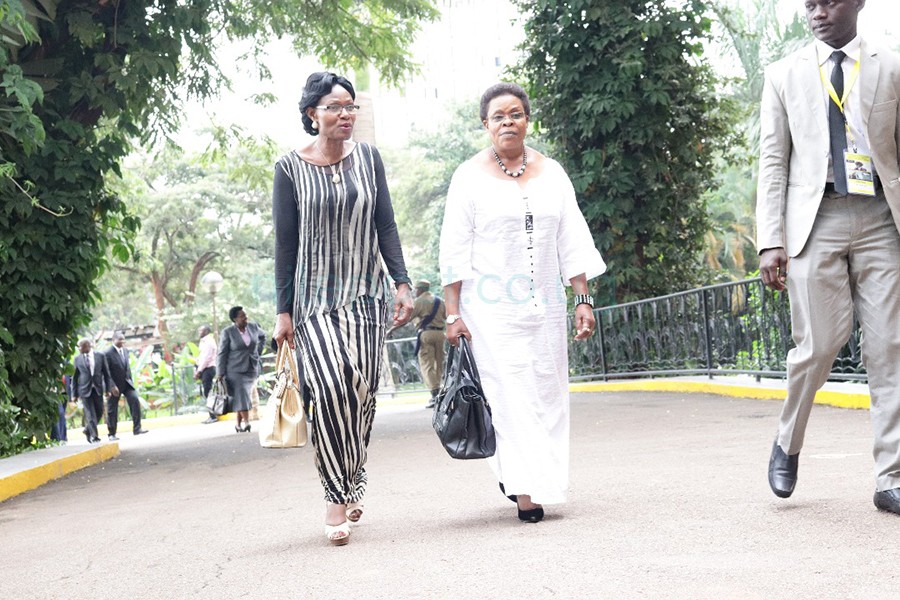 For Lands Minister Betty Amongi as usual did not forget to comment about the presence of many journalists at the function
Museveni
A few minutes to 3pm, President Museveni arrived together with the First Lady Janet Museveni being chauffeured in a black limousine Benz.
Dressed in a grey suit with his trademark hat, Museveni jumped out of the limousine before being welcomed by his Vice president Edward Kiwanuka Ssekandi and other dignitaries.
Upon entering the conference hall, Museveni kept on waving to all dignitaries presented until he reached his seat.
Speech
Armed with a file of papers , Museveni ascended to the podium to give deliver his state of the nation address.
"In the book of Galatians, the Bible says man reaps what he sows,"Museveni begun his speech to the jeering of some of the opposition MPs led by Odonga Otto who were seated on the left hand side of the podium.
He was however not bothered by the jeers which were short-lived and continued making his address and on many occasions, the ruling NRM legislators kept on clapping and stamping when he mentioned projects completed by government in the past one year.
Museveni kept on using local proverbs, adages and sayings throughout his address in a bid to drive points home .
At one moment, Museveni emphasised the need for using our locally owned products but he was interrupted briefly by opposition MPs led by Odonga Otto who shouted 'Cuban doctors'.
"These people are talking things I don't understand,"Museveni responded.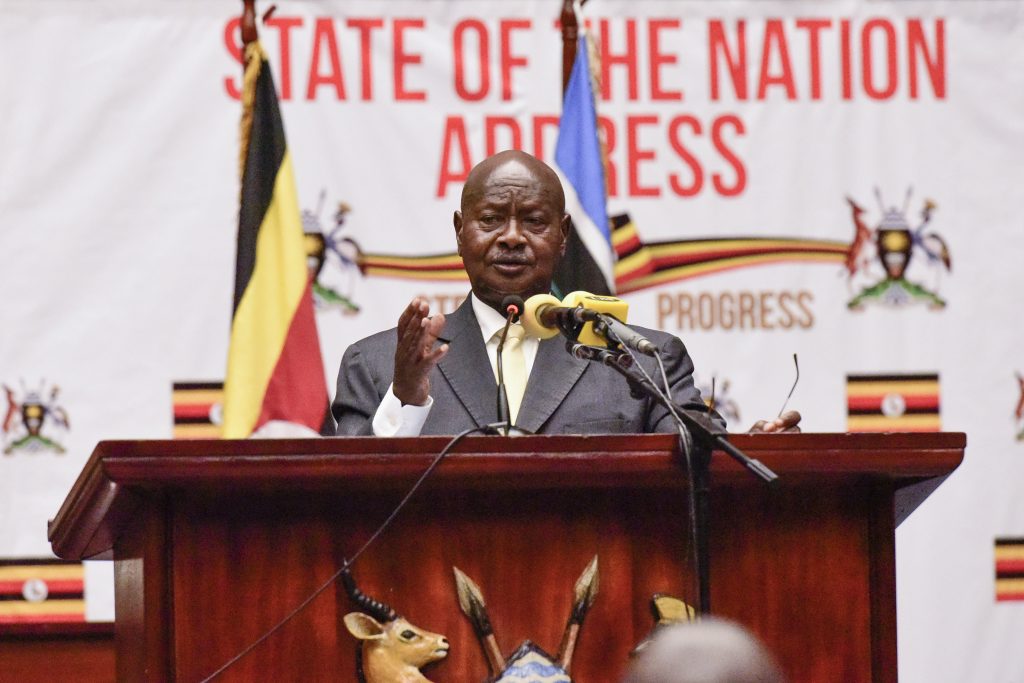 Unlike previous functions where Museveni is, the opposition legislators this time did not prove so much a threat to him as he made his speech.
As he mentioned the achievements in the past one year that were being shown on large screens in the conference hall, the legislators kept on whispering to each other as if is disagreement and kept laughing.
For the man behind the age limit bill which was later passed into law, Raphael Magyezi, he was nodding in agreement to whatever Museveni said.
Magyezi who was seated at the back was at all times attentive and not even a whisper from fellow NRM MP Moses Balyeku who was near him could distract him.
Other dignitaries and diplomats kept quiet and their eyes glued to Museveni as he made his address.
Absentees
A number of opposition legislators including Ibrahim Ssemujju Nganda, Moses Kasibante, Muwanga Kivumbi and Robert Kyagulanyi were not present during the state of the nation address.
There was a moment MPs shouted 'Kiira EV' but Museveni calmed them in Luganda and Kiswahili so as the foreign dignitaries could not understand what he meant.
"Those matters are in-house. Leave them,"Museveni said in both Luganda and Kiswahili.
Meanwhile, there was only one moment when all legislators clapped and stamped in unison to show support to Museveni when he suggested that all public transport vehicles should be installed with speed governors as a measure to avoid accidents on the road.
When Museveni ended his speech and the NRM legislators stood up as a sign of respect to him, their opposition counterparts remained glued to their seats.
You have "nyeko" Museveni said attracting applause. "Nyeko" for the uninitiated, means "nugu".