The death of Kabaka Muteesa 1 on the 9th October 1884 marked the beginning on a new era, an era that would remain in the books of history.
His 18 year old heir Mwanga II was not conversant with politics and leadership and often relied on advise from chiefs unfortunately many of whom hated Christianity.
He was told Christians together with missionaries conspired to overthrow him. This to Mwanga was confirmed by the prayer that contained words like " May your Kingdom come".
This was enough ground to silence Christianity. In 1885 Mackay n friend Ashe decided to flee the palace n seek refugee taking with them 3 young Christians Yusuf Lugalama 12, Mark Kakumba 16 and Nuwa Serwanga 19 against will of the King who had chosen o offer Mackay and friend escorts.
This disobedience was paid by their arrest and the 3 men were executed in Busega Mpiimerebera by hands cut off and thrown alive in fire on 31st January 1885. A church has since been erected at Busega in their memory.
This marked the beginning of martyrdom in Buganda.
In the same period, Kabaka Mwanga got rumour about a plan to attack Buganda by the Dutch through Bagamoyo Tanzania.
This was the time Bishop Hannington was approaching Buganda through East in Busoga. This was an unfortunate coincidence with a perceived myth that whoever would conquer the Kingdom would come through its rear view which was Busoga.
Messages sent to Bishop Hannington to change route unfortunately got to him late and the Bishop was speared to death on 29th October 1885.
The news spread causing fear and panic but also Jubilation to enemies of Christianity. In Boldness, Joseph Mukasa Balikuddembe a royal servant and close friend to King Mwanga rebuked him which angered the king ordering him to be killed.
Two weeks after the bishop's death, Balikudembewas killed on the evening of 15th November 1885 at Nakivubo, the current day St. Balikuddembe market.
His death would only mark the beginning of more calamities for the new converts.
Next in the line was Denis Ssebugwawo who is said to have been beaten by Kabaka Mwanga himself using his spear known as ' Muwabutwa" till it broke.
He then ordered Denis to be killed and he was killed on 26TH May 1886 in Munyonyo. His statue stands tall at the place he was massacred a few metres away from the king's palace.
Others who tasted the wrath of the king included Musa Mukasa a palace guard who was chopped to pieces, H. Nyonyintono who was castrated, and Ponsiano Ngondwe who was pierced to death and later cut to pieces.
His spot of death is also well marked in Munyonyo and a church is being constructed now in his memory. Schools and other facilities around are also named after him.
Andereya Kaggwa the head of the King's drummers had his arms cut off and beheaded in the palace at Munyonyo.
Kabaka Mwanga ordered his royal guards to go killing believers wherever and its upon this that its hard to establish exact number of those they killed in this persecution campaign.
Here in Munyonyo ,his statue stands right in front of The Munyonyo catholic martyrs shrine constructed in honour of their boldness.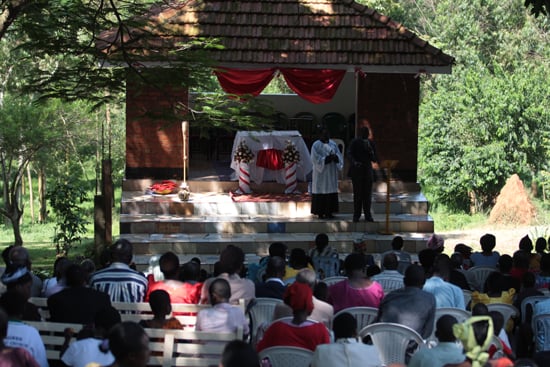 The nearby road Bridge among others are named after him too. Kaggwa's grave also sits here with a small church that was first constructed.
The order was taken at a tree called Muwafu which stands tall at Munyonyo. A statue representing the start of a 2 day Journey to Namugongo the main massacre centre also stands here.
Representing guards with killing apparatus, catholics with a rosary and Anglicans with bible all tied. The statue depicts braveness of young men who chose to die for faith starting a journey they well knew was leading them to death.
However along the way, more were killed. On arrival at the same spot where Balikuddembe had been killed who was their leader, the group was asked if any was willing to give up their life and to the surprise of the executioners, Athanasius Bazzekuketta handed himself in and was immediately hacked to death .
The journey continued but on approaching old Kampala, Mathais Mulumba was too weary to walk anymore.
Not to derail the mission, he was dismembered on 30th May 1886. Many also who could not walk any more as the journey continued were brutally dragged on their backs called " Omugongo' in Luganda from which the Name " Namugongo" came from because when the locals asked how the martyrs arrived, the answer was " Namugongo" literally translated as on the back.Many arrived with no flesh on their backs.
Namugongo was the climax of martyrdom. The place had existed since the reign of King Kyabaggu the 25th king of Buganda in 1760. Ground had also been used by kings Jjunju, Ssemakokiro, Kamaanya, Suuna ii and Muteesa1.
At Namugongo they were imprisoned for a couple of days and were occasionally picked up to fetch firewood that would consequently be used to burn them.
Many were also tortured on the infamous tree called Ndazabazadde a tree that exists to date located at the current Martyrs Museum.
On Thursday 3rd June 1886, 25 martyrs were burnt alive for failure to denounce their faith. These included 13 Anglican and 12 Catholics. They were wrapped in reed and thrown into the furnace.
However Kaloli (Charles) Lwanga a catholic martyr didn't reach the massacre ground and was killed at the point where the Catholic Basilica is located.
The spot where his head fell as he was beheaded is exactly at the altar with a star to mark it. His bone was kept sacred in a glass enclosure that rests quietly at the altar table.
There were however some believers who were persecuted but survived this era of martyrdom among them Tefero Kisosonkole an Anglican who later gathered the ashes and bones of fellow believers martyred and buried them in a mass grave in the memorial church of Uganda now enclosed within the Martyrs Museum.