Lightning struck at the heart of 'Spain's Capital' yesterday afternoon amidst the continuing rains of good luck that had cleansed the team from the Bernabeu of its past. It is barely a week after celebrating their best-ever European night in almost 40-years.
It's hit hard and left powerless; -it's like there is nothing left to fight for. There is no purpose left in picking up the pieces. The people, the places and the spirits are all washed down south and are stranded in the Atlantic, miles from the Bay of Biscay, clinging to a sinking boat, and they all can't swim.
Sorry to say, their situation is devoid of all hope. They just fell off a cliff, into the void.
Their eyes meet the greeting of a grey mist on the Ocean's face, as a grey dawn is breaking. Deep inside their hearts, questions arise each minute that passes by.
All the gods say is; "sorry that we had to go to lose your heads, we should have done the right thing but instead we had a choice. We probably did not make the right choice but we gave it our best and that was all the time we had to stay"
They must go down to the seas again, for the call of the running tide. It is a wild call and a clear call that they must take a walk down that fierce path back home once again.
"How do we move on?" They ask.
But the gods are way gone for a response. And now the wild walk begins.
Soaked, they look into the sky, to see through the thick mist and probably ask God, why?
They had the moments, they sang. They shouted loud enough it hurt. The Capital, where fans celebrated winning a third has just turned against them.
But, "3-out-of-2 and a half is not bad."  He said.
It was a heart break, the voices say. There was no clue, the world knows.
@DhakabaKigongo @MarkSsali @AishaSports @SrgPius
What do you make of this, did you even see it coming? pic.twitter.com/Ef2twsQQ9o

— wakibi zephaniah (@WakibiZ) May 31, 2018
No.. Didn't see it coming.. Left too early… Gonna be a big summer of change in Madrid

— DhakabaKigongo (@DhakabaKigongo) May 31, 2018
Nope. Not at all. Clearly the pressure at those two clubs we underestimate sometimes. Been long since either one had somebody stick around beyond 3 seasons

— Mark Ssali (@MarkSsali) May 31, 2018
So shocking to me too just like @DhakabaKigongo
I believe he would have been a better replacement to Heynckes at @FCBayern @FCBayernEN

— Serugo Pius (@SrgPius) May 31, 2018
 The winds crossed path, and the rains just washed away every bit of life there was left for the Supporters of the team in the Capital.
Was it the Perez error again? "No!" The same VOICE answered. Then, what do we have to think of? "Only time has the answers." He said.
Zinedine Zidane, stepped down in a shocking announcement yesterday, Thursday, bringing an end to an era that has seen the team from Spain's capital win six major trophies since January 2016.
Their quest to lead the pack; – defending the Champions League as it was in the beginning (1956), may soon fade away. And then, the new journey shall come to be as it was until the end.
Just before the rains stop, thunder shall roll and lightning shall strike, accompanying the last minutes on the road to the place maps call home. To Real Madrid they belong, and so, they must return.
It could have been their last great moment in Europe. But at least they enjoyed, a lasting moment as it was.
It's a sad ending to a season Real Madrid celebrated their grand moment of defending the Champions league three times before anyone else could, making a call to the fact that only history does repeat itself.
I really loved watching Real Madrid under Zidane. but I am not so sure I will enjoy watching them as much as I did thereafter.
The French man was part of the back-room staff before becoming a manager, with quiet authority, like Ancelotti, Heynckes and Del Bosch, plus, the charisma he gained from a sublime playing career.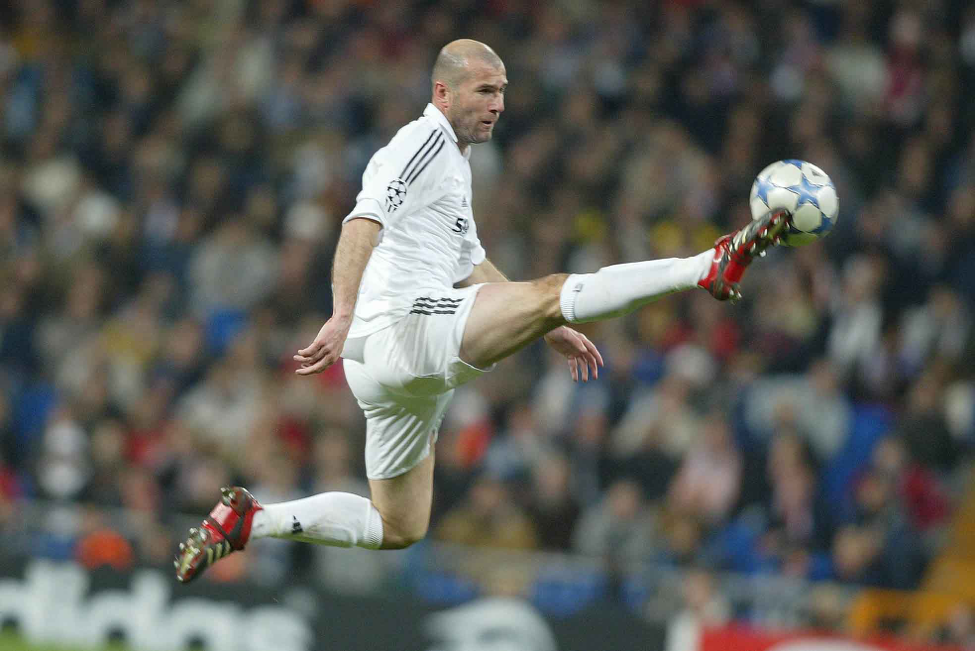 He is a student of Italian football and is an astute tactician, great player, very good coach. He's a veteran of the Serie A – then, a 'finishing school' league that would have augmented the technical qualities emphasised in his short spell at the Valdebebas.
His French system education, an understanding of team ethic, tactics and mental strength was a quality evident in the way his 3-time winning team played.
He came of age in Italy as a player and personality but rose to the highest ranks in Spain. That change taught him the value of being at the top, performing at the highest level of competition and as well choosing to stand out in a unique way amongst the many.
He was great and was also around all of the greats in the game as a player, coach and observer and characteristically soaked up their influence like a sponge. This is partly the reason why it was easier for him to manage the superstar stratosphere of Real Madrid's first team than most of his predecessors (Mourinho, Benitez, Capello and the likes).
In terms of respect, there is no other and the comparison could be akin to Cruyff at Barcelona following the results of his works.
Like Cruyff, Zidane is among the few breeds that can show anyone his medals and highlights reel and face any current player down. Not even his closest comparison, Pep Guardiola, matches this status. No doubt, even Sergio Ramos, Ronaldo, Modric and more players always took inspiration from him.
Real Madrid's team did not take time to pay their tribute to the great coach.
Cristiano Ronaldo
"I'm just proud of being your player. Mister, thanks for so much," he said.
Zidane also revealed that he had not told Ronaldo about his decision to leave.
Instead, he left that task to captain Sergio Ramos.
"The squad already knows," he added.
Follow link to Ronaldos' instagram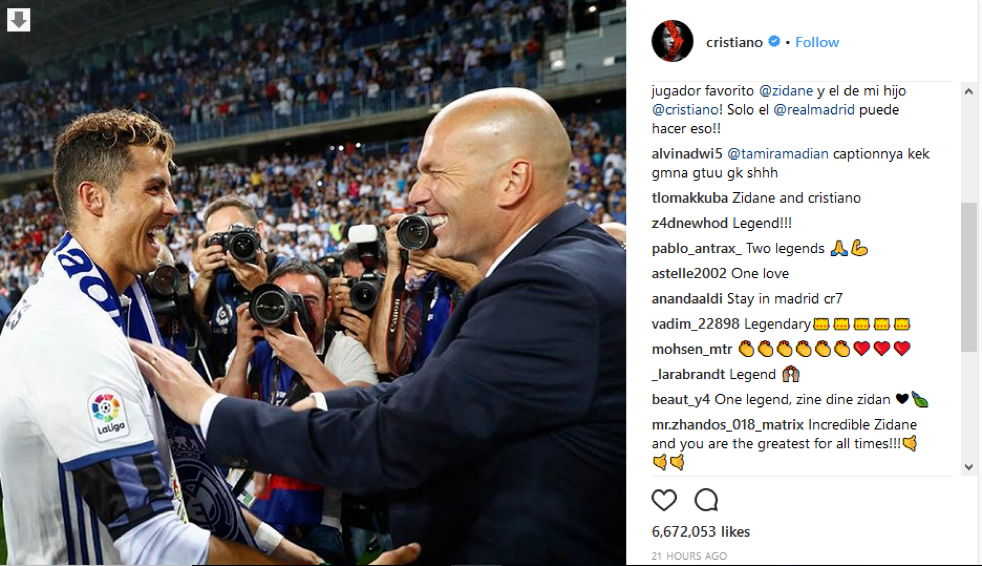 https://www.instagram.com/p/BjcVfOHFT32/?utm_source=ig_embed
Sergio Ramos
Follow link to Sergio Ramos' tweet
As a player and coach you decided to say goodbye at the top. Thank you for two and a half incredible years. Your legacy will never be erased, one of the most successful chapters in the history of our beloved @realmadrid pic.twitter.com/dO6bw74aA3

— Sergio Ramos (@SergioRamos) May 31, 2018
Hibernian manager Neil Lennon said Zidane "is up there with the greatest managers of all time".
"Zidane's record is amazing," he added. "We thought at the time that winning back-to-back Champions Leagues was an incredible feat.
"But to do it three times in a row – we may never see that again.
"Real Madrid's transition under Zidane has been immeasurable. In the big games he has come up trumps and he has that respect from being a great player."
He is one of the few men anywhere within football whose job credentials matched the level and status basing on his exploits on the pitch.
Internationally with France and at club level in La Liga he was schooled in the best possible way for elite management.
Just like Ancelotti and also the very underrated Del Bosque and Jupp Heynckes, no mistake, He started and stuck with the personnel he had and then found solutions that made the most of them. Indeed, he has always been my preference for a manager at Madrid looking at his style.
He had won the battle of hearts and minds that beat Capello, Mourinho and Benitez. I am struggling to think of anyone else currently who can match the French man for a replacement.
Even during that period when results had become so hard to come by, he remained true to his style. Never did he lose his temper because of a bad game. Neither did he go against his army for a failed battle.
Maybe he was right. Madrid needed a new voice. What more could he demand from a team that has achieved so much like this Real Madrid side?
He was my idol from childhood and watching him replace Benitez somehow scared me but I had really hoped for the best and indeed it came to pass; -He got the time to reach a point of greatness at this most political of clubs.
Spain is Zidane's natural home. The level of success Zidane achieved is likely to be attributed to a country he is more comfortable in. It was easier for him to get to the higher level, partly because he was schooled in an environment that taught him to always stand up against all odds and never to lay low against the low-life of particularly, English football.
The imprint of his identity couldn't have happened by mistake.
Over forty years of waiting, and now the new journey begins.
Is this the end to an era? Could it be the beginning of another thirty-year stretch as it was between 1966-1998?
There has to be sensible transition to the new manager. He should possess the DNA and character of a Madristar.
Not so many have been able to migrate their greatness as players into management. Save me the Maradona talk. Mourinho ain't that good either.
Ferguson was great but one of the two elements is lacking, same for Guardiola and Ancelloti. The list is endless. The conflict between the two careers is as big as it can be.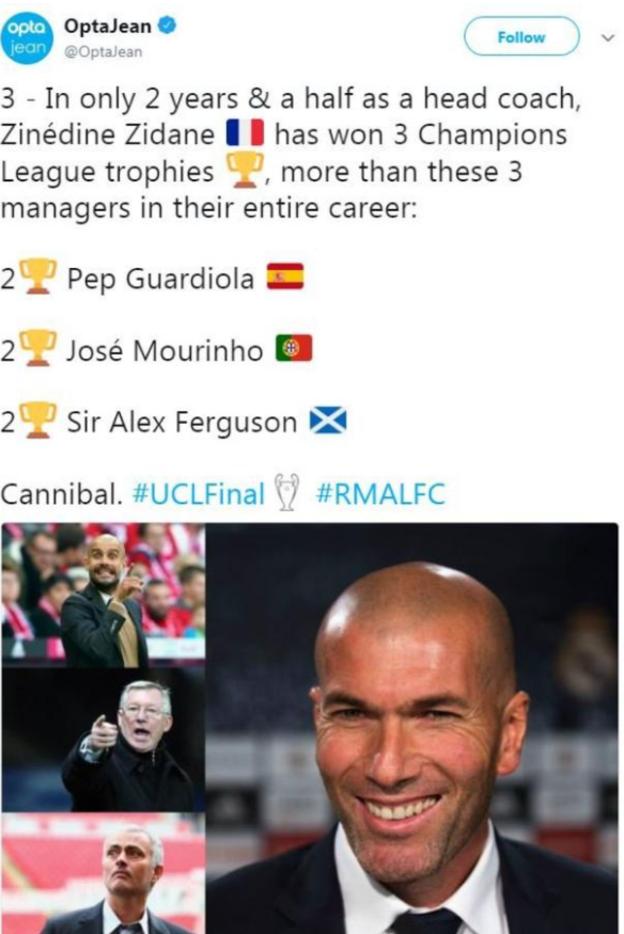 I think people should not forget that when they seek to say farewell to him.