2.33 PM: Incidents of suspicious "assisted voting" remain widespread. At Bwanga Muluka Head Quarters and Nyamakukuru Primary School polling stations in Nyarushanje Sub County, CCEDU witnessed two (2) persons assisting more than three voters each. They took off when they say the CCEDU team.
7:23am: Voters at Rukungiri Stadium polling station patiently wait in the queue for the polling station to be opened. Materials arrived late.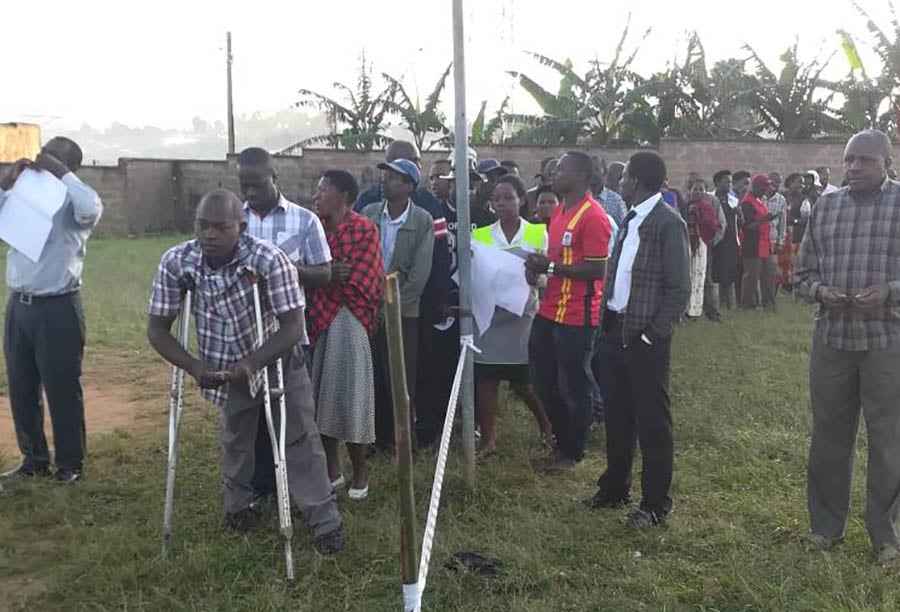 8:00am: Former Rukingiri LC V Chairperson Athanasius Rutaro is currently being held at Rukungiri police station. He was arrested this morning at Katobo trading center as he made his way to Nyakagyeme to monitor polling day proceedings on behalf of the FDC candidate, Betty Muzanira.
9:40am: voting going on at Rwakabengo polling station. By 10:40am, about 120 out of 400 voters had finished voting. FDC strongman and son of the soil, Dr Kizza Besigye expected to vote here later.
10:30am: FDC flag bearer Betty Muzanira has cast her vote at Rukungiri stadium.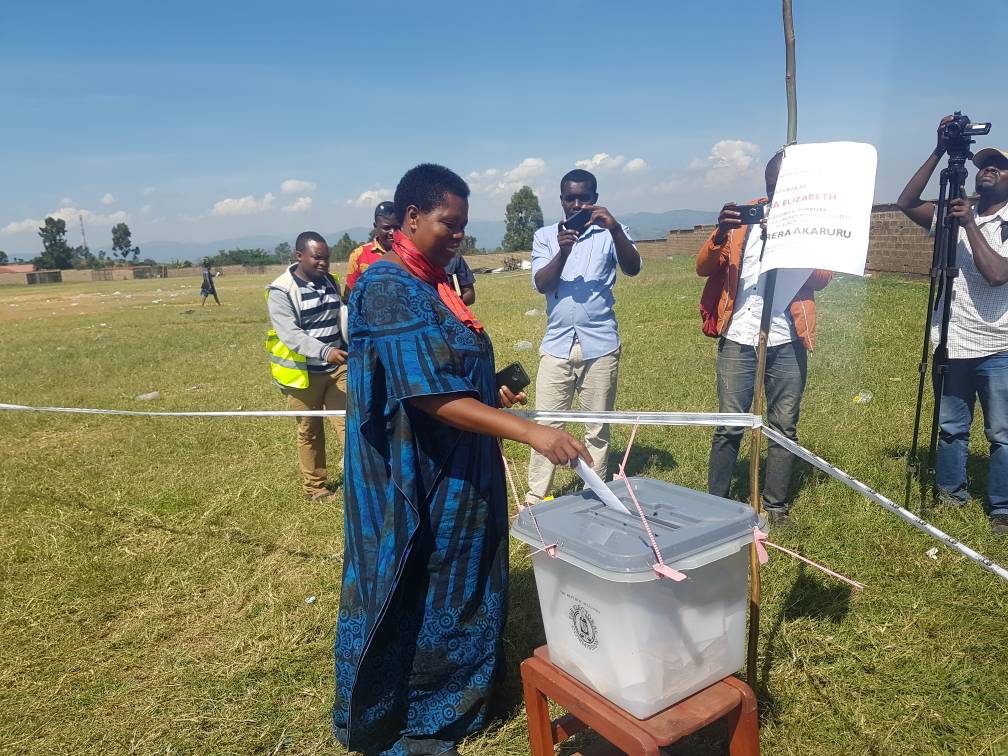 Statement from observers:
Observers on ground to monitor hotly contested Rukungiri by-election
CCEDU has deployed 27 fully accredited and trained observers to monitor the Rukungiri district woman MP by-election in all the 16 sub counties, town councils and divisions that comprise Rukungiri district.
Although the campaigns ended without serious incidents, the district remains a sea of security personnel and equipment; and security remains generally very tight as per this morning – 31stMay 2018.
Several roadblocks have been mounted at specific entry and exit points of Rukungiri district.  For instance, last night, roadblocks were erected at Buyanja (Omukiragiro) on Ntugamo-Rukungiri road and at Nyakibaare at the junction of Nyarushanje and Nyakishenyi sub counties.  The roadblocks are being manned by military Police.
From the on-set, this by-election can be described as a highly securitised affair especially judging from the number of senior military officers present and active in the district as well as the level of deployment of the rank and file security personnel.
It seems apparent that the Electoral Commission (EC) itself is trying to manage an ostensibly overbearing security apparatus to ensure that voters exercise their franchise in a reasonably calm environment without undue interference or intimidation.  It is certainly not going to be an easy job for any of the election stakeholders considering the high stakes in this by-election.  The ruling National Resistance Movement (NRM) is determined to retain the district seat but Forum for Democratic Change (FDC) and the opposition seem resolved to marshal against an evidently tumultuous environment to clinch yet another seat in Parliament.
Rukungiri district has 16 sub counties, 87 parishes, 280 polling stations and 177,086 registered voters.
There are four (4) candidates vying for the Rukungiri District Woman MP position: Winfred Matsiko (NRM), Betty Muzanira (FDC), Fabith Kukundakwe (PPP) and Prisca Sezi Mbaguta (independent). Two (2) independent candidates: Atukunda Sheilla and Rwakitonera Elizabeth withdrew from the race days to the polling date.
Observers are paying keen attention to three (3) of the 16 sub counties including: Nyakishenyi, Nyarushanje and Bwambara, which are said to be potential hotspots, based on occurrences in previous elections.
Unlike in previous by-elections of this nature, delivery of polling materials to the furthest sub counties of: Bikurungu town council, Nyakishenyi sub county, Bwambara sub county and Nyarushanje sub county was done yesterday (30thMay) to ensure that materials are at polling stations in time to allow for opening of polling stations at the designated 7:00am hour.
Today, EC begun dispatching polling materials to the other 12 sub counties at around 4:00am and by 6:00am, the process had been almost completed. Polling materials were being transported from the Rukungiri district EC offices.
Crispin Kaheru, CCEDU | @ckaheru
Statement from Police
The by elections for Woman Member of Parliament and elections of Rukungiri Town Council members is going on smoothly. Uganda Police Forces and it's sister Security Agencies are policing the exercise with focus on the following places with a history of electoral violence i.e Buyanja , Kebisooni, Nyarushanje Trading Centre, Rwerere Town Council, Bikurungu, and Bungagari Trading Centre.
We have enhanced deployment of both overt and covert forces, deployed a standby public order management force at strategic locations to respond to any form of public disorder. We have deployed both static and mobile forces to guard offices of electoral commission, Tally centre, Polling stations, party offices and other vulnerable places.
Uganda Police Force is the lead agency in this operation and we are being supported by other sister security agencies.
We urge voters of Rukungiri to come out in big numbers to go and vote knowing that security is there and we are here to protect their votes.
12:30pm: Dr Kizza Besigye votes.
https://www.facebook.com/ronald.muhinda/videos/1642060165890601/
13:32pm:  At Bwanga Muluka HQTRs polling station, 2 'professional helpers' assisting several voters took off after a team of mobile @cceduganda observers arrived at the PS in Nyarushanje s/c. This is about 20kms out of Rukungiri town.
16:30pm: Vote counting underway in Rukungiri.