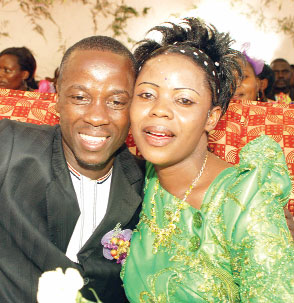 Richard Kasule a prominent and vocal presenter on Top Radio was today morning arrested from his workplace and whisked away to an unknown place.
Kasule, also known as Omugagga Kamagu, was picked up by police officers who forced him to board a police patrol vehicle.
Police confirmed Kamagu's arrest saying he is being held over "irresponsible talk."
Emilian Kayima, the police spokesperson said  Kamagu had uttered some irresponsible  statements while on air, which led to his arrest.
"It was because of his reckless  mouth  and irresponsible talk,"he said.
"We have cautioned  him and many others on a number  of occasions  but he has not heeded to the warning. "
Kamagu has in past been arrested  on a number of occasions  and released under  unclear circumstances.
The police mouthpiece  however  warned journalists  to always respect the law .
Kamagu's arrest comes barely a fortnight when New Vision  investigative journalist Charles Etukuri  was kidnapped  by unknown  people.
According to his workmates, men dressed in army uniforms brandishing guns  arrested  Etukuri before taking off with him to an unknown destination
It is suspected that Etukuri is being held in a safe house in the areas of Kyengera.
Etukuri's troubles allegedly stem from a story he wrote in Sunday Vision of February 11 regarding the death of a Finnish national in a hotel where he implicated some security agencies.
Comments
comments