After doing two stints in prison following his participation in Togikwatako demonstration, Douglas Kisitu (with red ribbon in the picture), a youth activists decided that enough was enough.
The FDC youth activist from Rubaga division fled the country in November, jumping police bond.
Nasser Mukasa, a friend said Kisitu fled to Washington US, where he is trying to seek political asylum.
"We were supposed to go back to Masanafu police station because he had been released on bond. But he just vanished," Mukasa said.
Kisitu fled on November 15, two days before he was supposed to report at the police station.
Kisitu was first arrested at Busega in September, where a group of youths had gathered for a political rally later he was arrested at Lugala Masanafu trading centre in towards the end of October over allegations that he was about to engage in an illegal political activity.
He was detained at the police station for two days before he was released on police bond.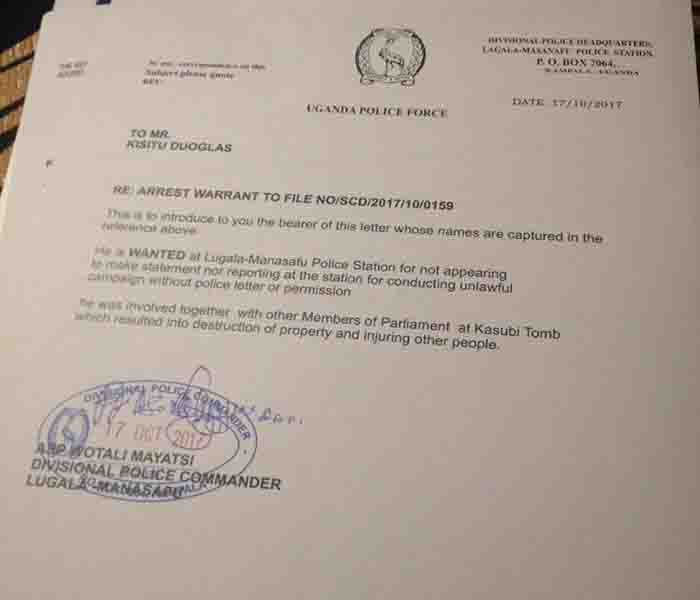 His wife Hellen told The Nile Post that days before Kisitu fled, he appeared restless.
"It appeared as if his life was in danger but he just assured me that everything is fine. Next he went to live with a friend and did not come back," Hellen said.
Hellen and Kisitu had one child, Ddamulira Kisitu, who is one year old.
Togikwatako campaign was launched last year by the opposition to oppose the age-limit bill which sought to amend article 102 (b) which concerned itself with the presidential age-limit.
The campaign was characterised by violence and brutal arrests of opposition MPs and activists.
The campaign however failed since the ruling NRM using its numerical advantage succeeded in amending the article in December. On December 27, two days after Christmas, President Museveni signed the bill into an Act.