A friend of mine sent me a text wondering why she was seeing a strange Gmail Icon instead of the usual red Gmail icon associated in her mailbox.
The message read; "I just noticed today that my tab icon for Gmail has changed colors from my others. It is now a blue/white envelope and not red. This is my work account, Any ideas?"
Well, if you use Gmail for work, it's true, you might be seeing something really weird all of the sudden.
For now, it appears to be affecting only Gmail accounts that use G Suite — typically this is what you'd be using if you have a corporate Gmail, or if you use Gmail with a custom domain. However, the Regular free Gmail accounts have not been affected.
According to a helpful volunteer support person, it should be one of the "Labs" you can enable in Gmail that's causing some of these changes. Labs are experimental custom features that you can tweak to change the way an application looks or works.
The one that's causing this particular blue icon is the "Unread message icon" Lab.
For now, Google has not yet released a statement regarding this optional logo change, however, Google power user, Zev Zoldan, took to Twitter to calm users' nerves and explain how to revert the envelope back to its former look.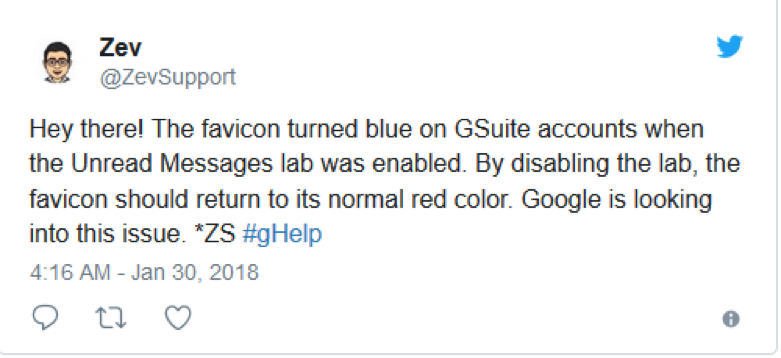 Many people are still confused and some upset, but others seem to have actually liked it as it lets them quickly distinguish between their personal and corporate email.

Whether this a permanent change, or just something Google is trialing I'm not sure, but enabling or disabling the blue icon can be done.
Click the gear icon, go to Settings and click the Labs entry at the top.
Locate the Unread message icon entry. This shows how many unread messages there are in your inbox at a glance.
Enabling it will turn a G Suite account icon blue, and disabling it will switch the icon back to red. Scroll down and click the button to Save Changes.
Making the change in a normal Gmail account will have no effect, it will stay red no matter what.