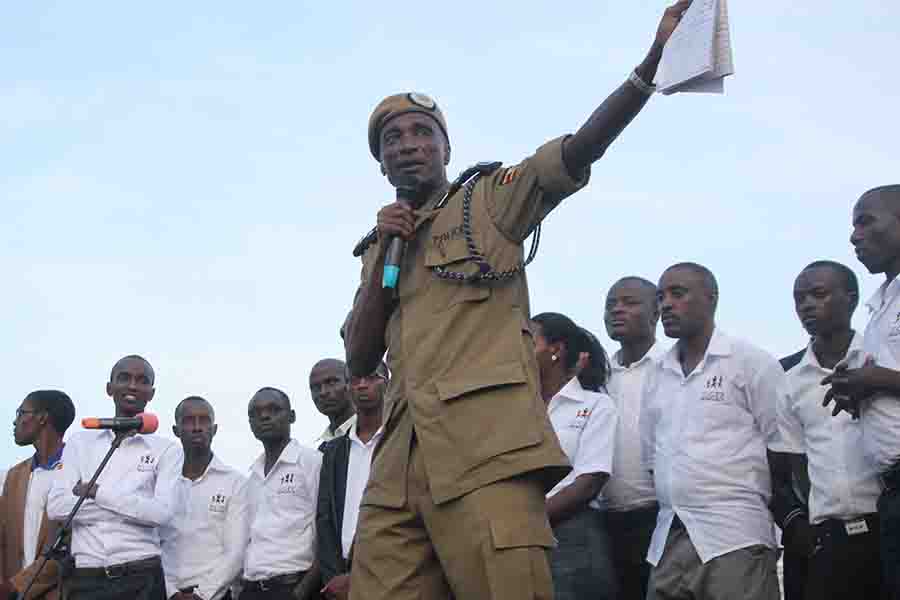 Police has reportedly beefed up security for seven leaders of the National Crime Preventers Forum following threatening messages from unknown people.
Frank Mwesigwa, the Kampala Metropolitan Commander ordered all division police commanders to immediately provide security for leaders of crime preventers.
"We shall keep guarding their homes and movements so that they don't encounter any attacks from worng elements from the public," Mwesigwa said yesterday while addressing area commanders in Kampala Metropolitan area.
Threatening messages were on Monday night pinned at the homes of the crime preventers' leaders and their secretariat in Naguru asking them to denounce their patron, Gen.Kale Kayihura, who is also the Inspector General of Police.
"We have given you 14 days to disown Kale Kayihura as your patron and as an IGP publicly. Failure to do that, you shall face our wrath and consequences. Stand warned," read one of the placards in bold red inscriptions dated January 29.
Brian Mauso, the Deputy National Coordinator, Crime Preventers Forum, confirmed the placards had been pinned at their homes but said police is handling the matter.
"We reported the matter to police and is now executing its mandate of investigating the culprits behind the messages,"Mauso told this website.
When asked to come clear about security being beefed up, Mauso said as the police mandate, they had promised to handle the matter.
"I can't go into all the details but all I can say is we are secure."
When contacted for a comment, Kampala Metropolitan Area police spokesperson Luke Owoyesigiyire told the Nile Post that they had received complaints from the leaders of the crime preventers, adding that they are handling the matter.
Asked on beefing up security for the seven people, Owoyesigiyire said that if there is any threat to the group's life, they cannot take it lightly.
From a group of patriotic students from Makerere university, the National Crime Preventers Forum was formed in 2014 to help police in detection and prevention of crime in their areas countrywide.
In the run up to the 2016 general elections, police recruited more crime preventers bringing the number to over eleven million countrywide but critics have on many occasions claimed that these are a group of militias.
The Inspector General of Police, Gen.Kayihura has on a number of occasions told off critics over the crime preventers saying that police will continue recruiting them regardless of persistent criticism.
"I am tired of people vulgarsing the concept of crime preventers .It is not the first of its kind in the world and they are not militias. We shall not stop recruiting them. You can go hand if you are ignorant of their importance,"Kayihura said at a function in Kapchorwa district in 2016.
Comments
comments