Facebook plans to prioritise posts from local news sources in the news feeds of people who live in the communities served by those outlets, the company said Monday.
Facebook CEO Mark Zuckerberg said on Monday that the decision stems from a cross-country tour he took with his wife in which he spoke with people in communities of different sizes.
Zuckerberg said people consistently told him they wanted more local news on Facebook. Thus, the prioritisation of local news sources is part of an effort to help people engage with the communities where they live.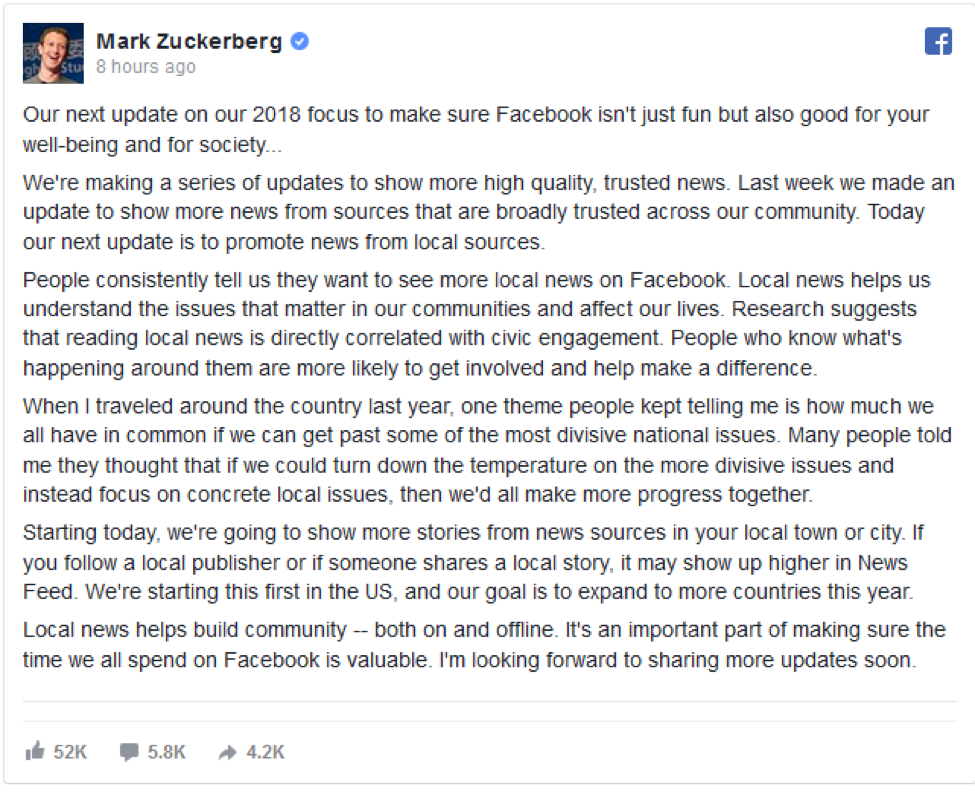 He said; "There's a lot of research that suggests that people who read local news are more engaged in their community and they're more likely to engage in civic improvements,"
"The more informed you are about issues in your community, the more empowered you are to get involved and make a change." He added.
The Menlo Park, California, company said in a news release that it identifies local publishers as those clicked on by readers in tight geographic areas.
This means that "If a story is from a publisher in your area, and you either follow the publisher's Page or your friend shares a story from that outlet, it might show up higher in News Feed,"
However, according to Seth Fiegerman for money.cnn.com; "Facebook is trying to recover from a bruising year of criticism about its platform enabling fake news, foreign election meddling and filter bubbles."
Zuckerberg has said his personal goal for 2018 is "fixing" Facebook's many problems.
According to a company blog post, Facebook isn't necessarily defining local news by the size of the publication, but rather by the concentration of readers of that publication in a certain area.
"Large local publishers will benefit, as well as publishers that focus on niche topics like local sports, arts and human-interest stories,"
"That said, small news outlets may benefit from this change more than other outlets, because they tend to have a concentrated readership in one location."